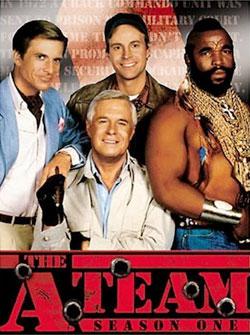 When The A-Team came out earlier this month, I decided to make that movie's flimsy excuse for existence into an even flimsier pretext for a Slate"Summer Movies" contest. I challenged readers to send me their elevator pitches for a big-screen version of an '80s TV show.
So many of you responded that I'm only now digging my way out from under the hundreds of entries. As I plowed through them, one truth loomed large: The penultimate decade of the 20th century was a time of some highly dubious television programming.   Baywatch? Manimal? ALF? Makin' It? Shows like this don't need fictional reboots to be funny; the joke resides in the fact that they ever existed in the first place. The best entries poked affectionate fun at both the dated sensibility of TV shows gone by and the absurdity of a contemporary movie culture that mines them for pop-cultural significance. At the end of the list below, you'll find our winner, preceded by an unranked list of some of the funnier entries I received. Contestants' names are given as they were sent to me.
*An astonishing number of people suggested casting Dakota Fanning as V.I.C.I., the obedient robot-child in Small Wonder. The best of these pitches came from Joshua Freemire: "Dakota Fanning plays V.I.C.I. the child robot in a big-screen Small Wonder.  This time, however, we flip the script: After a shipping mix-up, V.I.C.I. is being raised in crushing poverty, a la Precious. Theme: How Does a Heartless Robot Handle the Heartbreak of Systemic Poverty? Total Oscar-bait for Dakota."
*More than one entry noted the thematic overlap between   Golden Girls and   Sex and the City, proposing that, if their franchise keeps going, Carrie, Miranda, et al. can one day be cast as the superannuated Miami foursome. But my favorite Golden Girls pitch was the loopiest one, from Henry Visotski: "After four black-ops agents (Angelina Jolie, Uma Thurman, Halle Berry, and Robin Williams) are framed for the murder of an Afghan politician, they have to hide out in a Florida retirement community with ninja assassins hot on their trail."
*Tony Vindett's reinvention of Knight Rider would sound perfectly plausible at an ideas table, and may actually be in development somewhere: "Leo DiCaprio is a counter-ecoterrorism operative whose secret weapon is an AI-enhanced Toyota Prius!"
*William Rohde just may restart the 84-year-old Andy Griffith's career with Matlock: Locked and Loaded: "The loss of his first case sends mild-mannered defense attorney Matlock over the edge, where his gentle southern demeanor gives way to the Vietnam-era CIA assassin he thought he'd left behind forever, and where his only solace can be found in explosive, high-octane revenge against the crooked jury who tarnished his perfect record."
*Steve Forsberg, noting that District 9 proved there is "a demographic attracted to movies that deal with illegal immigration in a sci-fi context," repurposes Mork & Mindy as a feature-length drama, with "Mindy as a conflicted ICE agent harboring the undocumented Ork citizen Mork in her Denver home, with alien sex scenes as appropriate for the PG-13 crowd. "
*Sometimes, a title and a director is all that's needed to conjure a whole movie: "Rob Marshall brings Cop Rock to the big screen!" gushed Neil Quarterman, while J. Lutz evoked a far grittier police procedural in just four words: "Quentin Tarantino's Barney Miller."
I'm going to award first place to Deanna Tolliver's pitch for not only cleverly recasting an '80s sitcom according to the new rules of Hollywood, but nailing the solemnly bogus language of the remake-trailer voiceover:  "A tragic accident. A friend's promise. A new life. This summer, the world moves to the beat of just one drum. Willow Smith. Jaden Smith. Brad Pitt. Diff'rent Strokes: The world's about to get moved."
Deanna, please e-mail me at slatemovies@gmail.com with your mailing address and I'll send you some Slateparaphenalia. (Also, will the winner of last year's contest, Ken Schoenwetter, please do the same? I don't think I ever heard back from you, and I still have a Slate yoga mat with your name on it.)
Thanks to all who entered, and see you next summer!
---