Read Slate's complete coverage of the 2010 FIFA World Cup.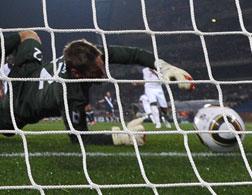 This piece originally appeared in the Guardian on June 14, 2010. Read more of the Guardian's World Cup coverage at guardian.co.uk/worldcup.
Bob Wilson, former Arsenal goalkeeper
I'd love to join the goalkeepers' union and find an excuse—an awful pitch or the ball—but there was nothing. I've never seen anything quite like it. My only question would be how late was the choice that Capello made for his goalkeepers? Because, in my view, any goalkeeper needs a minimum of 24 hours. Ideally, I think he needs several days because we goalkeepers live and thrive on the confidence and belief that comes from knowing that you are the No. 1 through your performances, and that the team wants you. It doesn't guarantee that you won't make a mistake, but clearly England does not have a Peter Shilton, a Gordon Banks, a David Seaman at present. It's really difficult to know who to pick for the next match. There are reasons for all of them, but even so, Capello should have sorted who his No. 1 is long before now. I imagine, however, the head coach will stick with Rob Green
Brad Friedel, Aston Villa goalkeeper
I have been there, and every goalkeeper who has played at the top level of football has been there. It is a horrible feeling, but all credit to him because in the second half he ended up making a vital save and at least made sure England went away with a point. He'll never make a mistake like that in his career again, I would have thought, and it is just one of those things. He is a very good goalkeeper, and Fabio Capello has chosen him for the right reasons. Just because you make one mistake, it doesn't make you a bad goalkeeper. Robert Green will want to be selected for the Algeria game—you don't want to hide if you make a mistake
Shaka Hislop, former West Ham goalkeeper
It was one of those things that happens to a goalkeeper from time to time, although you hope it doesn't happen on a World Cup stage. I think Capello should keep playing him, but given that it's a World Cup, I expect him to be replaced. Were it a club game, there is no question he would have continued to start. You would say it's fine, you're my No. 1, now go out there and prove it. But given the situation where you've got two more group games and then it gets really serious, the decision may be different. You want your manager to stand by you, at the very least publicly. Right now Rob Green needs an arm around him; he needs someone to keep his confidence up. No goalkeeper is immune to mistakes—it's just how well you respond
Bryan Gunn, former Norwich goalkeeper
He has definitely got the mental toughness to get over it. I worked with him as a 16-year-old at Norwich, and he overcame some big injuries at that time for a youngster. He came out right after the game and admitted that he had made a mistake, and he sounded very positive in his own mind that he could overcome it. I think Capello should stick with him. If there is a change and David James and Joe Hart come into the frame, I'm sure Robert is big enough to overcome that as well, but I hope he gets another chance to show what a good goalkeeper he is.
Like Slate on Facebook. Follow us on Twitter.
---