Once a week, Procrastinate Better will feature a peek into the Netflix queue of one of our staffers or critics. No tampering with the results to make ourselves seem more or less erudite, we swear! Just the brief opportunity to explain (or defend, as the case may be) the choices. This installment comes from Slate 's television critic, Troy Patterson. Click here for more Candid Queues .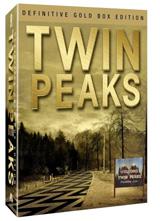 1) Twin Peaks: Season 2: Disc 5 : My editor, crisp and green in her singlehood, ranks the prospect of a shared Netflix queue high among the things that scare her about marriage. No way is it scarier than Agent Cooper's series-ending trial in the Black Lodge, which the wife will be watching for the first time, perhaps while I cower in the closet.
2) The Cove : Mrs. P. also wants to watch a documentary about killing dolphins. I have noticed that it is not a how-to. I have also noticed, just now, that Mike Nichols followed Carnal Knowledge with The Day of the Dolphins , wherein the titled characters learn to speak English and kill elected officials. Leonard Maltin gives it two stars: "Scripter Buck Henry also provides the voices for the dolphins."
3) A Serious Man : Sure, dear, I'll watch any Coen Brothers' movie twice, except for Intolerable Cruelty , which I regret watching once. The physics professor's anxiety-dream sequence in Serious features a line fit to grace a refrigerator magnet: "Even though you can't figure anything out, you will be responsible for it on the midterm."
4) Ikiru : I have seen this movie. I have no recollection of having seen this movie. I have a suspicion that I will not re-see this movie.
5) Band of Outsiders : Netflix commits a misdemeanor in listing the Godard under an inadequate translation of its French title, Bande à Part . (Would anyone even think to refer to La Dolce Vita as The Sweet Life ?) C'est la vie. In any event, this pick is mine, but this queue is as democratic as line-dancing.
Got a suggestion? E-mail procrastinatebetter@gmail.com .
and
sign up for the Procrastinate Better newsletter
, too.
---