Each week, one Slate staffer or critic will offer up a favorite cultural pick for Procrastinate Better readers. This week's endorsement is from Michael Agger, a Slate senior editor.

I was planning to inaugurate this blog's weekly "Staff Pick" by imploring you to track down an obscure but mind-blowing novel by David Markson called Reader's Block . (Markson died this week .) But in the spirit of Procrastinate Better, I must confess that my mind is slowly being taken over by the World Cup, which starts today. If your enthusiasm for "football" is lacking, may I suggest a brief look at " Top 50 Best World Cup Goals "? Nothing like a little Foo Fighters to get one pumped for lots of nil-nil action. If you miss a game, the best place to find the highlights is footytube . If you're stuck at work, feel free to stream the game live from this sketchy site , but the most civilized way is to follow the (non)action would be the live commentary at the Guardian . In fact, reading the live commenters is often more entertaining than watching the match itself. They have a knack for tossing off arch remarks while giving actual insight into what's happening on "the pitch." (The English are fond of cute little phrases like that.) United States vs. England on Saturday will be a real test of their wit. I expect big things from the nation that gave us Monty Python and Benny Hill .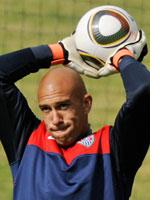 Got a suggestion for us? E-mail procrastinatebetter@gmail.com. Follow us on Twitter , too.
.

---