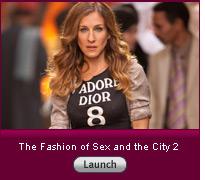 Women dress up for Carrie Bradshaw. Standing in line for a preview screening of Sex and the City 2 in New York earlier this week, I saw outfits cranked up an extra notch or two. There was an electric green Pucci-print slip dress. A white jacquard trench coat, worn belted and collar up, in such a way that it was unclear whether there were any clothes on underneath. A red silk paisley halter dress with a handkerchief hem, paired with a visible blue sueded cotton bandeau bra and cork-soled open-toed sandals. Not all of these outfits worked—indeed, many of them were faintly ridiculous—but there was a certain joie de fashion among the moviegoers that I appreciated. It's easy to forget, as the delightfully withering pans for SATC2 roll in, that the HBO series had real merit, and one thing the show did well was challenge the American woman's relationship to her wardrobe. Carrie's over-the-top example encouraged us to dress creatively, vibrantly, unexpectedly, expressively. Sadly, the movies have both had a much duller take on clothes.
The first film turned Carrie Bradshaw from a daring style maven into a boring label whore. On TV, Carrie liked playing mix-and-match. There were Fendi pumps, of course, but there were also tutus and kaftans and Mickey Mouse T-shirts. Our protagonist was a single girl trying out possible futures and possible selves, and each day she dressed for a different part. It was delightful to see what she'd come up with. But the big screen dulled Carrie's creativity. The first Sex and the City offered a litany of logos and brand names: onscreen, in voice-overs, and as plot points. (One emotional climax in the film entails the gift of a Louis Vuitton bag to a girl who's been getting by just renting a Vuitton.) The clothes looked nice, but the spirit of sartorial adventure was gone.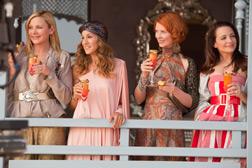 T he new film takes a slightly different tack. We find the girls settled in New York, buffeted by the stresses inherent to motherhood, marriage, work, and menopause. Bummed out by the recession, they follow PR pro Samantha to Abu Dhabi, where she's been invited to check out a luxury hotel with an eye toward hyping its reputation in the States. (The film, at 147 minutes, may be the longest extended consideration of the junket our culture has produced to date.) As a result, the movie has two fashion modes: All Grown Up and My Orientalist Vacation.
The movie opens with an ode to fashion maturity: A montage that shows how the girls met—and what ridiculous things they wore—back in the '80s. (Carrie, of course, sports a Madonna-esque getup that melds lavender, Laura Ashley, and black lace.) The sequence juxtaposes the garish fashion choices of yore with the subdued, tasteful gowns the women have donned for an afternoon of shopping in 2010. The suggestion is that Carrie, Miranda, Charlotte, and Samantha are no longer chasing trends; they've matured into styles that work for them. For the most part, these clothes are beautiful. Carrie wears a lot of Halston, Lanvin, and Balmain, names that evoke good lines and good taste rather than logos and status. In a book about the sequel (out this month, it details all the costumes and locations), set decorator Lydia Marks describes the clothes in Carrie's closet in her home with Big: "The palette in this closet is very different than the palette in Carrie's old closet. It's really about Carrie's grown-up clothes. There are no tutus here." The suggestion is that fashion experimentation is not a way of life but a phase to grow out of.
Then the movie transports us to Abu Dhabi (played onscreen by Morocco), and the clothes become much bolder: all spangles, tassels, harem pants, and gauzy headscarves. This seraglio-wear offers a marked contrast to the costuming we often see in films where Western women go East. The classic fashion mode in such pictures is to go colonial: All crisp white linen, oiled leather, and olive drab. (Picture Kristen Scott Thomas in The English Patient.) Miranda does sport one flowy white look along these lines, but it's not surprising that costume designer Patricia Field, with her love of bold hues and patterns, chose to exploit the colors, textures, and shapes of the Middle East. Although many of these costumes are fun to look at, they feel, throughout, too costumey. At one point, the women show up for a desert hike and camel ride inappropriately dressed—stilettos and sand do not mix—and proceed to change into a series of even more preposterous outfits: a white bustier with nipple tassels for Carrie, a bastardized Lawrence of Arabia headdress for Samantha, who complains about being hot throughout the scene but never thinks to take off her hat. Such practicality would spoil the shot.
Of course, no one goes to a Sex and the City movie looking for realism—the camel scene would have been less glamorous if they'd all been wearing pragmatic, wicking polypropylene—but in going for gaga Orientalist luxe, the movie abandons one of the series' strengths: Its honest portrayal of the emotional connection a woman has with what she has on. The film closes with a scene of Carrie and Big on the couch, watching television. Carrie is sprawled on Big's chest, wearing not sweatpants or yogawear or a nightgown, but a floor-length, accordion-pleated, Kelly green Lanvin ball gown. It's a dress that would be appropriate for a wedding, or the Oscars, or one's ascendance to one's rightful throne on Mount Olympus. It's not something to be worn in the presence of one's TiVo. The look is symptomatic of the movie's approach to fashion: The driving impulse is to cram as many great outfits into the shot as possible, with little regard for what a particular character would wear at a particular moment in time. And that's why the styles in this movie are a drag: They are great-looking, but they no longer tell the story of a woman expressing herself through her clothes.
Click here to see a slide-show essay about Sex and the City 2 fashion.
---