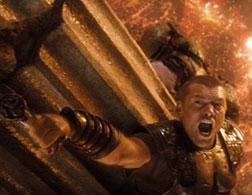 In Louis Leterrier's Clash of the Titans (Warner Bros.), Sam Worthington bum-rushes our eyeballs in a 3-D fantasy-adventure for the second time this year. In fact, Clash of the Titans bears some remarkable similarities to Avatar: In both films, Worthington plays a half-human, half-something-else creature who must mediate between the two worlds and eventually choose between mortal life and existence on a different, higher plane. Instead of the alien-human hybrid Sully, Worthington here plays the demigod Perseus, offspring of Zeus and the earthly queen Danaë. Like Sully, Perseus falls for a woman on the other side of the human/nonhuman divide: Instead of a Na'vi princess, his love object is the demi-goddess Io (Gemma Arterton). There's even a moment in both movies when Worthington must leap from the back of one winged beast onto the back of another. Avatar has taken a lot of heat for being weak on story and overly reliant on visual effects, but compared with this witless, chaotic mess of a movie, James Cameron's epic looks worthy of the ancient Greek authors—Herodotus, Hesiod, Homer—who first told Perseus' tale.
Clash actually starts strong, with a few imaginative set pieces that promise more than the movie as a whole delivers. As a newborn, Perseus is hurled into the sea by his father, Acrisius (Jason Flemyng), who disbelieves his wife's claim that she was impregnated by Zeus. The baby is discovered by a kind fisherman played by Pete Postlethwaite, who packs a memorable performance into a tiny wedge of screen time. After a series of misfortunes, Perseus finds himself conscripted to save the city of Argos from an assault by the gods, who have been angered by the growing hubris of mortals. (A scene at the decadent court of Argos in which we witness this hubris hints pleasantly at an I, Claudius-style orgy that, sadly, never materializes.) To show the gods what's what, Perseus must battle a succession of tennis balls suspended in front of green screens—I mean, fearsome mythological beasts.
The scene in Medusa's lair, when Perseus enters and (spoiler alert for those unacquainted with basic Western mythology!) beheads the snake-haired beast, is dispiritingly clamorous and unscary. Compared with the nearly dialogue-free sequence in the 1981 original, in which Harry Hamlin slew a frightful claymation Medusa created by the stop-motion legend Ray Harryhausen, this version feels like a video game for undemanding classics nerds. Medusa herself, an all-digital creation with a snake's body and a Calvin Klein model'shead, is so disappointing you want to throw popcorn at the screen. The producers made a big mistake in not casting a known actress for the face of Medusa—remember how effective it was when Angelina Jolie emerged from the bog as Grendel's mother in Beowulf?
In a movie this dependent on effects and big action sequences, the actors serve mostly as connective tissue. Ralph Fiennes does bring a haunting saturnine quality to the character of Hades, who's written as a bitter outcast a la Milton's Satan. But Neeson is a bit stiff as Zeus, and Worthington's Perseus is stalwart to the point of inexpressivity. As Io, Gemma Arterton, last seen covered in crude oil in the James Bond film Quantum of Solace, struggles with both the film's worst dialogue—pinned to the ground by an ardent Perseus, she murmurs, "Calm your storm"—and its worst costumes: Only Björk could pull off a poncho that seems to have been fashioned from a used mop.
The post-production 3-D looks you've-got-to-be-kidding bad. The actors seem surrounded at all times by hovering nimbuses that don't suggest divine radiance so much as they do the effects of a recent concussion. There's one digital effect—Perseus' winged horse, Pegasus—that works wonderfully, maybe because the animal seems to have been created by filming a real running horse and then adding CG wings. And the gods' palace on Olympus is furnished with a beautifully imagined semitransparent floor of clouds, below which the surface of the earth is occasionally visible. But everyone in the Greek pantheon, with the exception of Zeus, Hades, and, very briefly, Poseidon (Danny Huston) just stands around silently on that fabulous floor. The gods and goddesses are never even introduced by name, in a formal catalog like the one Laurence Olivier ticks off in the original's opening scene. We're reduced to scanning them at a distance for identifying details—anybody got a trident? An owl? At moments like these, Clash seems to be deliberately steering clear of camp, when in fact it should have steered straight into camp and stepped on the gas.
Slate V: The critics on Clash of the Titans and other new releases
Become a fan of Slate on Facebook. Follow us on Twitter.
---