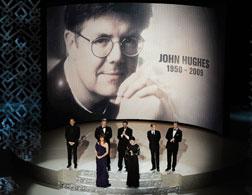 Good morning, Dana!
Despite my vested interest in maintaining the patriarchy, I join you in offering a big up to Bigelow. With her shaken breath and electric eyes, she was the night's most elated—and elating—winner. At the end, she wasn't just gripping one Oscar in each hand but clutching them as if she'd float away on gusts of bewilderment and euphoria if not for their weight. To appreciate Bigelow's freshness fully, compare it with Sandra Bullock's synthetic sparkle. "Did I really earn this or did I just wear you all down?" she asked. I think it's the latter.
Where the ceremony looked to your eyes like "a poorly rehearsed evening of dinner theater," I thought it was a fairly snappy evening of dinner theater—at least for the first five or six hours. Neil Patrick Harris' opening jubilee—which posited Baldwin & Martin as the heirs to such duos as Martin & Lewis, Turner & Hooch, and Dolly Parton's Tennessee hills—was passably jubilant. That the hosts spent so much time lightly roasting each other felt appropriately clubbish. The appearance of Sarah Jessica Parker excited great emotion among my fellow Oscar-partygoers. I mean her physical appearance. The emotion combined deep concern and high Schadenfreude. SJP seemed to have arrived at the Kodak fresh from a nap—a nap begun some 45 years earlier by the pool at the Fontainebleu.
Though I've lately proven myself lousy at making predictions, I will nonetheless guess that Oscarologists of the future will decide that the key moment came 45 minutes in. In a rare special tribute, the late John Hughes was hoisted into the pantheon by a group of Brat Packers including Matthew Broderick, Molly Ringwald, and Judd Nelson, who these days looks a little like the novelist T.C. Boyle and a lot like Renfield, slave of Dracula, sorry. In witnessing the canonization of The Breakfast Club and Sixteen Candles, those of us who came of age in the '80s (or were trying to, anyway) were watching the very soul of our collective adolescence pass into history. We're getting old, and we must resolve to do so with more grace than the awful boomers, represented again last night by James Taylor and his tediously gentle guitar, which ruined the in memoriam segment.
So let's talk about the generations and how they're shifting. Where was Jack Nicholson? His wise ass is almost always stuck in a front-row seat, but last night we only saw him yucking it up in pretaped footage. With Jack absent, the ascent of George Clooney was complete, and the camera turned to his wry crinkle and hot dry glances for visual punctuation. Further, the ceremony did double duty as a coming-out party for ingénues: Descending from the heavens to present the short-film prizes, Carey Mulligan and Zoe Saldana sent a visceral jolt across my viewing party, with the women especially stunned by Saldana's purple shoes. And will the real Kristen Stewart please stand up straight? Surly, bouncing, twitching, at one point very nearly seeming to hock a loogie, she was almost trying to make a case that she's not really a movie star.
Any quick thoughts on that? Also: Can you tell the difference between Rachel McAdams and Elizabeth Banks? And were Mark Boal and Jason Reitman separated at birth?
Hit me back,
Troy
---