Check out Slate's complete coverage of the 2010 Winter Olympics. Also enjoy this Magnum Photos gallery on ice skating.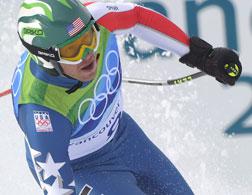 Though NBC may lose as much as $250 million on the Winter Olympics, its on-air talent is making the most of the bath being taken on Vancouver—kicking it in a first-class Jacuzzi, as it were. The network is leaving no curling stone unturned in its pursuit of human-interest stories, Canadian-studies term papers, where-are-they-now profiles, travelogue palaver, and participatory-journalistic frolicking. Thus far, Lester Holt has visited with grizzly bears and Mary Carillo with polar bears, and I fully expect to see Keith Olbermann deliver a Special Comment to an audience of beavers before things are through. This morning alone, Today aired taped segments of Meredith Vieira receiving a figure-skating lesson, of Tom Brokaw playing hockey with the grandkids of the "Miracle on Ice" coach, and of Jenna Bush Hager —now five months into her part-time gig as an NBC correspondent—snowboarding in Telluride, Colo., with Lindsey Jacobellis.
Jacobellis is, of course, most famous as an object lesson in hubris. In 2006, with a big lead on the home stretch in the snowboard cross final, her name all but printed on the Wheaties box, she tried a showboat move and failed and fell, and we here at Slate laughed with exquisite cruelty at "an unprecedented instance of hubristic self-immolation." On Monday night, Bob Costas and Cris Collinsworth reminisced about the mild abashment they felt in '06 when pelting this gentle young woman with their necessary questions about her unfortunate hot-dogging. With Costas and Collinsworth thus wrapping up the ritual-shaming phase of Jacobellis' narrative, Jenna took over this morning. The interviewer (compassionate smile, competent questions) held herself out as a confessor. The interviewee (startled blue eyes, startling yellow curls) held a penitent but dignified posture. The subtext was that Jenna had learned from her own—what is the euphemism?—youthful indiscretions and was well-prepared to feel Lindsey's pain. The graphics department spelled it out: "Snowboarder seeks redemption."
Live in studio, Jenna reported that Lindsey was relaxed and ready to rock: "I texted with her last night and she's feeling good." With atonement accomplished, Today then brought us footage of Meredith Vieira, Kristi Yamaguchi, and Natalie Morales going out drinking in Vancouver, where a bouncer condescended to pretend to card them ("Ladies, d'you have any ID on you?") and they pretended to be impressed at hanging out backstage with the Barenaked Ladies. "I'm a little jealous you didn't take me on the girls' night," Jenna said. Was this some kind of snub? Or was the network, knowing Jenna's track record, just trying to control its bar tab?
Become a fan of Slate on Facebook. Follow us on Twitter.
---