This is the third of Seth Stevenson's three dispatches from the Winter Olympics. In his first piece, Stevenson asked whether the Vancouver Games are doomed and revealed his crush on a French biathlete. In his second dispatch, he explained why snowboard cross beats old-timey Olympic sports.
Check out Slate's complete coverage of the 2010 Winter Olympics. 
The other day, I got a tour of NBC's broadcasting center here in Vancouver. A friend who works on graphics (she's why you know the heights, weights, and hobbies of cross-country skiers from Belarus) took me inside the control room during a show. Watching the director cut from a live feed up on top of Whistler, to another live feed from an arena in the city, to yet another live feed at a third venue, it occurred to me: In some ways, it might be more fun to watch these Winter Games from your couch than it is to be here in person.
Getting around between events in the city and at Whistler requires some serious shuttle bus time. A couple of hours up, a couple of hours back. Even the downtown venues are spread out. Meanwhile, your flat screen at home zips you around from one medal event to the next. The network provides expert commentators to explain the nuances of the sports and back stories designed to make you care about the random Swiss people hurtling off those ski jump ramps. Yes, I know—the commentators say dumb stuff and the back stories tend toward the sappy (not to mention that the coverage is tape delayed). It's still better than watching a sport where you have nothing to root for and no clue what's going on.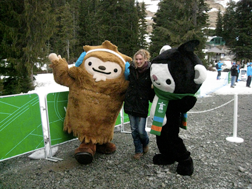 What kinds of things do you miss by staying home? Well, there's the city scene. All those Canadians wearing red hats and mittens and waving maple leaf flags. And you never know when you'll run into Quatchi, one of the Vancouver 2010 mascots, posing for pictures with groups of tourists on a street corner. (Quatchi is a friendly sasquatch who wears earmuffs and snowboard boots. He looks like he wants all the people of the world to do bong hits with him.)
There are pavilions downtown where Olympic visitors are encouraged to learn more about Canadian culture. I visited a few today. The Manitoba pavilion was the saddest—just a pair of small rooms with some murals about Manitoba. The text on one of the murals: "Spring thaws free the waters that power prosperity." No, I don't know what that means. And next to the words were, inexplicably, a photo of a scientist holding a beaker and another photo of a wheelchair-bound basketball player. A lonely computer sat in the corner, offering up Manitoba job listings.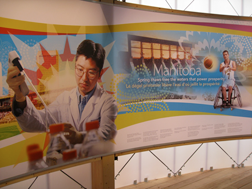 At the Saskatchewan pavilion, a friendly fellow named Trent—wearing a Saskatchewan Roughriders jersey—spotted my press badge and insisted on giving me a full-blown Saskatchewan sales pitch. "What do you know about our province?" he asked hopefully. The look I gave him in response was, I'm pretty certain, the blankest look that's ever appeared on my face. "That's OK!" he assured me, before I could say anything. He then launched into his spiel, eagerly informing me that Saskatchewan is among earth's leading providers of potash, uranium, and Mounties.
Not being here, you also miss out on the thrill of the crowds. At the U.S.-China women's hockey game I went to the other day, the huge contingent of China supporters (an outgrowth of Vancouver's large Chinese population, I assume) was having trouble finding anything to cheer for. After the first period, the Americans led 5-0 with a 24-1 shots-on-goal advantage. The China fans resorted to cheering whenever their gals got the puck within 50 feet of the American net. When they realized that this puck-goal proximity thing wasn't happening with a lot of frequency, the China fans lowered the bar again—cheering whenever China managed to clear the puck out of its own defensive end. When a Chinese player miraculously broke away and got a decent shot off the crowd leapt to its feet for a rousing ovation and a strenuous waving of Chinese flags.
And then there's the real reason to see the Olympics in person: a close-up view of unparalleled athletic excellence. This is what I had in mind when I caught the bus up to Cypress Mountain for the men's halfpipe snowboard finals. I wanted Shaun White—the crimson-haired dude they call the Flying Tomato—to demonstrate the limits of human aerial possibility. And then to go beyond them.
White is the most dominant American athlete at these Olympics. The gap between the Tomato and the other snowboarders is so immense that even a layman can see it. Watching from the bottom of the hill during training runs, it's easy to spot White from far away—before you make out his bib number, his team colors, or even his hair. You just watch for the dot that flies twice as high as the other dots.
I remember the first time I smoked a great Cuban cigar. And the first time I drank a glass of vintage Dom Pérignon. To my surprise, though I was neither a cigar nor a Champagne aficionado, I could instantly recognize the difference when I tried the good stuff. It was that good.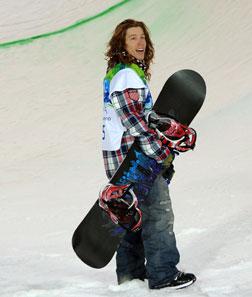 That's what watching Shaun White is like. I can't reliably tell a fakie from a stalefish from a boned double McTwist 1260. (Is that a thing? I think maybe that's a thing.) But I can see with my own naked eyes that the other riders fly as high as the base of the light stanchions that line the halfpipe—and that White, at the crest of his jumps, looks as though he could reach out and change the bulbs.
His performance renders the panel of five Olympic judges entirely unnecessary. Any fool can see who deserves the gold here. Still, White waits while the other riders try to chalk up a score that will top his first, near-perfect run. When none do, White's second run becomes a victory lap. The course-side DJ drops the needle on a hip-hop remix of "Paradise City" as White drops down into the pipe for one last dollop of snowboard genius.
His second run is at least twice as impressive as his first. With nothing to lose if he takes a spill, White goes balls to the wall. The spins are faster and tighter, the flips more violent in their intensity. On those insane ascents, the tip of his board seems to poke into the stratosphere. When White sticks the landing on a final whirling aerial and shoots his arms triumphantly skyward, the mountain explodes with a roar of sheer amazement and delight. People can't stop cheering. Can't cheer loud enough.
There's no cheering, customarily, in the press box. But the reporters and photographers around me let out a quiet, collective, involuntary chuckle. We shake our heads once or twice in disbelief, or hold out our hands palms up for a moment, smiling, like we're not quite convinced that what we saw could be real.
If you watched White's epic ballet on TV, you mostly understand what I'm talking about. But part of me thinks you won't ever truly comprehend. You weren't there.
Become a fan of Slate on Facebook. Follow us on Twitter.
---