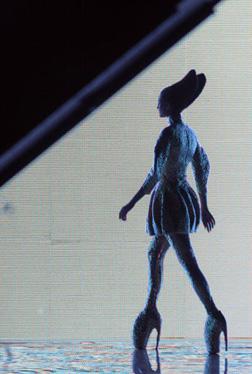 The death by suicide of British designer Alexander McQueen at the youthful age of 40 comes as a shock but perhaps not as a surprise. Rumors of drug use and a troubled romantic life swirled around him. His beloved mother died not two weeks ago. His muse and mentor, style icon Isabella Blow, died by her own hand in 2007. We will never know for sure what brought McQueen—a four-time British Designer of the Year, named International Designer of the Year in 2003 by his American peers, hailed as a genius by everyone in the fashion world—to his final moment. Yet perhaps his great talent was the greatest burden of all.
McQueen, one of the great showmen in fashion, was known first and foremost as a tailor. The son of an East End taxi driver, he dropped out of school as a teenager. At 16 he apprenticed himself to Anderson and Sheppard, then to Gieves & Hawkes, two of the most famous suit-makers on London's famed Savile Row. He was always a troublemaker, once reportedly chalking "I'm a cunt" in a suit made for the Prince of Wales.
"Tailoring" is essentially an empty phrase in the fashion industry, applied to just about anyone who can make a jacket. McQueen's tailoring was, however, supreme. He molded fabric to his will, using intricate pattern pieces, just the right amount of steam, and interior canvas to provide structure. He rolled collars to perfection, never smashing them under the iron. He set sleeves and shoulders with such balance that they came alive even on a hanger.
Then there were his trousers, so often a jacket's lesser half. McQueen's were built with the precision of racing gear, shaped around curves and made for movement. He came to prominence in the early 1990s, in fact, with his outrageous "Bumster" pants, which revealed none-too-little of the crack. These led to a craze for low-rise, hip-hugging jeans all over the world that are still in vogue today.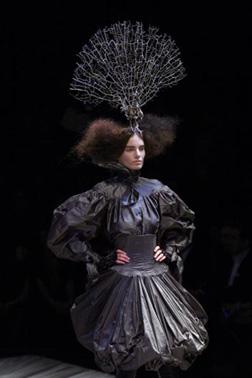 His dresses were divine. Gifts from fashion heaven, they were more than mere dresses. At their best, they told stories, narratives in cloth. Who could forget the tucked chiffon numbers from his "They Shoot Horses, Don't They?" collection. Or the Victorian extravaganzas of billowing silk taffeta from "The Girl Who Lived in the Tree"? Even the less well-received serpentine shorties shown last spring in "Plato's Atlantis" were marvels of design. Each was made from a series of various digital, reptilian prints, engineered to swirl tightly around the body, with species melding one into another.
McQueen didn't just push the limits of his imagination. He was great because he pushed everyone around him—the creative talents in his ateliers, and his show production teams—to turn out work that became the benchmark to surpass. His pattern makers and sewers brought haute couture quality to ready-to-wear; his embroiderers created unbelievably intricate designs with tiny beads and painstaking threadwork; his shoemakers redefined what a shoe could be. (Witness the lobster-claw heels of spring 2009, a favorite of Lady Gaga's.)
All of this made McQueen's shows a highlight of the season. Even when his shows were a bit clumsy—those shoes could be precarious, and models sometimes tumbled—McQueen brought his audience to new places on the fashion landscape. He placed models squarely on a giant, illuminated chessboard (spring 2005). He had them walk around huge piles of snow in a blizzard (fall 1999). He turned Kate Moss into a giant, floral hologram floating away from an enormous glass pyramid (spring 2006)—easily the most beautiful fashion image of the decade. McQueen's shows were always about more than just "seeing the merch"— a Seventh Avenue phrase announcing the need for ka-ching at the cash register. People loved to argue the merits of his proposals, which were often ludicrously impractical, or misogynistic. (He mummified women as often as he dressed them up like dolls.) His men's collections could be painfully kinky. (Think of his Hannibal Lecter-style spiked masks.)
But there was more to McQueen than theatrics: For all his over-the-top craftsmanship, McQueen never forgot that his role was also to dress women in their everyday lives. His Hitchcock-inspired collection of fall 2005 was a wardrobe full of smart coats, sweaters, and skirts. McQ, his more accessibly priced and designed collection, was scheduled for a showing in New York on the day he died.
Designers often sway between extreme emotions—graceful one season and tough the next. But it doesn't seem a stretch to say that there was something bipolar, or just plain mad, in McQueen's reach from romantic to rough. His collections communicated so much because they were so filled with yearning. McQueen exposed his heart. He showed us his dreams and nightmares, his fetishes and tenderness, his curiosity about the future and longing for the past. He gave us fashion in the most artful—and most human—way possible. He gave it his all.
Become a fan of Slate on Facebook. Follow us on Twitter.
---