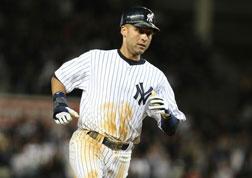 The year 2009 won't be remembered as the greatest season in baseball history. With little suspense over who was going to make the playoffs—Hello, Red Sox. Pleasure to see you, Yankees—you can be forgiven for sleeping through September. (And August, July, June, May, and April.) Now that the playoffs are upon us, it's time to wake up and start paying attention. Don't know anything about the teams that are still alive? Fear not—Slate's surface-level guide to the postseason will have you sounding like a baseball savant in no time.
American League Division Series, Los Angeles Angels of Anaheim vs. Boston Red Sox
Angels talking points: Unlike their higher-profile playoff counterparts, the unheralded Angels don't have any stars to speak of. Vladimir Guerrero no longer counts, Gary Matthews Jr. never did, and Chone Figgins is a great player who will never become famous because his first name is really confusing. What they do have is an experienced, veteran team that hits (.285 team batting average, best in the majors) and gets on base (.350 team on-base percentage, third in the AL). You should point out that the Angels also have valuable experience in the area of losing to the Red Sox. Despite having one of the best won-loss records over a six-year period in baseball history, the Angels have fallen to Boston in the 2004, 2007, and 2008 postseasons.
Historical context: The thing that most people remember about the Angels' World Series win in 2002 is the Rally Monkey, the enthusiastic mascot who led the team to victory during home games. After the World Series, the Rally Monkey got fired in a commercial for ESPN's SportsCenter. Despite making the playoffs four times since the simian firing, the Angels have yet to reach another World Series.
Conversation starter: "Sure, Mark Teixeira is having a great year for the Yankees, but the Angels were right to get rid of him. Kendry Morales is younger, cheaper, and just as good a hitter."
Conversation stopper: "Joseph Gordon-Levitt should have retired from acting after Angels in the Outfield. Why mess with perfection?"
Red Sox talking points: Your insufferable Boston buddies will brag about the Red Sox starting lineup, which is undeniably stacked—six starters with double-digit home runs and a team on-base percentage of .352, second-highest in the majors. Aim for a small victory and highlight the team's punchless bench. (Rocco Baldelli, Boston's best pinch hitter, is injured as usual.) Remind the Boston faithful that plenty of playoff games have been won thanks to clutch play from an unheralded reserve—think back to the 2004 ALCS, for instance. If your Red Sox pals start getting depressed or violent, cheer them up by mentioning that Boston does have Joey Gathright, who can jump over a car. So, you know, if that becomes a factor, Boston's got it in the bag.
Historical context: It's no secret why the Red Sox have had such sustained success this decade, with six playoff appearances and two World Series titles in the last seven years—they've got perhaps the best front office in the game, led by general manager Theo Epstein. You, however, know that having a secret is really, really fun, which is why you'll insist that the true secret to the Red Sox's success can't be revealed to anyone who's not a 32nd-degree Mason.
Conversation starter: "If the Sox get a lead, watch out—nobody's scoring against Daniel Bard, Billy Wagner, and Jonathan Papelbon."
Conversation stopper: "Do you think Jimmy Fallon is available for Fever Pitch 2?"
American League Division Series, New York Yankees vs. Detroit Tigers or Minnesota Twins
Yankees talking points: Joe Buck and his commentative ilk will spend a lot of time this postseason promoting Derek Jeter's MVP candidacy. And rightly so—whether displacing Lou Gehrig atop the Yankees' all-time hits list, playing improved defense, or posting a .406 on-base percentage, Jeter has had a great year. But you nonetheless maintain that the Yankees' front office has had an even better year. Yes, the Yankees spent big in the offseason, but they also spent wisely, as all of New York's offseason acquisitions—Mark Teixeira, A.J. Burnett, C.C. Sabathia, and Nick Swisher—paid off handsomely in 2009.
Historical context: In 1923, the last time the Yankees opened a brand new ballpark, the Bronx Bombers beat the New York Giants in six games to win the first World Series title in franchise history. While you join other Yankee fans in hoping that history repeats itself, you nevertheless feel that the team is wasting its time with all those charts about how to pitch to Frankie Frisch and Hank Gowdy.
Conversation starter: "For once, the stat-heads and the baseball fuddy-duddies can agree—the Yankees' most-important player is Mariano Rivera."
Conversation stopper: "Lou Gehrig's old news. I think we should call it Derek Jeter's disease!"
Tigers talking points: Detroit fans can be excused for wanting 26-year-old Justin Verlander to start every single game of the playoffs—he won 19 games and struck out 269 in the regular season and single-handedly saved the Tigers' season by beating the White Sox in a do-or-die game on Sunday. You, however, are worried that Jim Leyland will take the Verlander backers seriously—the young Tigers ace logged 240 innings this year, well above his career high, and appears willing to pitch until his shoulder rips apart if it gives Detroit a chance to win. Cool everyone's Verlanderian ardor by noting that the Tigers have two more decent starters in Edwin Jackson and Rick Porcello. And since Detroit isn't beating the Yankees anyway, it's probably worth saving Verlander's arm so he'll still be able to pitch when he's 27.
Historical context: Miguel Cabrera showed up in the Detroit clubhouse on Saturday with scratches on his face after he came home drunk and got in a fight with his wife. (No charges were filed by either party.) Cabrera initially told reporters that he got the scratches from his dog, the worst fib told about a baseball injury since Dodgers reliever Joe Beimel claimed he hurt his hand in his hotel room. Beimel actually cut himself on broken glass in a New York bar, forcing him to miss the 2006 playoffs. To honor Cabrera and Beimel, tell your friends you can't come over to watch the playoffs due to a lingering groin problem.
Conversation starter: "Curtis Granderson: great center fielder, underrated blogger."
Conversation stopper: "So what if Verlander's arm falls off? Dontrelle Willis' anxiety disorder is bound to wear off soon!"
Twins talking points: Sure, Joe Mauer had what might be the best offensive season ever by a catcher, hitting over .360 with an insane on-base percentage and outstanding sign-stealing technique. But you'll win the hearts of high-school baseball coaches across the land by noting that it takes 25 players to make a team and that without solid seasons by Michael Cuddyer (32 HR) and Jason Kubel (102 RBI), Mauer's efforts would have been wasted. Confuse your friends by instantly contradicting yourself—without the slugging Justin Morneau, who's out for the season with a stress fracture in his back, the Twins have little chance to make a playoff run.
Historical context: This is the last season the Twins will play in the Metrodome, a stadium that has long been derided for its similarities to an uncomfortable, air-conditioned pillow. Be ready to join in the eulogies by compiling a list of your favorite Metrodome memories. Like all those times that balls got lost in the ceiling. And the 1982 NFL playoffs. And, um, the plentiful parking?
Conversation starter: "Remember can't-miss prospect Francisco Liriano? Looks like he missed."
Conversation stopper: "How much will you give me for this bathroom-used Homer Hanky?"
National League Division Series, Philadelphia Phillies vs. Colorado Rockies
Phillies talking points: There are three basic reasons why the Phillies won the NL East this year: a dominant lineup that led the league in runs, home runs, and slugging percentage; solid and durable starting pitching; and the Mets really, really sucked. Although your friends, being Phillies fans, will tend to emphasize the Mets' suckage, you should take the more analytical road and emphasize things like Chase Utley's .397 OBP and Cliff Lee's strong pitching after coming over from Cleveland at the trade deadline. Good luck getting heard over the chants of "WOOO! PHILLY! WOOO! K-ROD? MORE LIKE GAY-ROD! WOOOO!"
Historical context: After winning the World Series last year for only the second time in franchise history, the Phillies are looking to be the first NL team to win back-to-back championships since the "Big Red Machine" Cincinnati Reds in 1975 and 1976. "The Purplish Philly Phactory" doesn't have quite the same ring to it, but since you've already ordered 10,000 T-shirts, you really hope that it catches on all the same.
Conversation starter: "Brad Lidge seems like a real stand-up guy, which will come in handy when he has to take the blame for blowing a bunch of close games."
Conversation stopper: "I've got a sneaking suspicion that Ryan Howard is actually Bake McBride in a fat suit."
Rockies talking points: With all five Colorado starting pitchers posting double-digit wins and a team ERA of 4.22, some argue that the Rockies' success this year was due to pitching. Make what should be an obvious point by noting that a 4.22 team ERA isn't actually all that good. The Rockies did, however, excel at the most- and least-exciting plays in baseball—hitting triples (50) and drawing walks (660). Go ahead and attribute the team's success to this improbable fusion of batter's box yin and yang. It makes as much sense as attributing it to Aaron Cook and Jason Marquis.
Historical context: The Rockies' march to the playoffs this year is reminiscent of 2007's magical late-season run that saw them win 21 of 22 games and reach the World Series. Note the eerie coincidence that all three Colorado squads that have made the playoffs clinched their berths on Oct. 1. You're not sure what that means, but you're happy to use it to support your longstanding contention that Don Baylor is a witch.
Conversation starter: "Who's been the most clutch player in baseball this year? How about Yorvit Torrealba, who's hitting almost .500 with runners in scoring position."

Conversation stopper: "JASON MARQUIS? MORE LIKE GAYSON MARQUIS! WOOOO! PHILLIES!!!"
National League Division Series, St. Louis Cardinals vs. Los Angeles Dodgers
Cardinals talking points: With dual aces in Chris Carpenter and Adam Wainwright, the Cardinals have received a lot of attention for their starting pitching. You know that their bullpen might be even better: Closer Ryan Franklin has a 1.92 ERA and 38 saves, lefties are batting .207 and .135 respectively against Dennys Reyes and Trever Miller, and righties are batting .176 against rookie Blake Hawksworth. So what if the 36-year-old Franklin sucked in September? You maintain that it's all part of Tony LaRussa's clever fool-people-into-thinking-that-Ryan-Franklin-is-old-and-getting-tired strategy. After all, he is a genius—just ask Buzz Bissinger.
Historical context: Busch Stadium is named after the family that once owned both the Cardinals and Anheuser-Busch, a brewery that was purchased last year by Belgium's InBev. Sure, that's not particularly relevant to this current Cardinals team, but you're always happy to take the opportunity to spout off fun facts about Belgium. Belgium has an eight-team professional baseball league of its own, featuring teams like the Borgerhout Squirrels. The only Belgian-born major leaguer was Brian Lesher, the pride of Wilrijk. Some Belgians are called Walloons.
Conversation starter: "A .231 batting average in almost 400 at-bats? Maybe Rick Ankiel should go back to pitching."
Conversation stopper: "Matt Holliday deserves his own holiday. Let's call it Mattmas."
Dodgers talking points: Your friends might be disheartened by the way the Dodgers ended the season—losing five of their last seven games and almost falling to second place in the NL West. But momentum notwithstanding, you know that it's very hard to find a weakness on this Dodgers team—they led the National League in both hitting and pitching this year, posting a .270 team batting average, a .346 team OBP, and a 3.41 team ERA. If you like, you can stoke your friends' fears by noting that the Dodgers tied for last in the league in complete games, which could be really important if, say, the entire Dodger bullpen comes down with swine flu.
Historical context: Although the Dodgers have made the playoffs in four out of the last six seasons, they haven't won a World Series since 1988, when a Tommy Lasorda-skippered team made short work of the Athletics. Use this as further evidence to support your contention that the Dodgers need a blustering, roly-poly Italian manager, not a dour, wheat-grass-drinking Italian manager.
Conversation starter: "I don't know which stat surprises me more—Juan Pierre's .365 OBP or Brad Ausmus' .295 batting average."
Conversation stopper: "Jim Thome might be the most fearsome pinch hitter in the playoffs. If you close your eyes and pretend that it's 2002, that is."
---