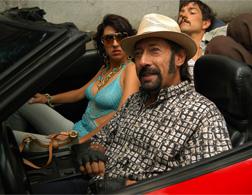 Rudo y Cursi (Sony Pictures Classics) is the first feature film directed by Carlos Cuarón, the younger brother of the great Mexican director Alfonso Cuarón ( Children of Men, Y Tu Mamá También). It's also the first release from the new production company Cha Cha Chá, put together by three of Mexico's most prominent filmmakers: Alfonso Cuarón, Guillermo del Toro (Pan's Labyrinth, Hellboy II), and Alejandro González Iñárritu ( Babel). The fact that Cha Cha Chá chose this modest and conventional sports drama for their first project out of the gate may say more about Alfonso's love for his little brother than it does about the company's producing ambitions. But maybe that's fitting for a movie that's all about the limits of ambition and the inescapability of filial love.
The Cuarón brothers' cinematic DNA also crisscrosses in the writing and casting of Rudo y Cursi. Carlos collaborated with his sibling on the screenplay for Y Tu Mamá También (2001), which starred then-unfamiliar young actors Diego Luna and Gael Garcia Bernal. Now, the two reunite for the first time as international stars. (They're also friends in real life.) It's tempting to think of Rudo y Cursi as an eight-years-later sequel to Y Tu Mamá También, but, unfortunately, this movie works that one's magic in reverse. Whereas Tu Mamá turned a seemingly flimsy story—two horny kids take a road trip to the beach—into a meditation on love, death, and growing up, Rudo y Cursi takes on serious subject matter (poverty, addiction, economic exploitation) and renders it uniformly banal. Still, the movie has its minor pleasures, most of them provided by the chemistry between Luna and Bernal, born charmers (and utter babes) who obviously enjoy spending time in each other's company.
Beto (Luna) and Tato (Bernal) are half-brothers who work at a banana plantation in the state of Jalisco, near Mexico City. Tato, an accordionist, dreams of making it as a singer in the big city; Beto, a compulsive gambler, has a wife and two children he can barely support. A high-living talent scout, Batuta (Guillermo Francella), sees the boys playing soccer in a local game and offers a spot on a Mexico City team to whichever of the two can win a penalty-kick contest, reigniting a bitter sibling rivalry. Eventually, the brothers wind up playing on rival teams in Mexico City, where they earn the nicknames "Rudo" (rude) and "Cursi" (which the press notes translate as "corny," though in the context of the movie it seems to imply a lack of masculinity as well).
The brothers' sudden success gives them an opportunity to indulge their weaknesses: Beto's for gambling and, eventually, cocaine and Tato's for an expensive trophy girlfriend (Jessica Mas) and an ill-advised singing career. (In a cheap-looking music video, Bernal does a painful cover of Cheap Trick's "I Want You To Want Me" in a spangled cowboy hat.) As the boys' choices get them deeper and deeper into trouble, the movie veers into morality-tale territory, with an unexpectedly harsh coda that has you wondering, Wait, was this playful little soccer flick supposed to be some kind of allegory about narcotrafficking?
Carlos Cuarón's screenplay is rambling and unstructured but full of vibrant dialogue. As in Y Tu Mamá También, the insults the two leads hurl at one another are creatively filthy. But a laborious voiceover in which Batuta philosophizes about the parallels between soccer and life soon begins to grate. In a departure from the American sports-movie ethos, very little time is spent on the soccer field itself, and the actors don't go out of their way to resemble real athletes—in fact, unless I blinked and missed it, we never see Bernal's Tato in the act of kicking a ball (though we do see him turn a credible handspring after scoring a goal). The climactic soccer scene cleverly (some might say too cleverly) boils the brothers' fates down to the outcome of one last all-important penalty kick. I won't tell you who wins the Rudo/Cursi showdown, but when it comes to the Cuarón brothers, my money's on Alfonso.
Slate V: The Critics on Star Trek, Rudo y Cursi, and Next Day Air
---