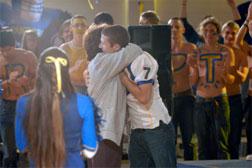 Meghan, I could not agree more about Matt. I cried when he waited outside Lorraine's nursing home room and again when he fetched her back again. With his fair features and gentle stutter, Matt has a direct line to female protective instincts, as we've discussed. But I felt utterly manipulated even while I was crying. By putting in his mouth this air-tight logic—"You're the only person who's never left me. I'm not going to leave you"—that did not actually make any sense, the show had betrayed him. They had to know that we could not rejoice in Lorraine's smile over his shoulder or Julie's relief, because this was so obviously not what was meant to happen. We can't predict future episodes, but we know there is no scenario in which Matt's staying in Dillon can lead to anything good for him. So we're left either thinking a) the tenderness we've come to admire in Matt is dysfunctional, or b) the show is desperate to keep him—neither of which is satisfying.
As he was dancing with Lorraine, I weirdly took heart in that Mexican band. Any other show would have ditched that band many scenes earlier or kept it muted in the background. But the episode kept bringing the band back too loudly, again and again, in a way I felt spoke to that "fictional authenticity" we've discussed. It's as if the band was there to remind us: This is a real Dillon wedding, with loud, cheesy music and perms and awkward moments. Don't worry too much about these rapid plot twists we're forcing and the too-tight narrative structure. It's just small-town Dillon, the place you've come to love.
Of course, the band did not quite do the trick. I was a little mystified about why they put each person—Tyra, Tim, Lyla, Matt, and Eric—through the identical see-saw rhythm. (She's not going, she is. He is going, he's not.) There were certainly great moments in each story: Tyra and Landry's argument on the road, as you pointed out, Meghan; Billy's almost believable bootstrap speech at the wedding; Lyla's nervous hesitation about telling Tim she did get the money to go to Vanderbilt after all. But the sum total felt a little gimmicky to me as an ending. I wish they'd just let one of them—Matt, maybe—sail out of Dillon without being jerked back.
The one thing that loosened up the episode was the meditation on the American car and the open road—a theme that comes up occasionally in the show. I loved how absolutely liberated Tim and Billy felt on their road trip—probably their last one together as brothers. This was the first time the Riggins brothers seemed free of stress and responsibility, so free they made the insane purchase of a steer. True to FNL, the liberation was short-lived, ending abruptly in engine failure and Billy's disappointment in his inability to fix it. And the final car comedown with Julie, who finally had her own wheels but no place to drive them.
Emily, I'm curious what you think of the future of football. I thought the Eric plot twist was genius. It saved the final episode from being overly sentimental. And it set up a future season with a lot of potential for great play, it seems to me. Eric can mentor a whole new crew of rough misfits. We'll get some version of Smash back. And we'll have a whole season of showdowns between Joe and Eric. Plus, Tami will be torn, with loyalties at both schools. What's your view?
---