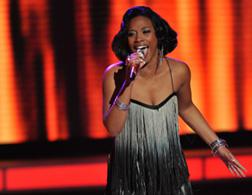 Two weeks ago, I fell asleep during the Idol results show, and when I woke up, everything was different. While I was snoozing, Anoop Desai had become the first 13th finalist and the judges had claimed the right to rescue a contestant from elimination. It's a twist whose significance has since been hotly debated online: Is it unfair? Is it un-American? Is it May 19 yet? What it is, in any case, is a very big deal, because the entire premise of American Idol has centered on the feeling of power (real or imagined) in the viewers' hands. The new order shifts the balance more obviously toward the judges, whose ranks have swelled this season to include a second and less weepy female presence in Kara DioGuardi, and toward the producers, who are, literally, running the show. It's a jarring reminder that Idol's version of democracy, as I've noted here before, camouflages consumer choice as democratic voice. No matter how furiously you vote on your phone, your other phone, and your boyfriend's phone (what? I only have two phones!), the industry is ultimately a marketplace, not a polling place.
It's Idol's adaptability in the changing market that keeps it at the top of the Nielsen ratings in its eighth season (though President Obama's Tuesday address beat last week's Idol numbers). The show owes much of its success to the institutions that came before, including, of course, the inspiration for this week's theme: Motown. Motown's been my favorite Idol theme since the Funk Brothers (RIP Uriel Jones) jammed with the finalists back in Season 3. It's not just because I like the music, though. The structure of Idol eerily parallels Berry Gordy's Motor Town "assembly line," as Ryan called it last night, in some important ways. Just as Gordy thoroughly managed his artists, so co-creators Simon Fuller and Simon Cowell manage theirs, with Fuller calling their franchise "one-stop shopping" for singers—they only need to deal with one company, whereas under typical contracts, different aspects of an artist's career might be handled by a record label and 10 different agents and managers, all paid separately. And Motown and the Fox-hosted American Idol also share a concern with family values, and the equal-parts idealist and capitalist goal of racially integrated music that everyone can buy. (And that everyone can sing, too, as Adam Lambert, looking very spookily like Elvis, so brilliantly demonstrated on Wednesday.) Motown couldn't have become what it did without Gordy's iron hold on the reins, so maybe the Idol producers' recent rule changes are a way to hang onto that kind of strict and profitable management.
There's a new dynamic between the viewers and the judges now, too. That relationship has always been contentious ("… could Simon sway the vote?"; "But America showed Simon they were in control"), and when at some point America makes a decision only to have it revoked, the snit is going to hit the fans. We know from past experience that we do not like our voting results overruled. When will the Fantastic Four use their newfound deus ex machina device? Not yet. It isn't that Alexis Grace, who got kicked off last week, was not good enough to stay; it's just that you don't want to use up your judging ammo before the battle's begun, and, besides, the two-tone and/or pink-haired are among the first to go every season. (The hair of adorable Allison Iraheta, who is still with us, is definitely red! It's red!) No, the show will always go for the drama. I'm betting the veto will come into play around the Top 4 or 5, when fans and contestants are at their most anxious, when the sudden reversal of Idol fortune often happens, and when Lil Rounds will inevitably but somehow shockingly be sent home instead of wobbly Megan Joy.
Speaking of gods and machines, I've been thinking that, in the end, American Idol is every bit as much about religion and politics as the late, celebrated Battlestar Galactica series. We tend to forget Idol's metaphorical power because of its genre, but then again, isn't "reality TV" just another name for "science fiction?" At any rate, I've heard the phrase "the judges' save" so often in the past two weeks that I'm about ready to stand up and shout "Amen!" By the end of Season 8, someone will be saved (and that's very different from Ryan's intoning weekly "sit down, you're safe"). I don't need to hear Kara attribute Allison Iraheta's considerable talent to God, or Michael Sarver declare his intention to "take it to church," to remember that the Idol competition—like any American election—has to do with faith on many levels. The producers have to believe in the salability of their casting choices, the singers have to believe in their American Dreams, and the viewers have to believe their votes matter. (Plus, we are expected to suspend disbelief during the lip-synced group numbers.) Bringing God into the equation just adds a new dimension to the idea of television's "Powers that Be."
But, seriously, the judges are already drunk with power (at least, I think that's power). Do they really need the extra shot? Then again, when the group number tonight is almost certainly "Ain't No Mountain High Enough" for the 8,000th time, I know I will.
---