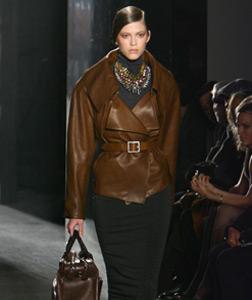 This week, Donna Karan showed a parade of heroic women in draped dresses and bold coats. The show was a strong one, and the crowd watching could tell. The clothes grabbed your attention.
What makes for a great collection? It's the classic Fashion Week question, and insiders might smirk and say, We know one when we see one. But this season, with shows held under the cloud of ongoing economic doom, the question seems more essential. What makes a collection strong? What makes the indulgence of expensive clothes worthwhile?
A great collection should offer a complete experience; it should tell a story. From the first few looks it should project a universe: Where does this woman live? And it should stir cravings: What can't she live without? Designers must tell a story and understand trends, but they must also present a unified vision, and for that, a clear eye and a sure hand are required.
Donna Karan, the queen of Seventh Avenue for nearly 25 years, presented her fall collection Monday afternoon and offered a great example of how things should be done. (Disclosure: I worked for her in the 1980s.)
Her show told the story of a woman coming back to the things she loves best after being far from home. Her universe is unpredictable; she wants to feel both comfortable and strong. And the collection was filled—from the first of the 46 looks to the last—with clothes a Karan fan will crave. She may resist reaching for the credit card, but she may well give in.
With that first look—a dramatically draped inky silk jersey blouse worn with a simple gray flannel skirt—Karan showed an authority that perhaps only a seasoned designer can in uncertain times.
Younger designers seemed stymied this week. Perhaps the economic threat choked imagination; they have mainly depended on '80s retro or looks seen too recently on the runways of Paris.
The force of Karan's collection built from the steady repetition of a vocabulary the designer has owned for decades. How does a woman get up and go always looking her best?
Here was a closet full of answers, in a businesslike palette of black, gray, and brown. Accents of claret (in an assertive cashmere jacket) and cognac (a sheared mink) showed the designer at her best.
She focused on strong shoulders (a trend this season, but always a Karan favorite) and the waist, molding cashmere and leather into her signature shapely jackets and coats with face-framing collars. Dresses draped in soft cowls from the same exaggerated shoulder, often exposing them.  Below-the-knee skirts were trim; pants were pleated and pegged.
Karan was just 26 when she inherited the design studio at Anne Klein after that earlier Queen of Seventh Avenue died in 1974. Her own company—Donna Karan New York—opened in 1985 at the height of power dressing. (Remember women in dumpy pinstripe skirt suits?) But Karan redefined what had been a masculine look and gave it seductive curves.
After years in which Karan's collection drifted too far into the moody slouchiness of her fascination with the New Age, Karan has returned to the citified wardrobe that she does best. The strong shoulders and heroic femininity of power are trends this season, but what made her show a standout was the focus and skill with which she presented them anew. A gray pantsuit suggested that era's fierceness, only without nostalgia.
Karan's show wasn't the only hit of the week so far. Marc Jacobs' ode to pre-Giuliani New York City—fantastic clothes for clubland—showed the designer at his most fun. But isn't clubland gone? At Rodarte, the designers continued to fuse fashion and fiber art. Though it may sound zany, the yarn ball sweaters were fabulous. But Karan's show was great because it showed a real woman, alive.
---