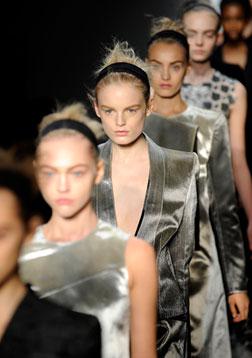 American designers proposed a stimulus package of their own this week, hoping to persuade nervous retailers to stock up on their fall collections. The trends—strong shoulders, femmes fatale styling, texture over embellishment—are clear. The list of "must haves"—if anyone can still use the phrase—has been made: a "statement" coat, cigarette trousers, a draped dress a la Mrs. Obama.
How should women dress in a recession? This week, designers answered: With ferocity. The mood was telegraphed with an abundance of black and exaggerated shoulders. Mad Max-style fur gauntlets and fetish boots, seen on more than a few runways, are the Thunderdome response to last spring's sack dresses and prairie skirts, dubbed "Depression Chic" by Vogue.
What these clothes aim for is a fierce beauty meant to capture the turbulent mood of the times. Boldness, the thinking goes, wards off uncertainty. Most designers are betting that women will want something aggressive; no one presented clothes for a humdrum wallflower.
Francisco Costa at Calvin Klein all but did away with the curves of a woman's body under wool so heavy it could be cut into severe sculptures. The geometry of his jackets—one with sleeves that emerged from a cocoon at the elbow—had the interlocking effect of puzzle pieces, which the designer said were an inspiration. There were many beautiful clothes, including a yellow panne velvet dress that shot down from the shoulders before flaring at the hem like a thunderbolt. Startling, yes, but not sexy in a way most men would enjoy.
Oscar de la Renta knows who is paying the bills—the husbands of his well-heeled clientele. So for him, fierce meant ladylike seduction. His one-shoulder, leopard-print gown spoke more to the boudoir than any interest in geometry. De la Renta's clothes are almost always beautiful, but this season he left discretion behind and went for the big bang of jewel-bright satin cocktail dresses and waists wrapped in shiny gold belts. Recession be damned. That's pretty bold.
Capturing the moods of the times, of course, is job No. 1 for fashion designers. Anybody can buy any old coat. But for women who buy designer clothes—and those women will still buy, even if they buy less—clothes have to do more than just look good. They have to feel right, right now.
So what feels right?
Narciso Rodriguez offered razor-thin suits in black or khaki, tightly hooded heads, and camouflage prints. (The camo was a bad move.) Derek Lam showed a snowball-white fur coat over a white dress, a look that takes some nerve to wear. Marc Jacobs topped a pair of pleated-and-pegged jeans with a flashy jacket in blue brocade. Its zany pagoda shoulders were hardly an everyday choice.
One exception came with the collection of Michael Kors, who presented a wardrobe of tailored old reliables, including a great checked trench coat, and then added a few hopefully irresistible surprises, like a strapless black leather dress and a neon-orange shift (with cap-toed stilettos to match). Kors' philosophy might be the one to get women to spend: Give her something classic that will last and something fun to splurge on.
What these clothes have in common, beyond the ferocious gesture, are references to style in recent periods of boom and bust. De la Renta's boudoir effects are not unlike the sophisticated sultriness of Yves Saint Laurent's masterful work in the early 1970s, when the world was in the midst of an oil crisis. (Tory Burch, in her midpriced collection, also echoed YSL.)
Costa's body-warping cuts are rooted in the bleakly beautiful work of Rei Kawakubo, a Japanese designer who came to prominence in the mid-1980s. The other '80s revivalists this season—Jacobs, Lam, Kors, to name a few—were thinking of an earlier Wall Street collapse when they styled this season's Mrs. Master of the Universe.
Designers often dip into the past for inspiration. But no designer trying to sell a dream these days would look up to Walton's Mountain. It's the Bonfire of the Vanities all over again.
---