Back again, it's Slate's surface-level guide to baseball's postseason, written for those of you who think SportsCenter is that indoor soccer complex off Route 41. Don't know Chone Figgins from Henry Higgins? We're here to help.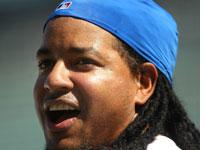 National League Division Series, Los Angeles Dodgers vs. Chicago Cubs
Dodgers talking points: Some statheads like to deride Los Angeles general manager Ned Colletti as a free-spending relic whose affinity for overpriced veterans—Juan Pierre, Andruw Jones, Jason Schmidt—prevents the Dodgers' young talent from seeing the field. Counter that argument by noting, first, that Colletti's acquisitions almost always get catastrophically injured, which frees up playing time for productive youngsters like Matt Kemp, James Loney, Russell Martin, and Andre Ethier. Second, point out that overpriced veterans can be mighty useful: The Dodgers wouldn't have sniffed the playoffs without snagging Manny Ramirez at midseason. Then sabotage your own argument by declaring your irrational hatred for Colletti's predecessor, Paul "Google Boy" DePodesta.
Historical context: While the Cubs have the Dodgers beat in the long, tortured history department, you can still score some points by noting that 2008 marks the 20th anniversary of the Dodgers' last World Series victory, the 50th anniversary of their first season in Los Angeles, and the 40th anniversary of Jack Wild's bravura performance as the Artful Dodger in Oliver! Mention that last one often, because everybody loves Oliver!
Conversation starter: "Do you think the Yankees still prefer Joe Girardi to Joe Torre?"
Conversation stopper: "Food, glorious food!  We're anxious to try it! Three banquets a day! Our favorite diet!"
Cubs talking points: The Cubs made the playoffs in back-to-back seasons for the first time in 100 years, thanks to solid starting pitching, a high-powered offense, Lou Piniella's steady managerial hand, and the good karma emanating from backup catcher Koyie Hill, who cut off three fingers and his thumb in an offseason table saw accident and still made it back to the majors by September. While you're not sure which factor deserves the most credit for Chicago's great season, you're nonetheless worried that, in leaving the catcher off the playoff roster, the Cubs risk falling victim to the Curse of Koyie Hill's Fingers.
Historical context: The Cubs haven't won the World Series since 1908, when they were led by a double-play combination immortalized in verse by columnist Franklin P. Adams: "These are the saddest of possible words/ Tinker to Evers to Chance." Although "Theriot to DeRosa to Lee/ And sometimes Mike Fontenot and Ronny Cedeno play second base/ When DeRosa is in right field" doesn't scan nearly as well, that shouldn't stop you from reciting it, repeatedly, to anybody who will listen.
Conversation starter: "Say what you want about Ryan Dempster and Aramis Ramirez—superutility man Mark DeRosa is the Cubs' MVP."
Conversation stopper: "Koyie Hill's Severed Fingers is the perfect name for my new death metal band!"
National League Division Series, Milwaukee Brewers vs. Philadelphia Phillies
Brewers talking points: There's no doubt that the Brewers owe their wild-card berth to midseason acquisition C.C. Sabathia, who posted an 11-2 record and a 1.65 ERA in 17 starts after coming over from Cleveland. If the Brewers hope to advance, they're going to need at least one other starter to pitch well. The candidates include Dave Bush (29 home runs allowed this season), Jeff Suppan (8.44 ERA in September), and Yovani Gallardo (one start since May 1). On second thought, maybe they should just get Sabathia to start every game.
Historical context: If the Brewers win it all, they could be the fattest World Series champions in baseball history. Milwaukee's 40-man roster features 12 players who weigh 220 pounds or more, including the (allegedly) 270-pound Prince Fielder, the 290-pound Sabathia, and Seth McClung, who ballooned to 475 pounds when he ate then-manager Ned Yost on Sept. 15. (The Brewers claim Yost was fired, but then how do you explain the ketchup stains on McClung's jersey?)
Conversation starter: "If the Brewers don't go anywhere this year, you can blame it on OBP—Prince Fielder is the only regular with an on-base percentage over .350."
Conversation stopper: "Forget this baseball foolishness. I'm betting it all on the bratwurst in the first-ever playoff sausage race."
Phillies talking points: After a slow start, Ryan Howard led all of baseball with 48 home runs and 146 RBI—including 10 homers and 28 RBI in September. Nevertheless, the Phillies are the only playoff team in recent memory that's built around its middle infielders. Lucky for the Phillies, Chase Utley and Jimmy Rollins are really, really good—Utley hit .292 with 33 home runs and a .380 OBP while Rollins, although down from his usual numbers, nonetheless hit .277 and stole 47 bases. It doesn't matter that the outfield is mediocre or that the starting staff gets battered after Cole Hamels and Jamie Moyer. As long as Utley and Rollins are in, you can't count the Phillies out.
Historical context: Just like in 2007, the Phillies came from behind in September to take the division away from the New York Mets. Unlike in 2007, it didn't feel like a fluke this year. And also unlike 2007, the Mets will never, ever, ever have the chance to win a playoff game in Shea Stadium again and will send that stadium to its grave not in a spirit of celebration but of defeat. Eat it, New York City! Eat it, Mets! Philly! Woooo!
Conversation starter: "Sixteen wins and a sub-4.00 ERA at age 45? I'd like some of what Jamie Moyer's drinking." 
Conversation stopper: "Still smokin' at age 49? I'd like some of what Jamie Lee Curtis is drinking. Hubba hubba!"
American League Division Series, Tampa Bay Rays vs. Chicago White Sox
Rays talking points: The Rays' master plan of being bad for a really, really long time and losing their star player to a horrible wasting disease finally paid off this year. The draft picks they reaped after a decade of badness (B.J. Upton, Evan Longoria, James Shields, and many others) took the majors by storm, leading the Rays to a division title after a sad, barren decade of futility. Send a thank-you card to ex-GM Chuck LaMar, complimenting him on his excellent strategy—and send a sympathy card to DH Rocco Baldelli, who really does have a horrible wasting disease.
Historical context: After a decade of futility as the Tampa Bay Devil Rays, the Rays dropped the "Devil" this season and zoomed to the top of the AL East. Of course, they also had good players for the first time ever, but this shouldn't stop you from insisting that the K.C. Royals' decades of futility will be over just as soon as they change their name to the "Sunshine Bands."
Conversation starter: "Everybody talks about the Rays' young hitters, but the bullpen's turnaround was the key to the team's success. Last year, they had one of the worst ERAs in baseball history; this year, they're fifth-best in the majors."
Conversation stopper: "Sure, Evan Longoria plays a great third base, but have you seen him in a ball gown? Ravishing."
White Sox talking points: Chicago did everything possible to blow the AL Central—going 11-15 in September, losing the sweet-swinging Carlos Quentin to a case of bat rage, starting the punchless Ken Griffey Jr. and Nick Swisher on a regular basis, adopting "It's Not Gonna Happen" as the team's unofficial motto. Although your friends might argue that they squeaked into the playoffs thanks to solid starting pitching and veteran leadership, you suspect that the White Sox were galvanized by the fear that, if they choked, manager Ozzie Guillen would follow through on his frequent threats and throw them under an actual bus.
Historical context: Since winning the World Series in 2005, the verbose Guillen has feuded with seemingly everybody in baseball, including newspaper columnists, opposing players, umpires, and his own general manager. Feel free to get into the Guillen spirit by loudly criticizing everybody with whom you are watching the game, especially those who are fat or possibly homosexual. Your friends will think that you're a comic genius—just like Ozzie!—and, also, that you're a huge jerk. Just like Ozzie!
Conversation starter: "Don't be fooled by Paul Konerko's lousy overall numbers—he was one of the best sluggers in baseball in August and September."
Conversation stopper: "Ken Griffey Jr. is old enough to be Ken Griffey Sr.'s father."
American League Division Series, Boston Red Sox vs. Los Angeles Angels of Anaheim
Red Sox talking points: After seven years of letting Manny Ramirez be Manny Ramirez, the Red Sox finally tired of his antics and traded him to the Dodgers in July. While popular opinion holds that the Ramirez trade was addition by subtraction, you're not too sure about that math: Manny had a monster second half (.396 BA, 17 HR, 53 RBI) for the Dodgers, and that kind of production in Fenway might have helped the Red Sox win the division and secure home field advantage. Still, a .358 team OBP and a deep starting staff leaves you optimistic about Boston's chances, even if you now have to settle for letting Kevin Youkilis be Kevin Youkilis. 
Historical context: The impending demolition of Yankee Stadium means that Fenway Park is now one of only two major league stadiums built before the Great Depression—the other, of course, being Chicago's Wrigley Field. Your friends will applaud your spirit when you repeatedly encourage the Dodgers to "drop some depth charges at Wrigley," never realizing that you're actually advocating a violent and casualty-laden scorched-earth strategy.
Conversation starter: "Sure, the Indians' Cliff Lee won more games, but Daisuke Matsuzaka meant more to his team than any other pitcher this year."
Conversation stopper: "We might not win the Series this year, but, hey, at least the Patriots still have Tom Brady."
Angels talking points: The Angels destroyed their American League competition behind closer Francisco Rodriguez's record-setting 62 saves. You, however, realize that a lot of saves are usually indicative of a crappy offense and are more impressed by the Angels' anonymously efficient starting staff—the top five starters posted 70 wins and a 3.97 ERA. Although "Joe Saunders" and "Ervin Santana" sound suspiciously like aliases, you're not going to ask any questions as long as they keep winning.
Historical context: With those 62 saves, Francisco "K-Rod" Rodriguez effortlessly broke the previous major-league record, which had been held by Bobby Thigpen, an average pitcher without a cool nickname who had one really good season in the course of an undistinguished nine-year career. Follow in Ford Frick's (supposed) footsteps and argue that K-Rod's record should be accompanied by an asterisk because Bobby Thigpen really, really needs this.
Conversation starter: "Vladimir Guerrero in a down year is still more fearsome than pretty much every other hitter." 
Conversation stopper: "Gary Matthews Jr. in a down year is … oh, wait, that's every year."
---