Take an orange and drop a handkerchief over it. Notice the way the fabric folds around the orange's curves. If you stitched the handkerchief tightly at the folds, you'd be making darts.Now pull the handkerchief taut from two adjacent corners—you're looking at the fabric's straight grain. Now pinch the handkerchief from its center, letting the points fall. Notice the drape. You've found the bias, the line that bisects the straight grain diagonally.
Straight grain (which gives a garment structure), bias (which gives softness), and darting (shaping fabric to the body) are fundamentals of dressmaking. Add to them knowledge of varying weights of cloth, an understanding of the needle and steam iron, and a sense of "how women live"—a phrase beloved by fashion people—and you have the makings of a collection.
Season after season, designers face these fundamentals and aim to do one of two things: make the extraordinary or make the ordinary new again. Making the ordinary new again has long been the American way with fashion. We expect zaniness in London, sexy luxury in Milan, fantasy in Paris.
But at Fashion Week last week in New York, where the first leg of the spring 2009 season ended Friday, the best American designers seemed dissatisfied with the ordinary. Marc Jacobs offered elegant zaniness. Ralph Lauren showed sexy luxury. Rodarte gave us a Goth-glam fantasy. These collections were beautiful and well-received. But were they American?
It's interesting to think about why we box designers in. Because Paris "invented" fashion—it had royalty and the ateliers—anything goes, even today. The Milanese do cashmere with bazooms the way they do osso buco con risotto: perfettamente. But today's American designers are saddled with the dying legacy of New York's Garment Center, a manufacturing capital that grew strong, in part, from copying European designs before American sportswear was born in the 1940s. American sportswear, the easily interchangeable "separates" of Claire McCardle, Anne Klein, and, later, Perry Ellis, offered a stylishly new ease for women (Donna Karan loves to call it "a system of dressing"), and we expect American designers to exploit its promise of effortless chic.
It was a shock then, last week, to see Zac Posen declaring in WWD that "American sportswear has no purpose." Perhaps he simply meant that since sportswear is readily available at bargain outlets like Target, top designers needn't trouble themselves with it. But his collection suggested otherwise. He showed a fun but incoherent collection of frothy dresses and will likely have trouble expanding his business if he can't find a way to show clothes for a woman who doesn't live in an evening gown. It's a purpose he should bring his talent to. Meanwhile, Anna Sui took her bow in a "Save the Garment Center" T-shirt, as the remaining design and manufacturing tenants in the now high-rent district band together to petition Mayor Bloomberg to intervene and help preserve the local industry.
I would argue that fine American sportswear—a tired-sounding entity—does matter. Especially if what's offered instead doesn't rise to the level of great design. Granted, in a technological world where stylish women everywhere can buy the same key looks from sites online, national distinctions mean less and less. But if an American design challenge exists—and I think it does—it is an important one: to bring the mood of the times and the trends of the season into focus, but to do it in a way women can not only dream in but live in.
Happily for American fashion, we have Francisco Costa at Calvin Klein. Costa, who got off to a rocky start when he took charge of the runway collection in 2003, has in recent collections worked wonders with Klein's classic clean lines and made them his own. Costa's innovative spring collection managed to make simple clothes new again—a simple white top but in crystal-studded latex; a classic silk-and-wool sheath but with origami tucking—and he did it in an extraordinary way. If some of the shapes—the collapsed Claes Oldenburg cube dress, the coat with flaps at the hem—were awkward, it didn't matter. Costa challenged our expectations of what a dress and coat might look like, adding volume that was interesting, if not always sexy.
Costa considered—and sometimes did away with—a woman's curves by advancing a permanent folding technique (the shape-giving darts are heat-set into the fabric, often replacing the need for yesterday's stitches) similar to one used by Miuccia Prada in Milan. There's little styling here—the work is in the pale colors, the glowing textures, the incredible folds moving over curves real and man-made. One editor called it "Frank Gehry fashion."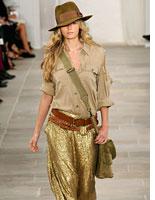 Ralph Lauren's collection—white linen safari suits, slip dresses, leather trench coats, shown with turbans and hunting hats—broke no design barriers except of the dreamy kind. The season's trendy harem pants (in gold beads) were a welcome addition to Lauren's lineup of longtime favorites. Despite the exotic inspiration—was it Ali Baba? Raiders of the Lost Ark?—this was a deeply American collection for two reasons: Lauren presented a sophisticated rendition of wide-eyed, Yankee naiveté in clothes offering a lot of style with little effort. Here was the idea of the Middle East as conceived on the Hollywood back lot, a shared idea of "foreignness" from a time long gone. And coming from Lauren—perhaps the greatest fashion marketer of them all—you could also hear the capitalist ka-ching a-coming. Lauren will open a store in Istanbul this fall—his first in Turkey. (He currently has four boutiques in the Middle East.)
Narciso Rodriguez is a Cuban-American who worked for Calvin Klein in New York for many years before working in Europe for many more. A designer with his background and devotion to women's curves has little use for national distinctions; women are curved all over the world. His spring collection—beautifully feminine, and based on banding and color—was subtly inspired by graffiti, Japanese ninjas, and photographer Nobuyoshi Araki. But it was successfully rooted in the designer's sportswear background. You can see it in the zippers on jumpsuits, the shirtlike ease of the day dresses, the surprising nonchalance of a bright orange coat.
There can be no question that Donna Karan is a great American designer: She changed the way a generation of American working women dress. (Disclosure: I worked for her in the 1980s.) Yet for spring she seemed to have the two sides of Angelina Jolie on her mind. Her collection was based on slithery jersey dresses with a deep décolletage and the occasional mannish jacket or military-style leather vest. The marbleized silks were lovely and the draping was pure Karan.
If Karan deserves credit for following the development of her inner muse—and the lives of her many fans—from the urban superwoman of the late '80s to the spiritual everywoman of the '90s, her spring collection raised this question: Where were the suits? Ms. Jolie—part limpid lady, part warrior goddess—is delicious, but you need look no further than the famously pantsuited Hillary Clinton, and now the famously skirt-suited Sarah Palin, to know that powerful American women still need help looking their feminine best.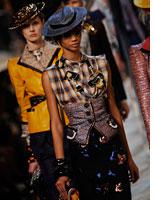 Marc Jacobs—who ruled the week, again—presented a collection that was, despite its zaniness and the hauteur of its high-fashion look, completely American in its reinvention of the past. Jacobs took a hobble skirt, a gingham shirt, and a Sunday-best dress and ran riot with them. He used lurex florals and richly hued boucles, and tossed in kimono coats, athletic stripes, and a George Washington jacket in his Rorschach test. Where do you see America?
Jacobs said his collection was "American, womanly, Broadway, Perry Ellis"—which he designed briefly—"country and naiveté." To me, it seemed to have come from the honky-tonk pattern mixes of Porgy and Bess, the high-yellow glamour of Showboat and the incredible grace of "Revelations," the Alvin Ailey masterwork on the black churchgoing experience. Nearly every model wore a hat and carried a bag, which could easily have been one of Ailey's fly-swatting fans.
Take away the church hats and look past the (sublime) runway styling, however, and these are great clothes—ribbed sweaters, silk blouses, wide leg pants, simple evening dresses—that will find their way into many big-spending women's closets. And given this designer's influence, the copies will be available to everyone else.
That most American of American designers, Michael Kors, loves his separates like a preacher loves his down-home religion. The problem is he rarely changes the hymn. Sometimes, preferably, he does Hollywood glamour. This season he retreated to the suburbs with checked picnic skirts, bikinis, and scuba-style suits.
Which brings me to our potential first ladies, each a symbol of American womanhood. Cindy McCain seems the kind of woman who would be drawn to Kors' red-white-and-blue country-club pageant. Yes, the shift dresses were immaculately well-cut, the coats both comfortable-looking and precise. But with the Beach Boys' "Good Vibrations" playing and the sundresses bouncing down the runway, this collection revealed neither naiveté nor optimism; it seemed willfully ignorant of the perilous world pressing in around it.
It's anyone's guess whether Marc Jacobs' collection presented provocative images of black American women intentionally. And it's unfortunate that he, like so many New York designers, didn't use more models of color in his show. But as the jazz-inflected American classic "Rhapsody in Blue" played at his show, I couldn't help thinking Michelle Obama—open-minded, adventurous, curious—is the kind of woman who would be drawn to Jacobs' clothes. If she wears them to the inauguration, it would be a revelation.
---