Check out Slate's complete coverage of the Beijing Games. Meghan O'Rourke also wrote about the women's gymnastics team finals.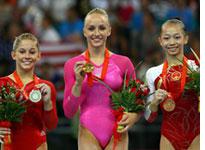 Last night, in the women's all-around final, the two opposing forces of gymnastics did exhaustive battle under the watchful eyes of NBC's ever-more-bizarre commentators to decide who, for the next four years, would represent the best of the sport. No, the forces were not the United States and China. They were two Americans, Nastia Liukin and Shawn Johnson.
Nastia represents a style of gymnastics that's elegant, balletic, precise, and a little vulnerable. She performs a vault with a low start value—but often does it perfectly. In between routines, she stretched, rubbed her legs to stay warm, and gazed blankly about her, like a sleepy Alice gazing into the looking glass. She refuses to smile at the cameras. Shawn is more characteristic of American gymnastics: athletic and energetic, full of twists, flips, and shimmies, executed with the pure power of a spark plug. In between routines, she did a series of springy tuck-jump hops on the floor mat, then turned a casual front flip. During this Olympics, she has performed one of the most difficult vaults but never manages to rotate fully through it. She smiles and waves into the camera. Her style is inherited from Mary Lou Retton, who—no accident—Johnson greeted in the audience after she completed the stunning floor routine that would bring her the silver medal.
In the end, Nastia won the day—she finished ahead of Shawn by six-tenths of a point. It was a historic competition for many reasons: This is only the third time an American has won the gold all-around medal: Mary Lou Retton won in 1984, when the Soviets weren't competing, and Carly Patterson surprisingly beat out everyone, including the diva Svetlana Khorkina, in Athens in 2004. It's also the first time America won gold and silver. (As the irascible yet cuddly looking Bela Karolyi put it, talking to Bob Costas at the NBC home base, "The ladies are looking good.") Finally, in a sport that's ever more about power and less about delicate artistry, it was thrilling to watch a gymnast so dedicated to lithe precision.
While I prefer Nastia's gymnastics to Shawn's, both Americans won my heart—now steeped and softened by a week of Olympic sappiness—by refusing to cave under pressure or to pout like bad sports. They would have had every reason to. Early on in the evening, it had looked once more like the real fight was between the Americans and the Chinese, particularly Yang Yilin. The Americans seemed at a notable disadvantage, and not exactly through their own doing. On the first two rotations, vault and uneven bars, they received disappointingly low scores, while many of the Chinese and Russian women (like Anna Pavlova and Ksenia Semenova) seemed to be catching tons of breaks from the judges. The discrepancy was so striking that commentator Tim Daggett felt he had to explain that just because the Olympics were in China didn't mean "there were more Chinese judges." Then Yang Yilin turned in a devastatingly beautiful performance on the balance beam. * It impressed not only the judges but the NBC commentators.
It also meant that both Nastia and Shawn had to perform at their best on the next two events, beam and floor. Gymnastics is a highly psychological sport, and performing while knowing there is no room for error is enough to make a girl crack—or at least wobble on the balance beam. But I've never seen Nastia look so good on the beam; her leaps were fully extended, with her flexibility and confidence on full display. Commentator Elfi Schlegel called the performance "the best in the world," and for once I didn't disagree. Nellie Kim, the head of the technical committee, walked determinedly out to the other judges afterward, as if to make sure they didn't screw up this score.
Shawn, who is less flexible and more powerful, nonetheless has a grace of her own, which, I think, stems from her sense of the flow of movements required of a gymnast, of the fact that dance is not just filler between checking off difficulty-laden moves. Though she was well behind the lead going into floor—and quite a ways off from a silver medal—she brought the same energetic grace to her floor routine, receiving one of her highest scores. And suddenly she was in position for silver. The two young women are roommates in Beijing, and they hugged after the final event, though you could tell Nastia would've been majorly bummed if their positions had been reversed. According to Tim Daggett, her father, Valeri—a former Soviet gymnast who won an Olympic gold medal 20 years ago and who evinces all the warmth of a bodyguard—likes to say, "Second is the worst on the world; only one color works for this family." (Weirdly, Valeri got the silver in the all-around.)
 Meanwhile, the wonder trio of NBC's commentators grew ever more punchy and nonsensical. If anything, they took the art of the meaningless statement to a higher level than ever before, as if striving for Olympic gold themselves. Some highlights: After Yang Yelin performed on the uneven bars, Daggett said, "A great routine here. Not good, but great." When Jiang Yuyuan fell on her vault, Trautwig pointed out that her parents were nearby "watching the Olympics with relatives in the room … can you imagine the devastation [they must be feeling]?" Elfi Schlegel helped out viewers with some math, noting that one girl "has scored as high as 15.975—so, really close to 16."
My favorite, though, was Bela Karolyi, who, crazy and cruel as he can be as a coach, showed a real love and connoisseurship for the sport. He could barely sit still in his seat, but he also refused to engage in the mushy speculation that Costas was hoping for. Instead, at "halftime" he merely noted that he was "not satisfied with the scoring by the judges" and that we'd have to wait and see how the "girls" performed. So we did.
Correction, Aug. 18, 2008: This article originally misstated that Chinese gymnast Yang Yilin is the defending world champion on the balance beam. American Nastia Liukin is the defending beam champion. (Return to the corrected sentence.)
---