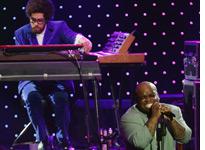 The first thing you hear on Gnarls Barkley's The Odd Couple is the whirr of a movie projector, a sound effect that returns, faintly, at the beginning of each of the album's 13 tracks. It's a redundant move: Anyone who has been paying attention knows that Cee-Lo Green and Danger Mouse, the singer and producer behind Gnarls Barkley, are into cinematic sounds, and cinematic artifice. Their monster 2006 hit "Crazy" was based on a snippet from a 1968 Italian movie soundtrack. And there is no mistaking the duo's love of spaghetti-Western maestro Ennio Morricone, whose spirit lurks in their ballads' stark high-desert atmospherics and sweeping harmonic turns.
But Gnarls Barkley has included that clicking movie reel, anyway, lest anyone miss the point. It's the same impulse that compels Cee-Lo and Danger Mouse to appear onstage and in photo shoots wearing wacky costumes, done up as a 1980s hair metal dudes or 1950s greasers or the cast of Star Wars. They are anxious ironists, snickering at pop's pomp, and hell-bent on dispelling any doubt that they're in on the joke—even if it means sticking their drummer in a Chewbacca suit.
The shtick would be insufferable if the music weren't so good. The album opens with "Charity Case," a typically busy and enthralling jumble of sounds and genre gestures, which sets Cee-Lo's vocal above a brisk beat and an organ whine, with chain-gang-style grunts, chimes, and shuddering tremolo guitar chords filling the space between. As always, Cee-Lo's singing is stylistically retro, full of vintage soul and gospel flourishes. (At times, his reedy rasp eerily resembles Nina Simone.)
Yet Cee-Lo and Danger Mouse are not revivalists. Their songs mix vintage rock and soul with hip-hop production, the blend that has defined all of Danger Mouse's work. But Gnarls' attitude toward the past is more playful than reverent. The raucous lead single "Run" is a mashup of '60s go-go pop and Parliament-Funkadelic that delights in, and lightly mocks, both styles. (The "Run" video adds another layer of genre parody, spoofing '80s hip-hop, with Justin Timberlake guest starring as a doofy TV host in Cazal glasses.) Like all first-rate producers, Danger Mouse has an exacting pair of ears; his records just sound better than most. The primary pleasure of The Odd Couple is simply aural, the rub of the analog against the digital, the mix of tones and timbres: the solid slammed-car door thwack of the snare drum that powers "Going On," the round, rubbery bass that's pushed to the foreground in the album-closer, "A Little Better."
That song brings down the curtain on The Odd Couple on a cautiously hopeful note: "I can laugh at it now, I feel better/ … And even a little is still better/ Oh, have mercy on me," Cee-Lo sings. It's the most lighthearted lyric on the record. Gnarls Barkley fans who were too distracted by the prep-school costumes to hear the dark tidings in "Crazy" will not miss them this time around. Spiritual torment, paranoia, drugs, death, "karma"—these gentle themes that crop up in song after song, with Cee-Lo singing in the voice of the world's loneliest man. "I don't have any no friends at all. …/ So who's gonna catch me if I fall?" he howls in "Whatever." In "Charity Case," his solitude is total: "Even my shadow leaves me all alone at night."
Cee-Lo is an easy musician to root for. He's bald, short, and as stout as a Hummer H3 but nevertheless sleek, commanding the concert stage with a palpable charisma. He has a nimble falsetto voice and a knack for lyrics, peppering his songs with little insights and aphorisms. When it all comes together, as in the molto Morricon-esque ballad "Who's Gonna Save My Soul?"—the closest The Odd Couple comes to a song of "Crazy" caliber—Cee-Lo seems every inch the star that he obviously wants to be.
Most of the time, though, you find yourself admiring Cee-Lo but unable to feel his pain. With Gnarls Barkley, you cannot silence that movie projector's whirr in your mind's ear. Cee-Lo and Danger Mouse want to have it both ways, flaunting their Olympian ironic distance while still delivering an emotional stomach punch. But music this stylized and knowing does not lend itself easily to pathos. When Cee-Lo bellows "Oh, I've been entered by evil/ So someone best love me right now," it sounds less like a cri de coeur than another impeccably wrought flourish.
I hope that Cee-Lo returns at some point to his first career, as a rapper. The emphasis in rap is on wit and flash rather than depth—it's a job that suits him better. In the meantime, I'll keep The Odd Couple on heavy rotation, even if I'm not quite buying what Gnarls Barkley is selling. The main fare on the new album is familiar: Cee-Lo's is still singing a lot about insanity. "This is the start of my journey/ And my mind's already gone," he cries in "Going On." Gnarls Barkley clearly aspire to a place in black music's pantheon of ingenious artsy freaks—Sun Ra, Sly Stone, George Clinton, Hendrix. But their true spiritual cousin might be Beck or, to extend the cinematic metaphor, Quentin Tarantino: They're postmodernists and virtuoso formalists, too meticulous and too emotionally controlled to come off as whacked-out brothers from another planet. The jesters behind Gnarls Barkley are a lot of fun. Occasionally, they're brilliant. They're just not crazy.
---