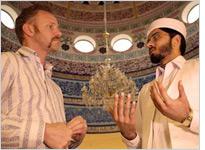 In Where in the World Is Osama Bin Laden? (The Weinstein Company), Morgan Spurlock, the stunt documentarian of Super Size Me and the FX series 30 Days, goes on what amounts to a goodwill tour of the Middle East, ostensibly for the purpose of making the world safe for his soon-to-be-born son. The opening credits feature an animated video-game battle between Osama and Spurlock that sets the tone for the whole movie: high production values, maximal cuteness, and a mock-heroic tone that's not so mock. For all his self-deprecation, Spurlock really does see himself as a holy fool, a crusading clown brave enough to risk his own body in order to make a point. When that point was "Stop eating McCrap," there was a certain balance between the medium and the message (and Super Size Me did have real-world effects; after the film was released, McDonald's rescinded its super-sizing policy). But now that Spurlock has replaced burgers and fries with geopolitics and the war on terror, he seems less like an agitprop maverick than a gawking rube.
That's not to say Spurlock isn't good company. With his goofy interview technique and easy laugh, he has a way of putting his subjects at ease even as he tests the audience's patience. The movie's best moments are the flashes of real intercultural exchange, when Spurlock collars Egyptian schoolgirls in the street for impromptu conversations or watches Afghan soldiers near Tora Bora hunt for a tree nut famed for its aphrodisiac properties. And by moments—as when he stands aghast in a square in Saudi Arabia that's the site of both public beheadings and kids' soccer games—his innocent-abroad schtick actually works. At other times—for example, when he asks permission to shoot a rocket launcher in the mountains of Afghanistan, deeming the experience "awesome"—Spurlock's wide-eyed Yankee enthusiasm seems like part of the problem.
The Saudi Arabia segment is the most illuminating, if only for the visual contrast between Osama's dazzlingly wealthy homeland and the no-man's land where he's most likely holed up—the ragged clothes and piles of rubble of the Afghanistan/Pakistan border are replaced by a sea of pristine white robes and head-to-toe black burqas. But the movie talks down to its audience by, for example, condensing the history of U.S. Middle East policy into a cutesy animated montage that tells a story well-known to anyone who's turned on a television in the past six years (or seen any of last year's excellent Iraq documentaries or, for that matter, Charlie Wilson's War). Insofar as Spurlock draws any political conclusions at all, they don't go much further than the title of the Elvis Costello song that plays under the final credits, "(What's So Funny 'Bout) Peace, Love, and Understanding?"
I wish this airheaded, if genial, road movie had been double-billed with a companion piece, Where in the World Is My Goddamn Husband?, in which we'd watch Spurlock's wife, Alexandra Jamieson, clomp through her second and third trimesters alone in Brooklyn, N.Y., while her partner checked merrily in from the caves of Tora Bora. Alexandra needn't have worried about Morgan's safety: Though he takes courses in how to survive hostage situations and dons a bulletproof vest for some excursions, the closest he gets to physical danger is when he's shoved in the chest by an angry ultra-Orthodox Jew in a Jerusalem neighborhood. But when Spurlock got back and showed his wife what a slick, shallow entertainment he spent all those irreplaceable months producing, I hope he got sentenced to a few extra night-shifts with the baby.
---