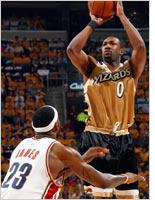 WASHINGTON, D.C.—With 10 seconds to go in a tie game, LeBron James took a hard dribble to the free-throw line and found Delonte West wide open in the corner. Pass, swish, Cleveland by three. On the other end, Gilbert Arenas grabbed the inbounds pass, leaned in, and bricked a 3-pointer at the buzzer. Wizards lose. Were any of Arenas' teammates open? I didn't even bother looking. Even if all five Cavaliers climbed inside his jersey, there was no way Arenas was passing the ball.
In his book God Save the Fan, Deadspin's Will Leitch argues that, for the modern basketball fan, the fun-loving, jersey-tossing, blog-writing Agent Zero is a more compelling figure than the aloof, product-pitching LeBron. "In 20 years, when we think of LeBron James, we will think of Gatorade," Leitch writes, "and when we think of Gilbert Arenas, we will smile and think of ourselves." Right about now, I don't think Gilbert Arenas' teammates are smiling when they think about Gilbert Arenas. It wasn't just that the injured, mostly ineffective guard took the last shot in Sunday's Game 4, nor that he tied the game on a crazy fallaway banker 30 seconds earlier—a terrible shot that was no less terrible for going in. It was what Arenas said after the game. "I mean, this is not my team," he said, explaining why he didn't score in the first half. "This is Caron and Antawn's team. … They held this boat together for the last four, five months. What is my [place] to come out here and take 24 shots?"
While Arenas was trying to be deferential, his on-court actions revealed he was being disingenuous. After all, if it's Caron Butler and Antawn Jamison's team, then how come Arenas never looked for either of them at the end of the game? Perhaps Washington coach Eddie Jordan, who chose to put the ball in Arenas' hands, should have figured out from Game 3 that the Wizards were playing better without their one-time best player on the court. And Jordan definitely should have known that Agent Zero wouldn't look to get anyone else involved. Arenas, it seems, was self-aware enough to know that the fate of the season shouldn't rest in his hands, yet too self-absorbed to pass up the spotlight.
There are plenty of reasons to dislike LeBron James. He has the oversized ego of someone who's answered to the name "King James" since he was 16. He wears giant wraparound sunglasses indoors and whines when the refs don't call things his way. His fixation on becoming the world's first billionaire athlete makes him both a bit hard to relate to and, like Michael Jordan, averse to saying anything that hasn't been approved by a series of focus groups commissioned by Nike.
There are plenty of reasons to love Gilbert Arenas. Unlike James, his fame was not preordained. He is a grass-roots phenomenon, a guy who made his name with deep 3-pointers, pell-mell drives to the basket, and blog posts about Halo 3. He brags openly about the joys of shooting a crying kid with paintballs and shouts "Hibachi!" when he makes a basket. He has pushed to come back from knee surgery, imperiling his career and his future earnings by joining his team for the playoffs.
Yet when they were on the court Sunday, it was hard to root against LeBron James and hard to root for Gilbert Arenas. A willingness to pass the ball isn't necessarily a sign of high moral character; it is a sign that you're aware of how to beat a trapping defense. It took Michael Jordan four tries to figure out that to beat the Pistons' pressure D (aka the "Jordan rules"), he needed to rely on his teammates to knock down open looks. LeBron, now in his fifth NBA season, hasn't had such a learning curve. Sure, he's happy to take the last shot himself. But he's also unafraid to swing the ball to his fellow Cavs, even when it's the playoffs, the clock is getting down to zero, and the guy who's open happens to be Damon Jones (who, thanks to a pass from James, closed out a 2006 playoff series with the Wizards) or Donyell Marshall (who missed a last-second shot off a LeBron feed in last year's Eastern Conference finals).
Cavaliers coach Mike Brown, having been lucky enough to get work as LeBron James' remora, understands what it means to be a star player. "That's why [LeBron] is going to go down as the best player ever in this game," Brown said after the game, "because not only can he score, not only can he rebound, he has the ultimate trust in his teammates." The Wizards' Eddie Jordan has a tougher job. Arenas, who was always a bit selfish on the court—a more likable, slightly less insane version of Stephon Marbury—is returning from an injury that has isolated him from the rest of the team. Earlier this month, for example, Arenas didn't bother to tell Jordan or any of the other Wizards that he planned to make a dramatic return from the ranks of the injured. After sitting out 66 games, the All-Star guard popped out of the locker room halfway through the first quarter of a game against Milwaukee and ran onto the floor. "He didn't really tell me, but that's Gil," said Jordan after that game. "I found out. Let's say it wasn't normal, proper channels, but I found out."
Arenas deferred to his hot-shooting, nonlimping teammates for most of Sunday's game, then played one on five when it really counted—an assist man for 47 minutes, a gunner at the end. By putting the ball in Arenas' hands, Jordan signaled that he was betting his season on an individual rather than the team. I'm not usually a believer in the importance of team chemistry, but it shouldn't be surprising that the team whose star doesn't talk to his teammates lost to the team whose star defers to his colleagues even though he might be the best basketball player in the universe.
If Arenas is a bad teammate, why is he such a folk hero? While he has been slow to return to form basketballwise, at least his blogging has remained superb. Before the first round began, he called out the Cavs, writing that "everybody wants Cleveland in that first round." No doubt inspired by Arenas' penchant for the grand gesture, fellow Wizard DeShawn Stevenson repeatedly called LeBron James "overrated," (possibly quasi-intentionally) raked James across the face in Game 4, came out for Game 3 with a mohawk, and flew in rapper Soulja Boy to sit courtside, which apparently led Jay-Z to write a (not-very-catchy) DeShawn Stevenson dis track titled "Blow the Whistle." ("He's worth about $500 million, and he's writing songs about me?" Stevenson asked before Sunday's game, self-lovingly. "What does that say about DeShawn Stevenson? Ballin'!")
Perhaps Charles Barkley is correct that "the Washington Wizards have got to be the dumbest team in the history of civilization." Arenas' and Stevenson's smack talk, and the latter's flagrant foul on Sunday, have seemed to push James into super-LeBron mode. All of the yapping, though, has added a frisson to what would have otherwise been a pedestrian series. The NBA would be a lot less fun to watch without guys like Gilbert Arenas and DeShawn Stevenson. With Arenas at the helm, the Wizards will never come close to winning a title. But remember that LeBron James is just 23 years old—he's going to need cannon fodder for at least the next decade. Let's hope that Agent Zero sticks around that long. It's incredibly fun to watch him lose.
---