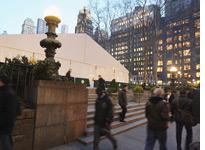 It's Fashion Week—again! For style-challenged readers who don't know Rag and Bone from Rodarte, and who can't think of anything to say about Fashion Week besides "It's Fashion Week—again!" we offer this conversational cheat sheet. Read the following, and you'll talk like an insider, even if you don't look like one.
1) Don't call it a "catwalk."
A brief note on terminology: Fall Fashion Week kicks off in New York on Friday, before moving on to London, Milan, and Paris, where the season will wrap up on March 3. During this time, an international battalion of editors, stylists, buyers, celebrities, reporters, and fans will see thousands of looks (fashion-speak for "outfits") paraded down what's known as the runway in New York, the catwalk in England, la passarella in Italy, and le podium in France. 
If a look is particularly stunning, the editors will pronounce it to be genius. (Geniusis still the new brilliant, while vanguard is this year's edgy.) The stylists will have their edit done at the end of every show. (An edit is a list of favorites to be called in for meetings about upcoming sittings, or photo shoots.) But the buyers won't lay down paper (retail jargon for "place an order") until they've reviewed the collections at writing appointments.
2) Defend Marc Jacobs.
Fashion conversationalists in 2008 must take sides on the great Marc Jacobs brouhaha of 2007. Jacobs, the most influential American designer working today, caused a ruckus last season when his show—scheduled at the I-can-do-whatever-I-want-to hour of 9 p.m.—started two hours late. (Big name designers often start their shows late, but this show made their shows look punctual.) Jacobs kept an audience of 1,600 waiting to see his take on celebrity sex appeal, which included a skirt pulled down below a model's panties. The late start did not go over well. Retailers told Women's Wear Daily the delays were "frustrating" and "disrespectful"; and International Herald Tribune critic Suzy Menkes slagged the collection, calling it "a bad, sad show." Miffed, Jacobs threatened to move his fall show to Paris.
Jacobs' show remains in New York, and, as much fun as fashion folk had last year griping and speculating about the reasons for Jacobs' lateness—drugs? A fashion glitch? Unmitigated arrogance?—they are pleased. For starters, rather than being the first major show of the week, Marc Jacobs will be the last. The 7 p.m. Friday slot will give the designer extra time to finish his collection, and should get the faithful to dinner before restaurant kitchens close.
More important, Jacobs is such a closely watched designer that a move to Paris would have diminished New York's stature in the fashion world. Jacobs is known for his must-have accessories, radical extremes of proportion (very small or oversized), and a nostalgic eye that can somehow make the old seem new. But he is seen as irreplaceable because he celebrates a different kind of American heroine than other designers consider: She's the smart one, the goofy dreamer, the anti-sex pot, the real star. New York will embrace him, no matter how late the show is.
3. Discuss "the Anna effect."
Support for new designers in New York is at an unprecedented high, due in no small measure to Anna Wintour, Vogue's editor in chief, who helped initiate the CFDA/Vogue Fashion Fund award for emerging fashion talent in 2003. (The $200,000 prize is awarded yearly, and, perhaps most important, the cash comes with mentoring from some of the biggest names in the fashion business.) She also makes a point of featuring young talent in the pages of Vogue; see this month's spread on "Fashion's Latest Breakout Designers," which features seven New York designers, all of whom have been Vogue Fashion Fund finalists at some point in the past five years.
The designers featured (Phillip Lim, Thakoon Panichgul, Doo.ri, Derek Lam, Proenza Schouler, Rodarte, and Rag and Bone) are unquestionably talented. But this week, you may hear insiders arguing that Vogue has too strong a hand in molding the designers it reports on. The designers Vogue calls "America's hottest talents" have all forged strong relationships with Vogue editors who could easily fill them in on "what Anna wants."
This is nothing new: Great fashion editors have always had strong relationships with designers. In the 1940s, Harper's Bazaar Editor Carmel Snow made Christian Dior a star in the United States, and Vogue Editor Diana Vreeland's memos regarding "what the men in the market" should make are legendary.
But industry insiders are beginning to complain (off the record) that Vogue's influence has sanitized the collections. "I'm not so interested in American fashion," said a photographer who works for Condé Nast, Vogue's publisher. "What is it? A bunch of cocktail dresses? Everyone is trying to please Anna." An editor told me that New York Fashion Week is so devoid of surprises it's "like reading a bad book" because of the prevalence of a prescribed "CFDA look," which another editor defined thusly: "There are finite aesthetic parameters to it; it's very commercial and conservative. … It's the Anna question: Is she holding designers back or giving people what they want?"
4. Place bets on whether Bill Blass and Halston will rise from the dead.
This season, two relative unknowns will try to resuscitate two of American fashion's greatest, and most sullied, names. Peter Som, a favorite of New York socialites, will take over Bill Blass, which since the remarkable designer's death in 2002 has trafficked mostly in mother-of-the-bride-wear. And Marco Zanini, formerly the head women's wear designer at Versace, will try to blow some life back into the party that was Halston.
Bill Blass is considered the dean of American couture. In a career that spanned four decades, he dressed some of the world's most stylish women in his soigné, masculine-feminine style. Som's first effort—a preseason capsule collection made to start early selling—was strong. But Som will need to rise above the often-charming clothes he has produced for his own nine-year-old label to match Blass' formidable balance of precision and nonchalance—and to find a new client. Blass' woman was a lady and a broad. If Som can figure out who that woman is today, he could make history.
When Roy Halston Frowick died of AIDS in 1990, he ended one of the great rollercoaster rides in fashion history. A former milliner (said to have made Jacqueline Kennedy's first pillbox hat), Halston opened his business in 1968. His pure, graphic coats and austerely sexy jersey dresses defined what looking good meant in the Studio 54 era. Halston's clients included Babe Paley, Ali McGraw, Liza Minelli, and Angelica Huston, and his cocaine-fueled parties were a favorite of the Warhol crowd.
Zanini was no doubt recruited in part for his work at Versace, which is known for its draped jersey dresses. But to think that's all Halston means is a mistake. Halston's cuts were deceptively simple, and the versatility of his designs meant they could be worn by both everyday women and movie stars. Zanini's challenge will be to rise above the old fast-lane clichés to propose a new look at the good life. And he'll have to make user-friendly clothes to live large in.
Next week, Josh Patner will be sending dispatches from Fashion Week. Got more questions about the whole she-bang? Read our Fashion Week FAQs, which explain whether models eat and why shows are always late. Still not satisfied? Send queries to josh.patner@gmail.com, and he'll answer the best ones.
---