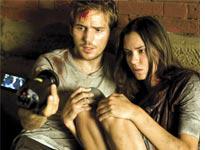 We seem to have arrived at our own inconclusive third act. There's so much more I'd love to explore: Wesley's devastating critique of Juno and paean to Killer of Sheep, a truly great and necessary film that finally emerged from obscurity and found the audience it deserved; Scott's defense of film criticism in principle, and distress for the environment in which it is now practiced—or, increasingly, not (I miss your wise words, Rob Nelson); Dana's disagreement with Daniel Plainview's director.
As for Michael Haneke's frame-by-frame-remake of his own Funny Games, a lousy movie now slightly improved insofar as it brutalizes A-list celebrities, I'll hold my tongue until I review it [note to my editor: please assign to someone else]. But I would like to end where I began and mention a few things I'm looking forward to in 2008.
In addition to that fab-nasty horror trio out of Toronto and the entire IFC First Take slate to come, I'm as pumped as anyone for the Blair Witch Godzilla Project hinted at in the trailers for Cloverfield. I'm currently writing a rave review of the beautiful and beguiling Opera Jawa. There's a stunner in the pipeline from underrated actor-director Jacques Nolot. Strand Releasing (who brought out Syndromes and a Century in 2007) will open Before I Forget, his bold, acerbic look at the ties that bind several generations of gay hustlers and their johns, sometime this year. There's a crackerjack Val Lewton box set en route at the end of the month, together with a documentary about the legendary B-movie producer which was written and directed by Kent Jones (one of the sharpest critics we've got and an impossibly nice guy to boot). Make your brain bigger right now by ordering a copy of Physical Evidence, his recently published collection of criticism.
Harold and Kumar Escape From Guantanamo Bay, obviously; Season 5 of The Wire, of course; I Now Pronounce You Chuck and Larry 2: Make Up To Break Up. Everything opening at Film Forum, especially Chop Shop, a knockout New York story from the wildly talented Ramin Bahrani. Movies on the big screen, movies on the small screen, cuddling in bed with David Cronenberg, President Barack Obama.
Thanks, Dana, for having me here and letting me rant—shall we make a date for Syndromes at Anthology? To Scott, to Wesley, to Jim Davis, M.I.A., and Ousmene Sembene. Above all, to our Movie Club readers: Without you, I'm not there.
Nathan
---