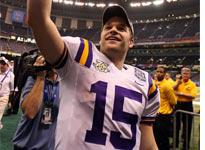 After finishing off Ohio State's now-annual title-game humiliation, the entire LSU team swarmed Fox's postgame set. The Tigers, the freshly minted champions of college football, tousled Florida coach Urban Meyer's hair as they began to chant: "SEC! SEC! SEC!" It was a strange sight—an exultant celebration not of the team's resounding victory but of the pointless notion that the Southeastern Conference is better than the Big Ten. But this is college football, where each season is less a systematic scheme for picking a champion than it is a never-ending bar argument. By the time January comes, not much has been settled, everyone's exhausted, and we're all shouting incoherently.
Consider: A few hours before LSU beat Ohio State 38-24, the guys who run the BCS talked openly about turning the system into a de facto four-team playoff. In any other sport, that would be considered gauche—after all, it's essentially an admission that this year's champion isn't deserving. In college football, though, tradition holds that championships are won on the field so they can be denigrated off it. LSU is your national champion. It's all over but the shouting.
Back in November, I wrote that this was a great year to cancel the so-called championship game. "Since every team has proven itself undeserving of this year's title, there's only one truly fitting way to end the season, by calling off the BCS title game," I wrote. "Vacate the title as they do in boxing, give everyone a trophy as they do in youth soccer—but don't make anyone national champion." Since my beloved LSU Tigers came back from beyond the grave to win the title, I'm glad that nobody saw fit to implement my crazy idea. Cancel the national championship? This year? Why, heavens no!
If I put down my LSU pompoms for a second, though, it's obvious that Kansas and Missouri and USC and Georgia and West Virginia can make sensible claims that they're the Tigers' equal. By my count, eight different teams could've won the title if one or two plays had gone differently. After Monday night, at least we know the Buckeyes aren't one of them. Florida's throttling of the Buckeyes in last year's title game taught us that the spread offense is the future—or at least the near-future—of college football. The 2008 BCS title game brought a slightly less compelling conceptual breakthrough: The team with the best players wins.
Of course, the team with the best players lost plenty of times in this anomalous season. USC got beat by the nerds at Stanford. West Virginia was stunned by pitiful Pittsburgh. And the fact that LSU had the most talent in the nation didn't keep the Tigers from losing to middling Kentucky and Arkansas. But against Ohio State, LSU's yearlong troubles with injuries and penalties disappeared. Absent those bugaboos, Ohio State was no match for LSU's strength and, yes, speed. The Tigers' offensive line knocked the Buckeyes defense back on running plays and kept quarterback Matt Flynn clean on passing downs. Ohio State's star receivers, Brian Robiskie and Brian Hartline, couldn't break free from LSU's corners, leaving Weinke-esque QB Todd Boeckman to scramble around ineffectually or throw balls up for grabs.
While LSU clearly had the better team, the best player on the field was a Buckeye. In the first quarter, Ohio State's beastly running back, Chris "Beanie" Wells, outran everyone for a 65-yard touchdown. Later in the half, he deployed one of the greatest stiff-arms in football history, using his right hand to lift LSU cornerback Chevis Jackson a good foot off the ground and depositing him on his haunches 5 yards down the field. It was the kind of play that legends are made of. To become a legend, though, you need a couple more legends around you to help carry the load.
LSU is far from a one-man gang on offense, and offensive coordinator Gary Crowton spread the ball around. Jacob Hester, Keiland Williams, Charles Scott, Trindon Holliday, and Richard Murphy all had carries. Early Doucet, Demetrius Byrd, Brandon Lafell, and tight end Richard Dickson all had big catches. LSU had struggled all year, as do many college teams, with mastering its own offensive scheme. While college football has become increasingly professionalized, college players aren't pros—they often struggle to line up correctly or run the proper routes when deployed in a system with ever-shifting formations and personnel packages. On this night, however, the Tigers made very few mistakes after a jittery first quarter. LSU came back from an early 10-zero deficit thanks to perfect execution of a subtle trick play in which Dickson lined up as a faux left tackle on an unbalanced line, then caught an easy touchdown when the Buckeyes goofed on the coverage.
The Tigers took advantage of Ohio State mistakes—a blocked field goal, a long interception return, a roughing-the-punter penalty—to pile up 31 straight points against the nation's No. 1 defense. After losing two games in triple overtime and winning three games in the final seconds, LSU was due for a pain-free fourth quarter. Alas, this was not the best venue to see how Les Miles' gambling streak would play against OSU's buttoned-up Jim Tressel. When the LSU coach went for it five times on fourth down against Florida, the announcers called him gutsy. When he went for the end zone in the waning seconds against Auburn when a field goal would've sufficed, they called him crazy. I've watched every LSU game this year, and I can't tell you whether Les Miles made this team better or worse, whether he's brilliant or an idiot. Even if Miles' act wears thin next year, we have learned one thing for sure: You don't have to know how to pronounce Arkansas to win a national championship.
---