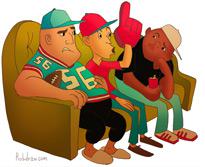 This weekend, all of your friends are locking their doors, shutting off the lights, and parking themselves on the couch to watch the first round of the NFL playoffs. You want to fit in, but the only players you've heard of are Tom Brady, Peyton Manning, Tony Romo, and Brett Favre. Be warned! All four of those star quarterbacks are sitting out this weekend with first-round byes. Never heard of anyone on the Seahawks? Think the Titans are an NBA team? Check out our guide, and you'll have enough material to convince everyone in the living room that you've been following the NFL all season long.  
AFC First Round: Jacksonville Jaguars at Pittsburgh Steelers
Jaguars talking points: Don't know anything about the 11-5 Jaguars? You're not alone: Not a single Jaguar made the Pro Bowl this year, despite stellar seasons by quarterback David Garrard, running back Fred Taylor, and wideout Reggie Williams. If your jaded East Coast buddies dub the Jaguars "sleepers," look like an insider by citing Garrard's third-in-the-NFL passer rating and running back Maurice Jones-Drew's nine rushing touchdowns as signs of Jacksonville's superiority. Then look like a prick by wagging your pointer finger and saying, "Sleepers? Sleepers? You're the one who's been sleeping, my friend!"
Historical context: Jaguars coach Jack Del Rio is best known for inadvertently inspiring punter Chris Hanson to mutilate his own foot with an ax as part of a motivational ploy gone horribly wrong. If Del Rio announces his intentions to bring the hammer down on the Steelers this weekend, take the man very, very seriously.
Conversation starter: "If David Garrard played in New York, he would be a superstar."
Conversation stopper: "If Eli Manning played in Jacksonville, he would still suck."
Steelers talking points: The Steelers literally limped into the playoffs after losing several key players to injuries, including star running back Willie Parker. Most of the experts will focus on whether backup Najeh Davenport can match Parker's production and field presence. You, however, are savvy enough to note that the outcome of the game depends on whether third-string left tackle Trai Essex knows how to pass block. Student of line play that you are, you know that a good left tackle is the key to a good passing game, and that the Steelers will win or lose based on how well emergency starter Essex protects Ben Roethlisberger's blind side.
Historical context: Pittsburgh won the Super Bowl in 2006, capping off the career of legendary running back Jerome "The Bus" Bettis. Although you should feel free to come up with your own motor-vehicle-related nicknames for current Steelers players, be warned that referring to Ben Roethlisberger as "The Motorcycle" will draw the ire of any Pittsburgh fan who's had at least three cans of Iron City.
Conversation starter: "Former head coach Bill Cowher was 34 when he started in Pittsburgh. Current head coach Mike Tomlin was 35. The Steelers must have a thing for young coaches."
Conversation stopper: "And so do I!"
AFC First Round: Tennessee Titans at San Diego Chargers
Titans talking points: Nobody knows if injured QB Vince Young will play this Sunday. Despite the fact that Kerry Collins led the team to victory in last week's must-win game against the Colts, nobody wants the journeyman backup to be the one moving the chains—he's old, immobile, and unlikely to inspire the Titans' already-lackluster offense. Old-school fan that you are, point out that if Young sits, the Titans will win or lose on the strength of defenders like David Thornton, Albert Haynesworth, and Kyle Vanden Bosch. Tell your friends that according to the statistical mavens at Football Outsiders, the Titans rank first in the NFL in defensive DVOA. If your friends ask what DVOA stands for, immediately start chanting, "DEFENSE! DEFENSE! DEFENSE!"
Historical context:The Titans have made the playoffs five times since moving to Tennessee in 1997. This does not mean that you should leave your wife, change your name, and hop the next bus to Nashville in a last-ditch attempt to get your sorry life back on track.
Conversation starter: "Vince Young, Kerry Collins … does it really matter who runs the offense when your best receiver is Justin Gage?"
Conversation stopper:"You say that bus to Tennessee leaves when?"
Chargers talking points: Although he carried the Chargers into the playoffs, running back LaDainian Tomlinson didn't have the monster season that fantasy football freaks expected. If your fantasy-playing friends complain that L.T. only had 15 rushing touchdowns this year, set them straight by noting that every team in the league would love to have a run-it-catch-it-throw-it stud who never gets hurt, never complains, never makes mistakes, and never fails to put his team in a position to win. This will provide little solace to the proprietor of the Beantown Ballerz, who traded you L.T. for Rob Bironas back in Week 7.
Historical context: Despite their recent dominance in the AFC West, the Chargers have not won a playoff game since 1994. Some San Diegans blame this on the Curse of Ryan Leaf. World-class analyst Joe Buck insists that the Chargers always lose because Billy Beane's shit doesn't work in the playoffs.
Conversation starter: "Chris Chambers might not score many TDs, but his presence on the field draws defenders away from Tomlinson and Antonio Gates. Best midseason pickup ever."
Conversation stopper: "Fantasy football? Let me tell you about some of my fantasies."
NFC First Round: Washington Redskins at Seattle Seahawks
Redskins talking points: A disappointing 5-7 in early December, the Redskins banded together after the shooting death of safety Sean Taylor to win four games in a row and make the postseason. While sportswriters like Michael Wilbon have the rest of your party convinced that the Redskins are a team of destiny, you know that "momentum" means little when it's propelled by Todd Collins, a 36-year-old backup quarterback whose throwing arm will be reclaimed by Mr. Applegate any day now. Strike a blow for rationality when you note that without Clinton Portis' solid season and stellar December, the Redskins wouldn't have a chance.
Historical context: This will be Washington's second playoff appearance since Hall of Fame coach Joe Gibbs came out of retirement to rejoin the team in 2004. If they lose on Sunday, owner Daniel Snyder will probably fire Gibbs and redouble his efforts to resurrect the corpse of George Allen.
Conversation starter: "Santana Moss gets all the press, but tight end Chris Cooley is the Redskins' best receiver."
Conversation stopper: "You know, some of those Hogettes are pretty cute."
Seahawks talking points: The Seahawks won the NFC West in unconvincing fashion—although QB Matt Hasselbeck made the Pro Bowl, the team's running game is anemic and its defense is only mediocre. Their best player is probably linebacker Lofa Tatupu, and although you regret that laffmaster Frank Caliendo won't be around this weekend to spin comic gold from that name, you know there's nothing funny about 109 tackles and four interceptions. Tatupu, cornerback Marcus Trufant, and the rest of the Hawks' defense will have to pressure the Redskins' Collins to keep their team in the game.
Historical context: Here's a fun fact: Seahawks coach Mike Holmgren played for Redskins coach Joe Gibbs when Gibbs was an assistant at USC in 1969. Holmgren called Gibbs "coach." Gibbs called the mustachioed Holmgren "that goddamn hippie."
Conversation starter: "Seattle sure could buy a lot of healthy running backs with Shaun Alexander's $62 million contract."
Conversation stopper: "Or they could sign Ryan Plackmeier to an 80-year deal. You know, just to be funny."
NFC First Round: New York Giants at Tampa Bay Buccaneers
Giants talking points: Despite what Giants management might want you to believe, having the last name Manning doesn't mean that you're any good at playing quarterback. Eli Manning has been horrible this year, tossing 20 interceptions, fumbling 13 times, and completing a mere 56.1 percent of his passes—all numbers at or near the bottom for NFL starting quarterbacks. Lucky for him, he could always hand the ball off to Brandon Jacobs, who averaged five yards per carry this season, only one-tenth of a yard less than Tiki Barber averaged last year. Jacobs and receiver Plaxico Burress have carried the offense all season, and they'll have to do it again this weekend against Tampa Bay's furious defense.
Historical context: Tiki Barber retired after last season to pursue a career as a television personality, autobiographer, and foppish dandy. You, along with the rest of Giants Nation, are praying that Jacobs doesn't follow Barber's lead and abruptly quit the team to join the cast of Celebrity Apprentice.
Conversation starter: "Tampa's defense is good, but Osi Umenyiora and Michael Strahan will be the best two defensive players on the field this Sunday."
Conversation stopper: "Fire Isiah!"
Bucs talking points: By all rights, any team that starts 37-year-old Jeff Garcia at QB, Ike "I'm Still in the League?" Hilliard at WR, and somebody named Earnest Graham at RB should win no more than three games—four if they play the Falcons twice. Good thing that Tampa's defense, which allows only 278.4 yards per game, is championship caliber. You know that the best old man on the Buccaneers roster isn't Garcia—it's linebacker Derrick Brooks, who led the team in solo tackles in his 13th season.
Historical context: Back when men with swords and eye patches ruled the high seas, buccaneers such as Henry Morgan and Rock Braziliano were infamous for plundering royal ships, ravaging innocent women, and throwing drunks in the scuppers with the hosepipe on 'em. To honor this period in history, the Bucs franchise has installed a 103-foot-long pirate ship at Raymond James Stadium. Terrify your friends by saying that Jon "Crazy Eyes" Gruden bunks on the ship during the off-season, emerging only for the NFL draft and to frighten the local school children who come to visit on field trips.
Conversation starter: "Do the Bucs miss the injured Cadillac Williams? Yes. Does that mean he's any good? No."
Conversation stopper: "Luke McCown is really just Cade McNown with a fake moustache, right? Right?"
---