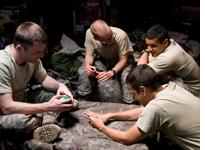 The bloodiest consequences of the Iraq war are easier to find on the Internet than on broadcast television, and if you're a newshound who's also a digital native, the distinction is probably meaningless. But it sets off alarm bells for 67-year-old filmmaker Brian De Palma, who recalls that televised images of the American war in Vietnam sent him into the streets in protest. "I keep on saying all the time, 'Where are the pictures, where are the pictures?' " De Palma explained at last month's New York Film Festival press conference for Redacted, his grisly rant against American military involvement in Iraq. "We basically just want to sort of end this war, you know, by trying to show the reality of what this war is," he continued.
A fictionalized account of the rape and murder of a 14-year-old Iraqi girl and the killing of her family by U.S. troops in March 2006, Redacted (in limited release today) is a patchwork of mostly invented reportage: It incorporates a faux French documentary, Internet sites, online video messaging, and a mujahideen assassination video, but its main thread is a video "war diary" by an American soldier and would-be film student, Angel (Izzy Diaz). "This camera, it never lies," Angel says, and Redacted is equally righteous. It's also crude and flat-footed, dominated by Angel's footage of his cartoonishly boorish colleagues. (The soldiers' dialogue and personality dynamics strongly echo another De Palma film, the Vietnam-set Casualties of War, which also examined the rape and murder of a civilian girl by American soldiers.) At times, the movie looks and sounds like something a group of anti-war teenage boys might put together, and perhaps this raw, homemade quality is intentional on De Palma's part—an embrace of the ruling YouTube aesthetic.
Redacted is one of several current films about the war that are also, to one extent or another, films about making films about the war, each containing its own movie-within-a-movie (or a few of them). Paul Haggis' recent In the Valley of Elah, for example, hinges on the unscrambling of damaged images and video depicting American torture of Iraqis, stored on a dead U.S. soldier's cell phone. In Redacted and in two films currently on the festival circuit, Nick Broomfield's feature Battle for Haditha and Nina Davenport's documentary Operation Filmmaker, the war's participants—its victims and perpetrators, who sometimes seem one and the same—are also the war's chroniclers. They are often highly conscious of their roles as movie subjects and/or moviemakers, and of the dose of "reality" their participation brings to films about a surreal conflict. Events are constantly assessed for what kind of movie they will make. In a war that, at least in its early stages, was stage-managed as carefully as a Hollywood blockbuster (the "Shock and Awe" f/x extravaganza, the "Mission Accomplished" stage spectacular, the Jessica Lynch rescue drama),perhaps it was inevitable that actual movies about Iraq would begin to resemble "making-of" films—the DVD extras to accompany the feature presentation.
Battle for Haditha is a compelling re-enactment of the November 2005 Haditha massacre, when U.S. Marines shot dead dozens of Iraqi civilians in their homes, allegedly in reprisal for a nearby IED blast that took the life of an American lance corporal. Director Broomfield is renowned for his shaggily intrepid nonfiction features about larger-than-life figures (Kurt & Courtney, Biggie & Tupac), and he brings a deep documentary component to Battle for Haditha, too: The Marines are played by actual Iraq war veterans—led by the excellent Elliot Ruiz—who perform their own improvised dialogue. The film rotates perspectives between the American soldiers, the doomed Iraqi civilians, and the pair of Sunni insurgents who plant the fateful roadside bomb and then watch from afar as the gruesome chaos ensues.
Though some of the American soldiers carry digital cameras, it is the Iraqi bombers who are filmmakers by any other name. One of them rarely puts his camera down, and Haditha becomes their own macabre film set, with the Marines and civilians unwittingly cast in pivotal roles. What's more, the bombers are working in an established genre: We see that a popular video circulated in Haditha is simply a clip reel of one IED explosion after another, all targeting American military convoys. The bombers' mission, it's clear, will be somehow incomplete if it does not produce a useful image: "The world will see today how the Americans behave" is their refrain. When the Marines' frenzied revenge on Haditha proves to be far more than the insurgents bargain for ("We are killing our own people," one laments), a local cleric reassures him that the filmed deaths of "martyrs" will be useful for the greater cause; so will a subsequent video of a little girl with a bandaged eye, her family's sole survivor.
Likewise in Davenport's fascinating documentary, the audience shares the view of the person behind the camera as she watches her movie and its consequences spin out of control. Operation Filmmaker follows a Shiite film student from Iraq, Muthana Mohmed, as he begins an internship on the Prague set of Everything Is Illuminated, the screen adaptation of Jonathan Safran Foer's novel, at the prompting of director Liev Schreiber. This gesture of goodwill backfires, however, when Mohmed proves to be a clumsily manipulative prima donna and, increasingly, just a nasty piece of work, alienating his benefactors time and again. As a result, though Operation Filmmaker has all the ingredients of a heartwarming real-life tale, it turns into a fretful, self-doubting record of best intentions gone awry. "You don't give a shit about Iraqis," Mohmed says to Davenport. Her only motivation in making the film, he adds, is to "show how good you are as an American." Davenport's implicit response is that the good-Americanism that led to the making of Operation Filmmaker is a microcosm of the hopeless naivete that led the United States into Iraq in 2003.
"I'm the exact person to be a filmmaker because my life is a movie," Mohmed says. To be precise, his life is Davenport's movie, and he does all he can to undermine her project: He verbally abuses her, hounds her for money and visa assistance, and even steals her tape and film equipment. Yet she follows him everywhere, the camera forever trained upon her star as he meanders from a P.A. job on Doom to a film-school stint in London. (Lucky Mohmed finds a patron in the Rock.) "I'm going to keep filming until something good happens," says Davenport, desperately in search of the happy ending that Mohmed, like an intransigent screenwriter, refuses to give her. Her dogged persistence and his pathological behavior create a feedback loop, blurring the line between auteur and subject: The "Filmmaker" of the title could refer to either of them.
Operation Filmmaker might be seen as a cautionary tale about the belief that cinema has the power to change lives for the better. It's a belief that De Palma and Broomfield have evidently held on to. "My hope with Battle for Haditha is to open up the eyes, minds and hearts of the world and to bring empathy to all of the people affected by this war," Broomfield states in the film's press notes. De Palma goes even further—he wants films like Redacted to help "end this war." (Whatever that means.) Noted film critic Bill O'Reilly envisions a different kind of political efficacy for Redacted: "Every jihadist in the world will be able to see it," he warned on The O'Reilly Factor. "And this could lead to the deaths of Americans. There's cause and effect for all of this stuff."
Well, no. The most disturbing aspect of these movies is that the masters of cause-and-effect agitprop are not laurelled directors like De Palma and Broomfield but the insurgents portrayed in Battle for Haditha, with their rudimentary videos and cheap equipment. Their ghastly snuff movies are not individual cries of conscience; rather, they are highly practical tools of motivation. The films by the Western pros will change nothing, except perhaps the lives of those involved in making them. The most trenchant moment in Redacted is when De Palma appears to acknowledge the ultimate futility of this film that he so clearly felt he had to make, using one of the soldiers as his mouthpiece: "People watch, and they do nothing, or they make a video for people to watch, and they do nothing." The soldier who speaks these words is Angel, the filmmaker.
---