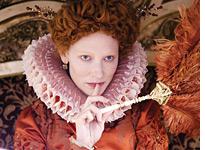 Elizabeth: The Golden Age (Universal) is a great hulking slab of English cheese, Stilton perhaps, or Wensleydale. It's one part historical melodrama, two parts bodice-ripper (and that's no metaphor; at one point, Clive Owen's manly mitts literally tug at a lady-in-waiting's heaving corset). If you go in fully prepared for the cinematic equivalent of a grocery-store novel, this unnecessary sequel to Elizabeth (1998) has its pleasures: There's Cate Blanchett's ever-mobile and fascinating face, Owen's swarthy brooding, and some eye-poppingly lavish dresses and wigs. (The popularity of royal costume drama has given rise to a subgenre: textile porn.)
The action begins in 1585, 27 years into the Virgin Queen's reign. As a Spanish ambassador (a memorably fierce William Houston) warns Elizabeth of his country's hostile intentions, she's distracted by the dashing entrance of the English pirate and explorer Walter Raleigh (Owen). Raleigh bum-rushes the throne with tobacco, potatoes, and two Native Americans, urging the queen to fund his next voyage to the Virginia colony he's named in her honor. Instead, Elizabeth takes a shine to Raleigh and schemes to keep him hanging around court, eventually naming him head of the castle guard. In a plot with too many creaking gears, Geoffrey Rush is Sir Francis Walsingham, Elizabeth's chief adviser, who specializes in iron-maiden interrogations and general intrigue management.
Meanwhile, in Scotland (creak, creak), Elizabeth's exiled cousin Mary Stuart (Samantha Morton) is plotting the queen's assassination. She's aided by a creepy Catholic inquisitor (Rhys Ifans) and an undifferentiated band of papist conspirators who meet at a conveniently symbolic dye factory, surrounded by dripping crimson liquid.
But Elizabeth: The Golden Age is less a chronicle of counter-Reformation hijinks than a 16th-century episode of The Hills. The real focus is the queen's unconsummated crush on the swashbuckling Raleigh, whom she simultaneously humiliates ("Kneel!") and flatters ("Rise, Sir Walter Raleigh"). Eventually, she encourages her favorite lady-in-waiting, Bess Throckmorton (Abbie Cornish), to approach Raleigh on her behalf, with predictable results.  Bess and Raleigh steal smooches in the priory, elaborate undergarments are ripped, and soon Elizabeth is banishing them both from court in a fit of adolescent pique.
The director, Shekhar Kapur, a Bollywood filmmaker who also directed the first Elizabeth, tries to enliven the static royal tableaux with 360-degree spins and crane-mounted swoops. The score by Craig Armstrong and A.R. Rahman is so heavy-handed as to suggest a Mel Brooks parody. When Raleigh rhapsodizes about the joy of sighting land at the end of a sea voyage, he's accompanied by a soaring musical theme. A courtier interrupts his speech to announce a visitor, and the music abruptly stops—but as Raleigh picks up where he left off, so does the inspirational crescendo. The big action climax, in which a CGI-enhanced Spanish Armada takes a drubbing from the British navy, has Owen hanging Errol Flynn-ishly from the mast of a ship as a triumphant, wigless Elizabeth watches from a nearby cliff. A spot of cheddar, anyone?
The original Elizabeth was notable mainly as the first major film vehicle for a startlingly pale, prodigiously gifted creature named Cate Blanchett. Now that Blanchett, like Elizabeth I herself, has firmly established her sovereignty, The Golden Age introduces another pretender to the Australian acting throne. Abbie Cornish is rumored to be shortlisted as the next Bond girl; she was very fine in last year's Candy and will appear in Stop Loss next year opposite Ryan Phillippe. Blushing and swooning in Clive Owen's arms may not be the biggest acting challenge she's ever faced, but Cornish brings a stock ingénue role to vivid life and manages to stand out even against Blanchett's white-hot glow.
---