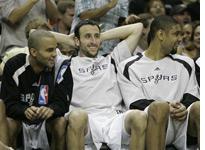 While the NBA world is abuzz over LeBron James' moment on the precipice of superduperstardom, one man sits quietly grinning, secure in the knowledge that he has the best team in the league. I speak not of San Antonio center Tim Duncan, but of the much less-heralded linchpin of the Spurs franchise: general manager R.C. Buford.
Go ahead, naysayers—point out that the Spurs' success is largely the result of a single, no-brainer move, the drafting of the Springfield-bound Duncan first overall in 1997. (Buford was head of scouting for the Spurs at the time.) While I would never speak ill of "The Big Fundamental," I will point out what every wag loves to say about the Spurs: They're a great team, not just a collection of individuals. Loads of demi-stars and role players have been key to San Antonio's run. All of them—the likes of Manu Ginobili, Tony Parker, Robert Horry, Bruce Bowen—were either discovered or championed by Buford. Without them, Duncan would be wandering in the wilderness like Kevin Garnett, a star without a stage.
Like another dynasty-builder, Chicago's Jerry Krause, Buford gets little credit because everyone assumes four sherpas could win with Duncan. Unlike Krause, who brought in every Bull except Michael Jordan, at least Buford was around when the Spurs picked Duncan. Plus, Buford isn't plagued by Krause's insecurity. He has never sought validation of his brilliance, nor does he call a press conference every time he signs someone to a 10-day contract. Consequently, the average fan probably thinks coach Gregg Popovich still calls the shots in San Antonio. (Buford officially took over GM duties in 2002, after serving as Pop's consigliere for five years).
What makes Buford the NBA's best GM? He's a genius at acquiring foreign talent. As players from overseas began to penetrate the United States, most team execs drooled over big men with shooting ability like Darko Milicic and Nikoloz Tskitishvili. Buford, secure that he already had a big man with all the skills, beat the bushes for the slashing types he needed to improve his team's defense and perimeter speed. Keep in mind that as recently as five years ago, the consensus in the NBA was that foreign guards and forwards couldn't possibly possess the quickness required to play in the States. But Buford believed what his eyes told him—that Frenchman Tony Parker was speedy enough to run the point. You could even make a comparison to the Oakland A's Billy Beane. The undervalued commodity that Beane found was hitters with a high on-base percentage; R.C. Buford's was foreign perimeter players.
Buford stuck to his guns, even when—as reported in USA Today a few weeks ago—Popovich derided Parker as "just another little skinny guy." Buford was also convinced that Argentina's Manu Ginobili could get to the rim and thrive in the NBA, even when not playing under international rules. Those two risks are a huge reason why the Spurs' personnel is the most versatile in the league—they can beat speed teams like Phoenix as well as low-gear squads like Utah. Granted, Buford's record isn't perfect. His worst move probably came in 2003, when he dealt the rights to Leandro Barbosa (another foreign perimeter guy) to Phoenix for a future first-round pick. But let's keep things in perspective. While Bryan Colangelo is named Executive of the Year for steering the Raptors to the playoffs in a putrid Eastern Conference, Buford is headed for another ring in virtual anonymity.
In retrospect, the key moment in San Antonio came when Popovich turned over the personnel reins to Buford. In the six seasons since, the Spurs have won two titles and are poised for a third. It's a maneuver rival Phoenix hopes to duplicate by taking the GM role away from coach Mike D'Antoni and handing it to former Bulls off-guard Steve Kerr. In trying to do the right thing, though, the Suns are doing something horribly wrong—hiring an ex-NBA player with no experience making personnel decisions to be their general manager.
One of the unintended consequences of the NBA's decision to market individuals over teams in the 1980s is that the superstars have become all-powerful minicorporations. When the star could no longer dominate on the floor, franchises felt compelled to keep them around, hoping their powerful aura would continue to work the same magic from the executive suite.
Pick a star, any star, from that era: Jordan, Bird, Isiah, McHale, Mullin, Ainge. They have all found that building a winner is much more difficult than being one. This might be because most superstars spent their careers thinking mostly of themselves rather than pondering the fragile alchemy that goes into building a good club. For whatever reason, pretty much all the teams run by former greats have gone into the tank thanks to dumb trades, dubious draft choices, and bewilderment at the complex workings of the salary cap. Only the Pistons' Joe Dumars has had any consistent success as an executive, and he managed to pick Darko Milicic over Carmelo Anthony, Dwyane Wade, and Chris Bosh.
The player-as-GM phenomenon is more pervasive in hoops than in football or baseball. In the latter two sports, the guy who runs the show generally fits one of two stereotypes—the crusty old sage who has been around the game since Year Zero, or the young wunderkind at ease with computer models and shibboleth-shattering statistical trends. The common denominator is an early realization that a playing career (much less stardom) was not in the offing.
Admittedly, there is a Kerr clone—Chicago's John Paxson—who's doing a creditable job as an NBA GM. (Also recall that Paxson's brother Jim nearly torpedoed the Cavs during his GM tenure.) * Even so, it's remarkable that NBA teams are so willing to let former players make their personnel decisions when a guy like R.C. Buford has been such an unmitigated success. And Buford isn't the only one: Donnie Nelson of the Mavs and Utah's Kevin O'Connor are two other solid, unknown, nonplayer GMs.
There was a very revealing moment in the postgame press conference after Game 6 of the Eastern Conference Finals. In lauding Cavs guard Daniel Gibson, LeBron James mentioned how he had known Gibson would be a key contributor since preseason. He then uttered a phrase that should strike fear in the hearts of Cavaliers fans: "I should be a GM someday." If history is any guide, look for James to be making foolish decisions and driving the Cavs into the draft lottery some time around 2025.
Correction: June 7, 2007: This piece originally misstated the job histories of basketball's Paxson brothers. John is currently the general manager of the Chicago Bulls. Jim is the former GM of the Cleveland Cavaliers. (Return to the corrected sentence.)
---