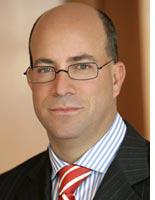 Life is not a box of chocolates: Something about NBC Universal CEO Jeff Zucker makes one think of Forrest Gump. "I am not a smart man," Gump says repeatedly while shooting the rapids of life. Zucker, of course, is a smart man, though it hasn't been apparent in his management of NBC. "I am not a popular man," Zucker might say—and the goings-on at network over the weekend are unlikely to change that.
Late last week, someone sent out an anonymous e-mail revealing that Zucker was laying plans for a shake-up that would strip NBC Entertainment President Kevin Reilly of much of his authority. Zucker had just renewed Reilly's contract for three years in March. But it appears that in laying its snares, NBC Universal put itself in breach of Reilly's contract, enabling him to spend the next three years bodysurfing with ousted Viacom chief Tom Freston, if he chooses.
By Monday night, NBC Universal still had not addressed the situation at the network. What seemed clear was that Zucker—caught off-guard by the leak of his nascent plans—had to do some furious politicking over the long weekend. He had to sew up what is undoubtedly a very expensive deal to get young producer Ben Silverman (The Office, Ugly Betty) to take a major role at the network and television studio. (It's an interesting choice, since no one has ever accused Silverman of having management skills; more chapters on that, no doubt, to come.) Zucker apparently also had to scramble to sort out who will replace Reilly and what would become of a number of other NBC executives. It wasn't hard to imagine that whoever leaked NBC's plans to the media fully intended to make Zucker look like he's flailing.
It is very unusual to dump the head of a network just after the upfront presentations, where the networks unveil their fall lineups. Now NBC sales executives must convince advertisers to pay millions for commercial time in a schedule that just got a no-confidence vote from the network's über-boss. It's possible that those advertisers were so negative about the NBC presentation that Zucker felt compelled to act. Still, the timing couldn't have been worse.
Apparently, Reilly wasn't thrilled with the pilots that emerged from the network's development this time around. (In truth, none of the big networks had a show that grabbed everyone by the lapels.) That may help explain why NBC renewed a number of shows with poor ratings, such as Friday Night Lights. In the industry, many see Reilly as a guy who's been trying to dig NBC out of a deep hole that Zucker had a lot to do with digging. ABC Entertainment President Steve McPherson said it on the record, telling Variety, "I don't think Kevin ever got the respect, the recognition or the support he deserved and needed to do that job."
McPherson also had the grace to say he was jealous of Reilly's record. Reilly brought forth Heroes last year—which is one more major new hit than any of the three networks produced. Conventional wisdom holds that a network can expect only one hit per season. Reilly also gets credit for The Office and My Name Is Earl.
So, Reilly emerges as the sympathetic victim, while Zucker appears to have defied gravity. Even as Bob Wright, chairman of the NBC Universal board, was said to have lost some faith in Zucker, Wright was moved aside, and Zucker's ascent continued without a wobble. "He was born without the gene for self-doubt," mused one industry journalist. "That's a very powerful thing in corporate America. At a place like GE, that plays well."
It underscores a question that seems, increasingly, to interest Wall Street: What is a company like GE doing in the entertainment business in the first place? (link)
Thursday, May 24, 2007
Action Jackson: On the last Monday in April, Sony Pictures held its premiere for Spider-Man 3 in New York. Top executives at various other studios were headed to Jack Valenti's funeral. And Lord of the Rings director Peter Jackson put his latest project up for auction. It was the studios' job to produce tempting offers. The first bid arrived within three hours.
Jackson and his associates had crafted a script and a detailed plan for a movie version of The Lovely Bones, the best seller by Alice Sebold. The novel tells the story of Susie, a young girl who is raped and murdered and then watches earthly matters from heaven. By Tuesday, four studios were bidding. The dealing went on until past 4 a.m. Thursday that week, and it was all over by midday Friday.
We acknowledge that we were not fans of the novel that inspired all this excitement—in part because of its preposterous plot elements, such as (spoiler alert) the sequence in which Susie comes back to earth—in a manner of speaking—for one night of tender teenage sex. Hold your hate mail, Lovely Bones lovers, please; we know we're damaged. Apparently, however, we're not the only ones with Lovely Bones issues—even within the companies that were bidding.
Peter Jackson, as some will recall, directed Heavenly Creatures, the 1994 movie about two girls who lose contact with reality and then kill. Jackson's effects budget will be bigger this time, and the movie's gross (which was $3 million in the United States) had better be, too.
Jackson's "ask" for the project was a budget of $65 million. But through his partner, Ken Kamins, he never set any fees, leaving bidders to concoct their offers. Most concluded that they'd better pony up a hefty 25 percent of the gross for Jackson's team and the British company FilmFour, which had acquired the rights to the book.
And there was more: an allowance of up to $10 million for budget overages and, as the Los Angeles Times reported, a marketing plan that easily will cost another $40 million (significantly more if you throw in an Oscar campaign). That's a lot to risk for a movie that begins with a child being raped and murdered. Each studio was also asked to outline a marketing plan and explain when it would open the film and what other movies it would be releasing in the same three-month period.
As the bidding progressed, there was bartering over everything from how profit would be defined to whether Jackson could keep the rights to the movie in certain foreign territories. Several studios concluded that the deal was simply too rich.
Contenders included—from low to high, as near as we can figure from various sources—Universal, Warner, DreamWorks, and Sony Pictures. Disney and Fox didn't nibble; Warner and Universal soon dropped out over money. We're told that Sony—never a studio to scrimp—came in with by far the biggest offer. It was the only studio to offer not just the full "ask" and 25 percent of the gross but an upfront payment of millions in cash (insurance for Jackson if the payout from his profit participation didn't turn out to be as big as hoped). Having dug deep and come up empty, Sony Chairwoman Amy Pascal apparently expressed her disappointment to Kamins in the most vocal terms.
So, how does one win this kind of bidding war? DreamWorks prevailed in part because it was willing to pay up and in part because Jackson and Steven Spielberg had already been working for more than a year on what they hope will be a series of films based on Belgian comic-strip hero Tintin. But it wasn't just about relationships. Jackson worked with Universal co-Chairman David Linde for 15 years and it was Linde who bought Heavenly Creatures as a Miramax executive years ago. If Universal had anted up, that relationship might have trumped DreamWorks. On the other hand, Jackson and Universal hit a rough patch when Universal pulled the plug on a previous project, Halo, so maybe not.
The marketing plan was also important to Jackson's team, though only Sony and DreamWorks got far enough to address the issue. Clearly this is not a film to be blown out on 3,500 screens with a Happy Meal tie-in (though apparently Jackson is aiming for a PG-13 rating, which should mean that the rape and murder will have to be dealt with delicately). DreamWorks—which only releases about half a dozen movies a year—was able to convince the director that the movie would get the right kind of attention. The plan is to start shooting in the fall somewhere in the Northeast (the novel is set in Pennsylvania) and to film the seasons as they happen. The film is likely to get a fall 2008 release.
Even within those studios that bid, there were some who wondered about plowing more than $100 million, all told, into a story with a very grim premise. "We've all had these debates," says one executive who was in on the auction. "To some people who are more earthbound, it seems horrible. And to people with spiritual beliefs, it seems lovely and hopeful. … It speaks to a part of a lot of people who want to believe that it's not all over when it's over." (That's worked in some previous films—say, Field of Dreams and Ghost.)
"The script they wrote really transcended the book, to a large degree," says an executive who made an unsuccessful offer. "It has this ethereal, otherworldly quality to it … I think it's going to be a huge movie." Another bidder admits he couldn't get through the book but says he still believed in the project. "If Brokeback Mountain can do $200 million, it's not impossible for a really good, adult-oriented movie to gross hundreds of millions of dollars, and that's the presumption," he says.
A source who will work on the film contends that it's actually better to spend big than to make the picture for a thrifty $40 million or $50 million. Here's the spin: "I'd rather have visual complexity and [strong] effects—something to sell besides an expensive drama." This executive says Jackson "will create a visual world that enables us to sell the movie."


The one sure thing is that if Peter Jackson and Steven Spielberg decide they want to do something, then it almost certainly will be done. And despite our gross insensitivity to the loveliness of The Lovely Bones, we think if anyone has a large icicle's chance in hell (Lovely Bones inside joke) of making the movie work, Jackson could be the man. Unless perhaps it's Ang Lee, who managed to wring all that box office out of Brokeback Mountain. (link)
Wednesday, May 23, 2007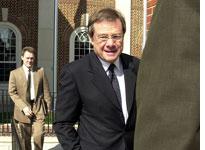 The New York Times unveiled another Page One story on incarcerated private dick Anthony Pellicano on Monday, this time involving new material from a leaked case file. The Times allowed readers to eavesdrop on Pellicano's taped conversations, providing snippets of talk (expletives deleted) with associates ranging from Michael Ovitz to Brad Grey to Courtney Love to Chris Rock.
Is it correct to call something a voyeuristic thrill when it's an aural experience? However you describe it, the sound of Ovitz and Pellicano constantly interrupting each other titillates those in the industry and may have some anthropological value for those who aren't. "It's classic Mike dialogue," laughs a studio chief, citing the self-dramatizing Ovitz's request for a meeting to discuss "the single most complex situation imaginable."
It's interesting to listen to Rock, reportedly concerned about potential sexual assault charges, wanly riff about what the fallout would be: "I'm better off getting caught with needles in my arm, I really am … needles with pictures: 'Here's Chris Rock shooting heroin.' Much better blow to the career." (Exactly which incident prompted such talk is unclear.)
Many Hollywood observers seem to have concluded that the Times story had its moments but lacked real substance. And it made one wonder: Who is leaking this stuff? Is it wrong to conjecture that this is a less nefarious version of the BALCO steroids case, in which journalists were discovered to have been tools of a lawyer attempting to manipulate the situation to benefit one of defendants?
It's hard to imagine how the government would benefit from leaking these bits and pieces in the Pellicano affair, so suspicion turns to the various defendants in the case or their lawyers. For example, could someone be trying to inoculate Terry Christensen, one-time attorney to Kirk Kerkorian and one of the few to be indicted, by showing that Pellicano was involved in all sorts of business with all sorts of big players? Would it help advance Christensen's claim of innocence for others to be in the harsh glare? Is it meaningful that his voice was not among those offered by the Times?
We may never know—and much may never really be known about the Pellicano affair. Many players may have done many illegal things but proving much of it in court seems to be an elusive proposition. In its piece, the Times acknowledges, "Perhaps the case has not lived up to its advance billing as the biggest Hollywood scandal in decades." Indeed, it has not.
A typical reaction to the Times article comes from a high-level executive with no affection for Brad Grey who is happy that the piece underscored his unsavory connection to the disgraced detective but wonders why this was a Page One story. With the lack of indictments, the paper has invested a lot "in a story that didn't have a climax," this executive says. "I felt like it's the front fucking page of the New York Times and of course, I found it interesting but it really isn't [that] newsworthy."
Marty Kaplan, the oft-quoted Norman Lear chair in Entertainment, Media, and Society at the USC Annenberg School for Communication, also wonders whether the "equity" the paper has sunk into the story had something to do with its prominent play. "I admired the graphic—that was the best thing about it," he says, referring to an elaborate depiction of who's who in the case. The article "certainly accomplished the 'we own this story' point but it didn't necessarily say why someone would want to own this story." Maybe the piece was a kind of "hedge," he suggests, in case the scandal finally burgeons.
If that ever happens, the Times will look brilliant. The paper has been pretty much going it alone on the Pellicano affair. For now, it appears that this will have to be a long-term investment if it is ever to pay off. On Tuesday, Pellicano's trial was postponed, again, from August until February 2008. (link)
---