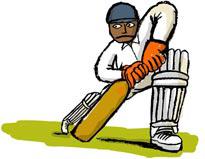 Last week, Pakistani fans watched their heroes slump to defeat in the Cricket World Cup against lowly Ireland. Back in Pakistan, fans reportedly chanted, "Death to Woolmer," blaming the loss on the side's coach, a 58-year-old Englishman with a reputation as one of the game's savviest thinkers. The next morning, as the greatest shock in the history of the cricketing World Cup began to sink in, Bob Woolmer was found dead on the bathroom floor of his Kingston, Jamaica, hotel. He had been strangled. Someone had given the fans the head they demanded.
That such a thing could happen in cricket, of all sports, would shock anyone who clings to the notion that it's a game played by rival sets of flannel-clad gentlemen. In America, no reference to the game is complete without citing cricket's "genteel" nature. The image is familiar—the pastoral paradise of the English village green; old maids and Church of England vicars; sandwiches, cakes, and milky tea between innings.
But cricket left behind the bucolic charms of old England long ago. Woolmer's murder isn't simply a sign that cricket fans have gone off the deep end. Rather, it's a signal of the sport's profound internal malignancies. Pakistan's extraordinarily feeble performance against Ireland has raised suspicions that the match was fixed. It is a measure of how much corruption has stained cricket that the burden of proof now lies with those claiming the match was honestly contested.
Why is match-fixing so prevalent? A cricket match, particularly the one-day version of the game that's played at the World Cup, can be swung by just one or two players. With as much as $1 billion wagered on a high-profile contest, the rewards for skulduggery are as tempting as they are substantial. Indian and Pakistani bookmakers offer hundreds of betting markets on every conceivable aspect of the match, from which bowler the fielding side's captain will ask to deliver the first over of the match to the number of wides or no-balls conceded in any given over, to the number of runs a given batsman will score before being dismissed.These markets put an enormous premium upon inside information, meaning that so-called man-fixing is perhaps just as useful to gamblers as "match-fixing."
For more than 100 years, England and Australia ruled cricket. Today, India and Pakistan drive the game. American companies such as Nike and Pepsi have invested heavily in Indian cricket, while ESPN and Rupert Murdoch's Star TV joined forces to pay $1.1 billion for the rights to televise the next two Cricket World Cups and other events. The mania for cricket on the subcontinent—and especially for the abbreviated one-day matches—is such that the sports administrators have packed more and more cricket into the international calendar. Though this satisfies the TV companies (and the bookmakers), it also provides ample opportunity for corruption. Many of these extra matches are little more than exhibition games played for profit rather than prizes. Reputations are not on the line in these unmemorable contests, making the players especially vulnerable to bookmakers' blandishments.
Gambling has always been part of cricket—matches in the 18th century attracted side bets worth thousands of guineas. In England, betting on cricket is legal. In India, it is not, making it harder to investigate suspicious betting patterns or to regulate the massive amounts of wagering fueled by satellite-television coverage, the Internet, and the country's rapidly expanding economy.
The corruption of cricket is by no means confined to Asia, however. Until 1999, Bob Woolmer coached a South African side whose skipper regularly conspired with Indian bookmakers to fix the results of matches. (The coach is responsible for prematch preparation; the skipper is the on-field captain.) Though Woolmer himself was never implicated in the scandal, he was preparing a brace of books about his lifetime in cricket that had the potential to reveal fresh dirt. In one series between South Africa and India, for example, the tawdriness reached farcical heights: South Africa was unable to find a way of losing to an Indian team so hapless, it's possible that India, too, was being paid to throw the match.
The match-fixing plague was supposed to have been stamped out a few years ago. No fewer than six of the 10 leading cricketing countries held corruption inquiries between 1999 and 2001. Earlier this month, though, the head of the sport's anti-corruption group reported to Britain's House of Lords that gambling on cricket in India and Pakistan was "more lucrative than drug dealing or robbery" and that "match fixing was linked to organized crime and even terrorism." (Several Indian players have needed protection against kidnap threats made by Islamic militants in Kashmir.)
Though cricket has liked to think of itself as a game governed by ethics, in truth it has always had a seamier side. Even W.G. Grace, the great titan of Victorian England and the sport's first superstar, was a notorious cheat. Australia came close to breaking off diplomatic relations with England over the unseemliness of English tactics on a tour Down Under in 1932. And only last summer Pakistan forfeited a match against England after being accused of ball-tampering.
Nor has cricket been entirely immune to the drug scandals that have crippled other sports. Two Pakistani players, including Shoaib Akhtar, known as the world's fastest bowler, missed the World Cup after failing drug tests. English and Australian players have also been banned for taking illegal substances.
Still, Woolmer's murder is of a different order altogether. The Times of India, clinging to the past, blamed large infusions of money for destroying the sport and ensuring that cricket is "no longer a gentleman's game." But the real surprise is that anyone should be surprised by anything that happens on or off the pitch these days. On the field, cricket rewards cunning and ruthlessness. Woolmer's death simply demonstrates the extent to which those qualities are useful off the field as well.
---