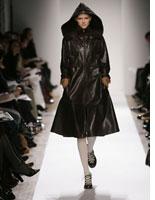 For many seasons now, fashion has been dominated by Europe's experimental designers, and the creators of American sportswear—a style once known for its casual, practical chic—have been producing dull imitations of offbeat looks from Paris and Milan. But at the fashion shows in New York last week, strong collections from Calvin Klein, Donna Karan, Ralph Lauren, and Michael Kors—sportswear's big guns—heralded the return of great sportswear: They produced simple, stylish clothes for women with complex, modern lives, the sorts of looks that have long been the bedrock of American fashion.
But one piece—a hooded brown leather coat from Anne Klein—indicated just how interesting this sportswear revival might prove to be. The incredible coat, cut from a huge swath of basic leather with the dramatic economy of a windsurfing sail, suggested that purely conceived sportswear could not just match but outpace the directional designs of Europe. 
In any other year, it would have been startling to find such innovation at Anne Klein, considering the label has not been mentioned among the other big American names in some time. (In fact, the label hasn't even held a runway show in more than a decade.) But Isabel Toledo, a designer of such oddly esoteric force that most major retailers have shunned her collections, was recently appointed the creative director of Anne Klein. Toledo's first collection for the label suggests that she might push sportswear beyond the polished but expected looks of Lauren and Kors.
Anne Klein, who died in 1974, holds a special place in the history of American style. The label is still around and successful—the company does a whopping $550 million in annual sales—but it currently offers dull takes on clothes and bags long out of style. "What is Anne Klein, anyway?" a young fashion editor asked before Toledo's debut. "I know my mother used to wear it. Isn't it like Dana Buchman?" She was referring to the banal, midpriced clothes found in middle-aged women's closets across the country.
But Klein's style was the opposite of the matronly, suburban look her name now conjures. Her clothes—blazers with a man's strong shoulder but shaped for a woman's curves, boyish shirts cut in cashmere, stadium coats no less luxurious for their utility, supple jersey dresses—were the epitome of the thinking woman's wardrobe and provided a grown-up, homegrown alternative to the hot pants of British designer Mary Quant. Toledo has the potential to match both Klein's early innovations in sportswear and Klein's ability to make Europe's finest seem gimmicky and just too much.
Klein (originally Hannah Golofski) was born in Brooklyn, where she studied fashion illustration at a girls' trade school. While she is often credited with "inventing" sportswear, Klein's actual contribution to American style was, in fact, to refine and modernize a look that already existed.
After the Second World War, Seventh Avenue designers Vera Maxwell—who cut humble but fine fabrics like tweed and flannel into simple shapes based on menswear for a new female workforce—and Tina Lesser—who made playsuits, smocks, and sarong skirts for their leisure time—had already turned away from the grand influences of Paris that dominated New York's clothing manufacturers. Claire McCardle, also sometimes called the mother of sportswear, was mainly an innovator in dresses. Her famous "popovers" of 1942 were essentially smart, wrap-around housedresses and might be called the first American designer sensation.
Klein both elevated and broadened what these designers had already done while designing for Junior Sophisticates, a company that made youthful, well-priced clothes in the late 1940s. Most of the company's rivals specialized in prom gowns and party dresses, but Klein believed that the young American woman didn't just want ruffles and bows. Klein made daywear that owed more to the clean lines of American high-society designer Norman Norell than to the French froth of Christian Dior. Junior Sophisticates fast became the market leader, selling to 800 stores throughout the country.
Klein, an opinionated firecracker at 5-feet-3, designed clothes that were as unfussy and direct as she was. In 1951, she showed a loose chemise dress; French designers did not show dresses with an undefined waist until 1957. That same year, she offered cocktail dresses that combined plain, sweaterlike tops with full satin skirts, a far cry from the bosomy, beaded evening clothes that were then fashionable.
But the reason we remember Klein today—and the reason that so many have high hopes for Toledo's reinvention of the brand—is because of her greatest innovation: She was the first designer to offer separate but interchangeable staples (the white shirt, well-cut trousers, tailored jackets, simple skirts, and a variety of sweaters) in a single, coordinated collection, the mix-and-match essentials that still inform how most women get dressed each day. And, always mindful that ease and economy were an essential part of the new American look, Klein designed her clothes so that pieces from one season would relate to pieces from the next.
Anne Klein Ltd. opened in 1968 and was an immediate success. She won two Coty awards (a prominent industry honor that is now defunct) and was entered into the Coty Hall of Fame in 1971. When she died at 51 from cancer, her assistant, an young unknown named Donna Karan, succeeded her, eventually designing with Louis Dell'Olio. That team built the formidable array of diffusion products that are still the foundations of the label's success. But the label went downhill after Karan left to open her own house. By the time the Jones Apparel Group—a $5 billion conglomerate that also owns decidedly nonfashion brands like Easy Spirit shoes—purchased the company in 2003, the Anne Klein name was known mainly for the umbrellas and luggage bearing the once-famous lion's head logo.
The fashion wasteland that is today's Anne Klein is both good and bad news for Toledo. While she has a blank slate from which to work, she must also restore the brand's stylish luster without losing its profitable, suburban, and rather afashionable customers.
Toledo is a surprising choice for that formidable challenge. The Cuban-born designer has long been a favorite of the indie fashion magazines Paper and Visionaire. Both celebrated the quiet force of Toledo's work, which often had a whisper of kinky seduction grounded in fine technique. Her jersey dresses twisted like serpents around the body. Silk skirts were hitched up at the hips with tiny metal loops; slashes in jersey dresses revealed the less obvious, and therefore more erotic, zones of the clavicle or rib cage.
But Toledo's cerebral, moody style was at odds with the often breezy look of mainstream magazines like Vogue that hold great sway over the shoppers at department stores like Saks Fifth Avenue and Neiman Marcus—women who may prove essential to the Anne Klein's rebirth. Toledo, whose collection debuted in New York in 1985, had no American accounts for her first three years of business and depended instead on private clients and the risk-taking small boutiques of Europe and Japan. While she found some commercial success alongside other avant-garde designers at Barneys New York, her business never reached a critical mass with other retailers and was plagued with financial instability.
What makes Toledo's appointment surprising is that her complex work seems in opposition to Anne Klein's practical style. Klein said she never studied a European collection; Toledo is inspired by legendary Parisian couturiers Alix Grés and Madeleine Vionnet. Klein designed clothes for the working girl; Toledo's were never intended for the office. Klein prided herself on being a commercial powerhouse; Toledo once opened a shop hidden on the fifth floor of a Chelsea loft.
These glaring contrasts make for exciting fashion news. Will the designer behind the experimental "jellyfish blouse" and "kangaroo dress" flourish in a house known for a snappy, girl-on-the-go look that recalls Mary Tyler Moore?
But Toledo is in fact an inspired choice—and not as far from Klein's vision as she might seem. In both designers' work, form and function take precedence over ornamentation. Neither displays any interest in nostalgia. The designs of each manage to anticipate a style that is just past the contemporary, modern but never futuristic.
Toledo's debut may not have been a smash—where was Klein's take-charge spirit in the dull green twin set and even duller ivory suit? What was up with the Dana Buchman-esque red sweater under the plaid jacket?—but she was right to acknowledge Klein's hallmarks. Comfy sweaters shown with leather pants and a flaring black satin trench coat offered strong echoes of Klein's luxurious but sporty style.
In any event, designers working with the legacy of other designers are rarely immediate successes; Karl Lagerfeld's eventual triumph at Chanel was not evident in his early collections; the same can be said of John Galliano at Dior. Toledo has yet to reconcile her own sense of invention with the now worn-out innovations of the house she must revive.
Still, the best of the collection showed tremendous promise. That leather coat, for example, had both Toledo's kink and Klein's timelessness. Two yoked jersey dresses—one red, one ivory—were among the most beautiful clothes shown all week. Simple, sexy, and strong, they recalled Anne Klein in Toledo's eloquent voice and pointed toward a new era of high design in good old American sportswear.
---