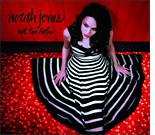 Norah Jones is not a great musician, but she has a distinctive sound. If that seems like faint praise, it's not. A sonic signature—a unique tone, a telltale timbre, an audible je ne sais quoi—is among the greatest assets a pop performer can have. In Jones' case, it's her voice that stands out: the pure, placid, vibratoless tone, tinged with a light Texas twang. When one of her songs comes on the radio, it's recognizable within milliseconds. Sometimes, as in the big hits "Don't Know Why" and "Sunrise," the music is sexy. It's a distinctly PG-13, chick-flick kind of sexiness—afternoon-sunshine-dappling-the-Laura-Ashley-duvet sexiness—but sexy nonetheless. More often, though, Jones' tone is calming and comforting, wrapping around a listener like a thick cable-knit sweater.
If Jones' record sales are any indication, there are millions of music fans who crave comfort above all. With her 2002 debut, Jones emerged as a record-industry golden girl, a reliable multiplatinum seller, beloved especially of older listeners who, the theory goes, haven't yet graduated from CDs to MP3s, or from "organic" acoustic instruments to ringtones and paeans to phone sex sung by guys with gold teeth. There's a fine line between relaxing music and boring music, between the song that enchants as it soothes and the song that marinates your hypothalamus in sleep serum. Jones and her languid little band roost right on that fine line, and, as often as not, slip across it. Thus her status among critics as the sleepy queen of the brunch hour; thus the unfortunate nickname, Snorah Jones. In Jon Pareles' recent New York Times profile, Jones quipped that her music is "[p]utting people to sleep, one child at a time."
Give Jones credit for a sense of humor. But she's clearly not thrilled with her reputation, and with her new CD, Not Too Late, she aims to introduce a new Norah—darker, edgier, and more engagé. The album (the first for which Jones wrote or co-wrote every song) opens with "Wish I Could," a sad little waltz accented by a groaning cello, which sounds at first like a vignette about lost love, but abruptly turns into an anti-war song. And that's just the beginning of the politics. There's the lurching, Kurt Weillesque cabaret tune, "Sinkin' Soon," with an extended lyrical conceit about the foundering ship of state. ("We drifted from the shore/With a captain that's too proud to say/That he dropped the oar.") And there's "My Dear Country," a kind of protest torch song, which pledges patriotism while taking swipes at the "deranged" president. Jones' mellowness has always graded into melancholy, but the material has never been so consistently downcast. ("Wake me up when its over/Wake me up when it's done," she sings.) And the arrangements, by Jones' boyfriend and bass player, Lee Alexander, have a chilly cast, with lots wintry string figures and the odd dissonant flash of guitar feedback.
But "dark" Norah Jones is still pretty light. "Sinkin' Soon" is inspired by Tom Waits' clattering mash-ups of Weill and Americana, but Jones and her group just sound cute. Indeed, the very qualities that make Jones so personally appealing, especially in contrast to most other stars of her magnitude, may be the source of her musical shortcomings. Jones is by all accounts a lovely, unpretentious, and, yes, funny person. She was still sharing a walkup in Williamsburg, Brooklyn, when she carted off an armful of Grammys a few years back, and though she and Alexander have since moved into a fancy Manhattan loft, she has shown zero interest in the usual trappings of megastardom. She doesn't frequent glitzy parties, almost certainly has no stylist on her payroll, and has never strode into a West Hollywood nightclub on Paris Hilton's arm. She still turns up in tiny rooms in Manhattan and Brooklyn to play country cover tunes with her oldest and dearest pals.
Yet those musicians—Alexander, Richard Julian, Adam Levy, and Jesse Harris, among others—are, to a man, perfectly talented and perfectly uninspired. The songs they make with Jones hold no surprises: They are accomplished, dull, roots-music pastiches. The painful truth is, Jones' biggest problem may well be her nearest and dearest. The band is a dud, and Alexander and Harris (to say nothing of Jones herself) are simply second-rate songwriters. On Not Too Late, Jones and company try to get more muscular, more brooding, but the record still sounds like a gathering of close friends, convivial and cozy. Kind of like brunch.
Jones' problem is not that her music is subdued. On the contrary. She keeps trying to push her music into "hotter," more expressive territory, when she should be playing to her strength, emphasizing her cool and reserve. Instead of worshipping at the altars of American country, soul, and blues singers, Jones would do well to look to cosmopolitans like Astrud Gilberto, Chet Baker, and Sade, who find the pathos in froideur. She has shown her willingness to stretch when she gets out of her snug musical circles, dueting with Andre 3000 on Outkast's "Take Off Your Cool," and even singing the word "motherfucker" several times on Peeping Tom's "Sucker." Surely co-starring with Jude Law in a Wong Kar-Wai movie ought to do something to stir a young woman's wanderlust? However many copies Not Too Late sells, it's apparent that the trademark Jones style is paying diminishing returns: The new single, "Thinking About You," is a blatant "Don't Know Why"/"Sunrise" rewrite, and a rotten one. But even in the lamest songs, you can't argue with the distinctive loveliness of the voice, which still sounds like no one but Norah Jones. That's a lot more than you can say about 99 percent of the world's singers, and a lot less than you can say about the great ones.
---