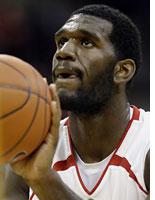 Here's how far college basketball has fallen: Fans and pundits are going gaga over 7-foot super-prospect Greg Oden, a guy whose career at Ohio State will last less than a year. The NBA's new age threshold means that high schoolers can't jump straight to the pros. Still, for immortal players, college will be nothing more than a one-year way station on the path to a huge payday. But fear not, basketball fans, there is a better place to watch the game's premier amateur athletes. Start weaning yourself off the NCAA, and start following AAU.
Admittedly, AAU basketball doesn't have the best reputation. Chances are you know the AAU best as a sink strainer for the money launderers and crack dealers who dole out cash and goodies to up-and-coming teenage ballplayers. And sure, the organization is a feeding ground for unscrupulous agents. But there's more to it than that. The 118-year-old Amateur Athletic Union organizes 8- to 18-year-olds across school-district lines for local, regional, and national tournaments, the biggest of which draw teams brimming with college-ready talent. These games may bring a player bragging rights, attention from scouts, or scholarship offers. The stakes are already as high for the teen players in AAU as they are for any collegians.
But why should you care? For starters, check out a list of former AAU players who made it to the NBA: Amare Stoudamire, Allen Iverson, Shaquille O'Neal, Shawn Kemp. Every great player—even those who for the past decade have bypassed college—signs up. A hard-core AAU fan would have already seen Greg Oden for years, just as he would have been well-acquainted with the last such phenom. (LeBron James' AAU team from the age of 10: the Shooting Stars.) The AAU circuit has also given us a tantalizing glimpse at the game's famous flameouts. Don't you wish you'd seen, say, poor Leon Smith as a 16-year-old, to know what all the hoopla was about? Or Kemp, back when he gave a crap about basketball?
Another point in AAU's favor is that the talent is homegrown. Rooting for State U is pretty much the same as cheering for a pro team, considering that your favorite school's roster is more likely to be stocked with guys from Croatia than with instate kids. Let's say you live in Atlanta. Does it make more sense to root for the Atlanta Celtics—an AAU program that recently produced Dwight Howard, Josh Smith, and Randolph Morris—or the Georgia Tech Yellow Jackets, whose top players of recent vintage are all from out of state? There should be no debate: If you want to support local hoopsters, then go with AAU. These teams comprise boys and girls who attend your church and bag your groceries. You know them, and they know one another: It's not for nothing that Jalen Rose's 13-and-under AAU squad was called Team Superfriends.
Team continuity leads to superfriendships and super basketball. AAU teams stick together for years. Elite college teams stick together for a semester. Which do you think have a better understanding of how to play as a unit? Jim Calhoun, the Hall of Fame coach of the University of Connecticut, posited last season that the increasing parity in the college game is a result of high schoolers improving by playing AAU ball against one another. Then Calhoun's vaunted Huskies went out and lost to George Mason, a team made up of Marylanders who grew up playing AAU ball with and against each other. The LSU Tigers, another of last year's Final Four upstarts, are stocked with four players who won an AAU national title together as 15-year-olds.
To hear other college coaches kvetch, though, you would think that a player's basketball education begins when he arrives on campus. (UConn women's coach Geno Auriemma: "They might have played 90 million AAU games and it doesn't matter. They have never actually been to a practice where they actually have to practice.") Naturally, kids coached by a random guy with a whistle are going to be less polished than those coached by, you know, paid coaches. But good hoops requires intuition as well as teaching. It's hard to deny that a player with several hundred games of AAU ball under his belt by the time he's 18 is a less formidable athlete for the experience.
One reason that NCAA basketball has survived for so long is the idea that the players we're watching are getting an education. No one really believes that college ballplayers go to school to learn—not when the latest figures show that only 59 percent of male Division I basketball players get their degrees. Fans have swallowed the false promise of college athletics (learning + sports = wholesome fun!) because, if you want to watch amateur athletes, it's the only game in town. That's where AAU comes in—it's the NCAA without the sanctimony. You can watch up-and-comers play basketball without having to pretend they're suiting up to get free books and room and board. AAU confers no degrees upon its matriculants. It's all about basketball.
All that being said, the NCAA still has one bonanza propping it up: March Madness. It's a shame that such a great tournament has to be wasted on such a lousy sport. Maybe one day, ESPN willing, AAU ball will grow to warrant its own billion-dollar basketball cavalcade. Just think—more talent, better team chemistry, and no Mike Krzyzewski hawking cars during timeouts. A fan can dream, can't he?
---