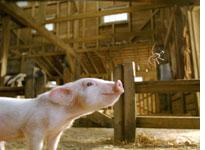 Charlotte's Web isn't just a great children's book, it's a great book, period, and great literature is notoriously hard to adapt for the big screen. Gary Winick's new version (Paramount) is almost cravenly faithful to the letter of the 1952 novel by E.B. White, but it can't translate the spirit of White's sober humanism, not to mention the dry crackle of his prose. Maybe that would be too much to ask of any film. The dingy-looking 1973 Hanna-Barbera animated version had some nice voicework, but it was nothing to weave "terrific" into your web about.
Dakota Fanning is ideal for Fern, the animal-mad, piglet-saving heroine—she even resembles Garth Williams' famous drawings for the novel. After performing onscreen for half of her 12 years on earth, you'd think Fanning might have a hardened quality by now, but she brings Fern to life with a quiet sweetness and truly seems to be enjoying herself with the animals on set.
Maybe that's because the animals Fanning was interacting were actually there, rather than waiting to be created against a green screen. The filmmaker wisely chose to bring the Zuckermans' barn to life Babe-style, using living critters and digitally endowing them with speech. And true to the current trend of celebrities lining up to do animated voice work, this is one A-list farmyard. Julia Roberts, who had just had her twins when filming began, brings an earthy, maternal quality to Charlotte the spider, but the standout is Steve Buscemi as Templeton, the greedy rat who agrees to help Wilbur in exchange for first dibs on the swill in his trough.
On the film's Web site, Buscemi voices mild hurt that people are constantly telling him he's "perfect" for the role of Templeton. That's a backhanded compliment, to be sure, but Buscemi does seem to have found his way into the rodent's mind. He plays the role less broadly, and more richly, than Paul Lynde in the 1973 film and makes Templeton into the story's unexpected hero.
The celebrity-packed barn also includes Robert Redford's spider-phobic horse, John Cleese's wonderfully snooty sheep, and a pair of squabbling married geese voiced (somewhat annoyingly) by Oprah Winfrey and Cedric the Entertainer. Wilbur the pig's voice is that of child actor Dominic Scott Kay, who shone as Kyra Sedgwick's overindulged son in Loverboy, but who veers toward the cloying here. The bone-dry narration by Sam Shepard is one of the highlights of the movie, perhaps because in those moments, White's voice comes through to us unaltered.
Charlotte's Web is, for the most part, a scrupulously tasteful rendering of a children's classic (though it does comply with the industry bylaw that every kids' film contain at least one fart joke). But the brand of childhood wonder the movie traffics in is just a little sweeter, a little louder, a little busier than White's, and that shade of coarsening makes all the difference. To paraphrase the novel's famous last lines, it's not often a story comes along that can make for both a great book and a wonderful movie. Charlotte's Web isn't both.
---