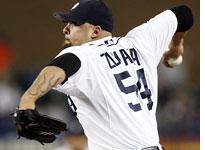 Joel Zumaya introduced himself to America in the seventh inning of Game 2 of the American League Division Series. The Detroit Tigers reliever looked rather like Bob Seger's drum tech—goatee, forearm tattoo of a flame, bloodshot right eye. ("Allergies," he would later say.) His Detroit Tigers were up a run on the Yankees, on their way to dispatching them in four games, and Zumaya had been called upon to preserve the lead against the teeth of the New York lineup. He needed six pitches to strike out Derek Jeter; the slowest of the bunch checked in at 97 mph, the fastest at 101. "Jeter's a great hitter," Tigers catcher Ivan Rodriguez told a reporter. "But Zumaya has a great fastball."
Therewith, a slight disruption could be detected in the sport's October iconography. The face of late-inning playoff baseball did not, on this day, belong to the limpid-eyed shortstop idol. Rather, the star of the day was a rookie relief pitcher not far removed from his playing days in Tijuana, Mexico. The postseason of the middle reliever had begun.
Two weeks into the playoffs, and what comes to mind? There's Zumaya's fastball, which has been clocked as high as 103 mph. (Alas, he is now "out indefinitely" with a sore right wrist and forearm, which last month shelved him for a mere week. Chances are, he'll be back if the Tigers make the World Series. I predict that he will reappear this postseason, though.) There's Oakland A's right-hander Justin Duchscherer's curve, cribbed from either Bert Blyleven or Euclid. Kiko Calero's slider. Fernando Rodney's change-up. I see submariners Chad Bradford and Pat Neshek doing what appears to be the Madison on the pitchers mound. I see the two or three tendons holding up what's left of Ron Villone's throwing arm. I see Mets manager Willie Randolph, in Game 1 of the Dodgers series, fetching his starter after four-and-a-third fairly competent innings and turning matters over to his bullpen. Don't think these middle relievers are any great shakes? Well, they're the primary reason that, thus far in the playoffs, no team has lost a game in which it led after the sixth inning.
The middle reliever's ascendance this fall is not wholly surprising. It's happened before, to an extent. The value of great middle relief was made abundantly clear in 2002, when 20-year-old prodigy Francisco Rodríguez—nicknamed K-Rod—won a remarkable five playoff games and struck out 28 batters in about 19 innings of work, leading the Angels to a World Series title. In 2006, the four Division Series matchups featured five of the majors' top seven bullpens, at least two of which, Oakland's and Detroit's, drew their strength largely from the men in the middle, not closers. Are there any A's or Tigers fans out there who don't squeeze their armrests with Huston Street or Todd Jones on the mound?
Historically, the middle reliever has been baseball's neglected lumpen, never to be limned heroically by The New Yorker or public television. He is a byword for mediocrity—a pitcher in purgatory between starting and closing, not good enough to do either. The middle reliever is the guy you want chewing sunflower seeds on a bench somewhere when the game is hanging in the balance.
Worse, we have done the middle reliever the terrible injustice of turning him into a trope. He is a frat boy's dumb metaphor for a dude who can't "close the deal." He is an old crank's symbol of the sport's unmanly decadence, especially in regards to the excessive coddling of its starters, who once routinely threw a thousand innings a year and killed men with their bare hands. There are purists out there who, when on their lithium, will allow for a hirsute-shutdown closer in the Dennis Eckersley mode. But not a middle reliever. No other entity in baseball, with the possible exception of beer prices and the designated hitter, inspires quite the level of obnoxious in-my-dayism.
Of course, the idea of relief is about as old as baseball. And the idea of relief as something new to baseball, historian Bill James once pointed out, has been around roughly just as long. (James suggests the concept of the reliever goes back even further, to that La Russa in gabardine, Napoleon—Le Patron, you see, would keep a batch of fresh troops at the ready and deploy them in, uh, high-leverage situations.) All the while, the bullpen has never stopped evolving. Perhaps we're now seeing a return of sorts to ye olde "relief ace," the idea that the bullpen's best pitcher is optimally used in any tight scenario—a la Zumaya against the Yankees—and not just in ninth-inning save situations. The middle reliever, baseball's fruit fly.
There are other reasons, besides mere pity, to rejoice at the middle reliever's turn in the spotlight. For one thing, it's a welcome break from the canned mythmaking of baseball's postseason. I somehow doubt Joe Buck will wax rhapsodic about the Mets' Aaron Heilman, his 27 holds during the regular season, and the sinking action on his fastball. Furthermore, now that the closer's role has become thoroughly professionalized, the middle rungs of the bullpen may be baseball's last repository of true flakes and characters. The day before the Dodgers' postseason opener, lefty reliever Joe Beimel had to be removed from the playoff roster after cutting his pitching hand in what he said was his hotel room, convincing precisely no one. He later admitted he cut his hand on broken glass in a New York bar.
Then there's Zumaya, who is probably one of the few middle relievers with signature entrance music—Hendrix's "Voodoo Child." Earlier this year, speaking to the Detroit Free Press, he described himself as a reformed "punk" from a "low-class" family. "When I get in between those lines, a switch turns on," he said. "It's like I'm filled with premium gas, $3 gas, dude." In Game 2, the rookie caught Alex Rodriguez's eye after striking him out to end the eighth—and he smiled. You can have your Albert Pujols and your Billy Wagner and your Justin Verlander. I'll be watching Zumaya work a quick seventh with 100 mph heat and blood in his eye.
---