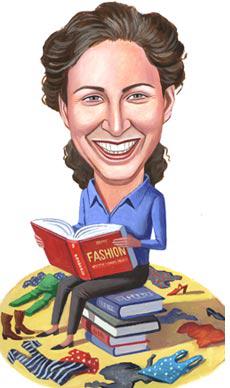 After nearly four decades of dressing almost exclusively in beige or brown suits, the time had come for me to learn about fashion. The precipitating event: My not-quite-3-year-old son had begun commenting—with unerring good taste—on my wardrobe choices. "Take that sweater off mamma," he'd command, as I attempted, far too late in life, to become the sort of girl who can throw on a crocheted wrap sweater. "Take it off," he'd cringe, as I tried to slide a new lace-trimmed Victorian jacket into the rotation. And last month, when I relented and let Isaac Mizrahi's Mini-Me dress me—in an A-line skirt (or "tutu") and black boots—a woman stopped me for the first time in my entire adult life to compliment my outfit.
When your toddler has a better eye than you do, it's time to learn about clothes.
So, I decided to do exactly what I did when I missed the whole semester of Intellectual Property: I bought all the books and studied them in one weekend. "I can learn this," I figured. "How hard can it be?" It might seem counterintuitive, learning to dress from a book. But there are dozens of titles out there suggesting that it can be done, and books seemed kinder and gentler than the angular giantess who works at my local Ann Taylor.
The central problem with books about dressing yourself, I quickly discerned, is that they are written by people who already know far too much. They have long since absorbed the rules of shape and fabric and heel height and have gone on to become the sort of people who wear jaunty hats and chunky belts and violet shoes.

People who think all day about clothing assume, for instance, that those of us who do not think about clothing have nevertheless internalized the basics: that we somehow know our body type, say, or which colors look best on us. Consider Dress Your Best:The Complete Guide To Finding the Style That's Right for Your Body, by Clinton Kelly and Stacy London of the Learning Channel's What Not to Wear. The book, which offers photos of people with 26 different body types, starts with the premise that you can locate yourself among them—that you know whether you are "curvy" or "extra curvy." When my husband found me holding Dress Your Best sideways, trying to read it like a map of Cleveland, he gently advised me—he has evidently known this all along—that I am "short-waisted." The best way to glean knowledge from this book, though, is to read the whole thing through, rather than settling on whichever of the 26 bodies is yours. You'll pick up good general information (pointy shoes make your legs look longer; wee little folk like myself should carry wee little purses). Still, it's no substitute for having London * and Kelly themselves show up to humiliate you on national television.

I had a similar problem with The Lucky Shopping Manual, by Kim France and Andrea Linett. The book is terrific, a sort of fashionista version of the owner's manual that came with your Honda. It explains what pants to wear with which shirts, and how the most basic garments should fit. (Who knew, for instance, that T-shirt length matters?) Nothing nutty, which I liked—just clean, simple style tips that are not intuitively obvious. Wearing a collared button-down shirt with a pantsuit, for example, is "dangerously masculine." If a personal shopper picked out my entire wardrobe in advance, the Lucky guide would definitely help me put things together. But since the outfits pictured do not encase real people, it was hard to tell which of these components might look good on me. The Lucky guide is about fashion, by the way. Not about finding your own personal style. The editors promote a single aesthetic—call it New York edgy classic—and urge you to adopt that.

Another useful book about fashion—but not style—is What You Wear Can Change Your Life, by Oprah fashion gurus Trinny Woodall and Susannah Constantine, of the BBC's What Not to Wear. Even though the book showcases only two body types—Trinny's and Susannah's—it offers a ton of useful guidance without assuming you have a pre-existing fabulous wardrobe. The girls (who mercifully avoid the fashion-book tendency to describe one's breasts as "the girls") offer boatloads of advice about what to buy. For example: These women have a breathtaking command of the whole architectural/structural basis of underwear. This is one of those things fabulous women just know and the rest of us are never told: Several babies on in life, most women ought not to be wearing three-in-a-pack bikini underwear. One word for you: Spanx. Thank me later (dahlialithwick@hotmail.com). Oops. Three more words while we're at it: Get measured and Ipex. You can certainly live just fine, raise lovely children, and save the rain forest without ever investigating these matters. But you can no longer say you don't know about them.
Here's where Trinny and Susannah ultimately lost me: A lot of the outfits they put together are just weird. They are, for instance, huge fans of the pants-with-dresses look. These women have such a distinct and dashing sense of personal style—again with the hats and the salad-plate-sized belt buckles—that, if you are someone who owns one skinny black belt and one skinny brown one, they sort of freak you out. Trinny and Susannah, in other words, assume you already have some style when they teach you about fashion.

This brings me squarely to Brenda Kinsel, whose book, Brenda's Wardrobe Companion, should have been my favorite. She doesn't just want you to dress better. She wants to help you express yourself. Bingo. Right? Kinsel, like me and many of my fashion-challenged sisters, is all in her head. She approaches dressing as a deeply psychological, almost spiritual experience. And she wants to start from scratch, with your childhood. This process involves binders and dividers and glue sticks and catalogs and also girlfriends and wine and music. It also involves excruciating self-scrutiny: Lengthy questionnaires probe "Where did your clothes come from? Did you baby-sit to earn money to buy your own clothes?" and "Did anyone ever make fun of what you wore?" As you work your way, possibly sobbing, through these myriad exercises, you are meant to discover that you have clothing issues, as opposed to a basic lack of clothing understanding.
Kinsel wants to work with you to unearth your innate personal style ("adorable," "classic," "eclectic," etc.), so that you can shed your beige suits once and for all. I dunno. I can accept Kinsel's basic premise: Under all my navy turtlenecks and skinny black belts there may lie someone who really wants to wear a prairie skirt and ruffled blouse to the Supreme Court. But I can't accept that after months of torturous self-discovery, I will become the sort of person who just intuitively gets it about the chunky pearls and the scarves. My lingering suspicion, even after Kinsel's painstaking rescue efforts, is that personal style is acquired early or not at all.

And that is why the best book I read was the plainest of the bunch: an unassuming little guide called Does This Make Me Look Fat? by Leah Feldon. Yucky font, boring line drawings and all, Feldon's book—which actually has almost nothing to do with fatness—is what fashion dorks like me most desperately need: easy basic rules for boring classic uniforms that will not horrify your toddler. Head-to-toe black. Vertical silhouettes. Garments that skim, rather than cling. Got it. And if you're short, skip the Capri pants. Skip the Capri pants! Why didn't anyone tell me? (My husband swears he did.) She mentions Audrey Hepburn a lot. But for the truly challenged, Audrey is about as good a touchstone as you can hope for.
Some women are inherently stylish. But for those of you who aren't, it is rules like Feldon's that will make you free. You won't come to love clothes, but you may start to think of them as allies rather than foes. You'll start to notice when things skim as opposed to cling; people may start to say you've lost some weight or ask about your eyeliner (Eyeliner? Are you drunk?). And one day your not-quite-3-year-old will cock his head and say, "Mamma, you look handsome." And that will be your signature personal style.
Correction, April 5, 2006: This piece originally identified the hosts of What Not to Wear as "Clinton and Kelly." Their names are Clinton Kelly and Stacey London. ( Return to corrected sentence.)
---