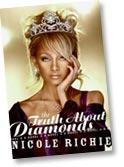 The Truth About Diamonds, Nicole Richie's recently published first novel, is so haphazardly plotted and its sentences are so clunky that it doesn't quite make sense to think of the book in terms of its writing, let alone its style, grammar, or misspellings of David LaChapelle. Richie (or her ghostwriter) is particularly handy with the triple negative: "We were nothing if not unoriginal," our narrator, a character named Nicole Richie, tells us about her friends. And she loves the overinflated simile and metaphor. A reporter is "harder to get rid of than body lice." Kicking heroin "is kind of like the worst flu you ever had combined with the worst food poisoning you could imagine, and then times the whole thing by forty." Richie also has very little to say about the human condition. To the familiar poor-little-rich-girl lament she contributes the adages that drugs are bad and that jewelry should not be nearly as important as the people who give it to us.
But Richie's roman à clef is actually a fascinating artifact of celebrity culture, and it may usher in a new genre known as "tabloid lit." Although she and her frenemies, like Lindsay Lohan, the Olsen twins, and Paris Hilton, complain about the glare of the paparazzi, even going so far as to sue them or the publications to which they sell their photos, Diamonds illustrates that they are as obsessed with tabloid magazines and television as we are. There's a familiarity with blogs and the ins and outs of the weeklies that one wouldn't expect from a bona fide celebrity. Every plot point is set in motion by some interaction with the media. A reporter at Bitz Weekly introduces a daughter to her long-lost fatherto create some buzz. "Stawker.com" outs a gay friend in a blind item. And a near hit-and-run incident at a nightclub "might have provided pinkisthenewblog.com with fodder for a week."
There are also specific allusions that only the most seasoned tabloid reader would understand. According to the novel, "real friends" are "more valuable than the Costume National African-print dress that gets you the 'Look of the Week' in People." A character poses with a reporter from Us Weekly for a staff photo on Janice Min's editor's letter page. (And I thought I was the only person who studied those.)
More of a character study than an actual story, The Truth About Diamonds is told by "Nicole" about her friend Chloe Parker, the adopted daughter of a 1970s superstar music producer—the character is clearly based on Richie herself. ("If I didn't feel like dealing with the paparazzi, she could even pass for me," writes Richie.) The somewhat tenuous plot has Chloe and her friend Simone, whose penchant for appearing in "night-vision skin flicks" marks her as a Paris Hilton stand-in, starring in a Simple Life-likereality show. Chloe goes to rehab and then bounces back with the help of a DJ boyfriend, whose "gastric bypass made him half the man he used to be." Even the sporadic reader of InTouch knows that Richie is a former heroin user whose (now ex, as of last week) fiance, DJ AM, underwent surgery to go from not to hot.
From the way Richie describes the outfit of a "short and squat" Bitz reporter named Liz Chan—her clothes are "straight out of the Sears catalog," perhaps the greatest insult a glamour girl can toss—it's evident that she doesn't like journalists. At another point, Chan is described as "sopping wet with perspiration in her off-the-rack prom gown and clearly seemed almost not to recognize what a bottom-feeder Chloe felt her to be." But it is Chan who ultimately saves the day for Chloe by uncovering a scandal involving her reality show—a moment that suggests Richie's canny awareness of the symbiotic relationship between celebrities and the tabloid press. Chan, it turns out, isn't one of those viper reporters who "spend all their time snarkily tearing celebrities apart." She falls into the category of "girls and gays who grew up making scrapbooks of their idols … sweet inside, full of genuine admiration for stars."
In her introduction, Richie coyly writes that tabloid rumors would only bother her "if I thought for a second that people take tabloids seriously." And yet because people do take the tabloids seriously, Chloe is undone by a series of rumors about her drug use and a fictional elopement. Rather than powwowing with her tightknit group of family and friends to make sure they know the truth, Chloe's first instinct, tellingly, is to throw a press conference. That way she can "just apologize to everyone and beg everyone to forgive me and to believe me that I didn't have a relapse; I didn't let them down." The plan is absurd on many levels, most obviously because tabloids are the main audience for celebrity press conferences.
Apparently to obscure her own pandering to the press, Richie pointedly makes Paris/Simone her sacrificial lamb. (As most people know, Hilton and Richie had a falling out and no longer speak.) Richie paints Simone's relationship with the press as gauche and opportunistic. Simone loses her cell phone "accidentally on-purpose," something that indeed happened to Hilton. (The phone numbers of countless friends, like Amy Sacco and Bijou Phillips, were broadcast all over the Internet and on Page Six.) To create a stir one evening, Simone forgoes underwear at an event, and the "paps," as Richie creepily calls the paparazzi, capture her getting out of a limo. (A quick Googling of "Paris Hilton" and "no underwear" will turn up those pictures in no time.) And in a twist straight out of the musical Chicago, Simone even fakes a pregnancy. Indeed, press stunts are nothing new: Like those merry murderesses of the Cook County Jail, both Simone/Paris and Chloe/Richie know they're nothing without flashbulbs.
But that celebrities read the tabloids and actively court them shouldn't come as too much of a surprise. After all, the Katie Holmes/Tom Cruise extravaganza has made the American public especially suspicious of celebrity posturing. Recently, Jessica Simpson and Nick Lachey called it quits not long after "staging" a photo op in the London airport—and after months of pretending their marriage was solid. Celebrities also seem to make life choices based on press opportunities. Renée Zellweger married Kenny Chesney around the time of the release of Cinderella Man. Ashton and Demi quickly became a couple as she was staging a comeback with the sequel to Charlie's Angels. And several young actresses appear to have devised wily ways to keep their star afloat, whether that means shopping with their babies (see Denise Richards); constantly cavorting at the beach (Mischa Barton), or regularly poking around newsstands (Jennifer Love Hewitt). All, of course, for the benefit of the cameras nearby.
Throughout her novel, Richie blesses us with the insight that diamonds are a girl's best friend; they "signify wealth," sure, but also "commitment, family, and love." But despite the book's marriage plot—Chloe ends up with DJ Ray's ring on her finger—the real love affair in The Truth About Diamonds is definitely not between a man and a woman, or even between a girl and her jewels. It's between Nicole Richie and her paparazzi. After all, now that she and DJ AM are split, who else does she have left?
---