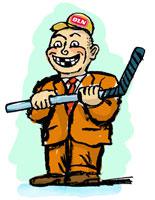 There was much joking after the National Hockey League emerged from its lockout hara-kiri to announce a television deal with the Outdoor Life Network. Would the league be moving its games from arenas to duck blinds? The network—best known for its coverage of the annual Tour de Lance, but specializing in huntin' and fishin' and bull ridin'—took care of that mild incongruity in recent months, officially changing its name to OLN. Still, it's clear that the NHL and the not-very-indoorsy sports network have crafted a marriage of convenience.
OLN's parent corporation, Comcast, is trying to gain respect as a purveyor of sports programming. The NHL is trying to regain its status as a quasi-major sport. While hockey's rivals are powerhouse leagues like the NBA and NFL, Comcast's nemesis is perhaps even more dominant: ESPN. Comcast's attempt to build a national sports network won't rest with the NHL. But if OLN's occasionally amateurish-looking production affirms for viewers that only ESPN can do sports right, then Comcast's national ambitions could find an early, icy grave.
The network's buffoonish studio show doesn't do much to enhance OLN's credibility. Canadian television veterans Keith Jones and Pierre McGuire battle every Monday night to undo the goodwill our neighbors to the north have built up with all those cheap prescription drugs. Here's McGuire on how Rangers coach Tom Renney motivates his team: "He's in there throwing Gatorade cans around, some Powerade cans around, making sure the stick rack is broken, maybe throwing some gum at his players!" Yeah, OK, we get it. A miscast Bill Clement struggles to host, amping up his usually plaid personality to match the hysteria. The saddest bit of faux excitement is the generic rock 'n' roll that gets piped in during in-game replays. Goal! The crowd goes wild! And the natural crowd noise gets shunted aside in favor of canned tunes.
If you can ignore the McKenzie Brothers in the studio, OLN does a decent job with the on-ice action. The network has wisely chosen to gear its coverage to the already converted—no pathetic Fox-esque glowing pucks to help out the masses. Years of plummeting ratings have cemented hockey's niche-sport status, so why alienate the base by chasing nonexistent newbies? The telecasts also gain instant credibility because of play-by-play announcer Mike "Doc" Emrick, who leaves the cliché-ridden competition in the dust—skaters don't merely pass the puck, they "feather it along," or "chip it out," or "try to swagger it to the front."
It's surprising, though, how little attention OLN pays to the NHL's copious post-lockout rule changes. Even avid fans are still struggling to grasp the new rules to boost wide-open play and how they have affected the players, teams, and refs. Especially given that Mario Lemieux—who once retired in large part because of the game's constant, uncalled bearhugging—was on the ice on this week's broadcast, it would have been nice to point out the new freedom that offensive specialists now enjoy. When Super Mario scored a goal with unfettered access to the net, it surely would have been a good time to highlight the changes, perhaps with some videotape from prior years as evidence.
It's easy to sympathize with OLN's early struggles. The channel won the rights to broadcast NHL games after ESPN walked away this summer, not two months before the opening face-off. Contrast that with NBC, which will televise its first Sunday night NFL contest well over a year after winning rights to the package (and has a far longer lead time before dropping the puck on its NHL coverage in January). At this point in its nascent coverage, OLN's basic charge is to transmit a crisp picture; at least the network's production values compare in quality to local cable broadcasts.
Comcast sees the NHL rights as something like the assault on Fort Sumter—merely the first shots in what could be a long and bloody fight with ESPN. Bringing in the NHL is a critical step in enticing more ratings-friendly sports to climb aboard as well. They might do well to remember the example of SportsChannel America, which attempted to use NHL rights as a springboard for challenging ESPN way back in the late 1980s. If it didn't work in the Miami Vice days, when ESPN wasn't nearly as entrenched and the NHL was a much bigger kahuna, it isn't likely to work now.
But while it's tempting to see OLN as a plucky upstart in the mold of early ESPN, this isn't what Comcast has in mind. The company has taken pains to ensure OLN remains a rods, reels, and rodeo destination. The channel is merely a convenient spot to place national NHL telecasts, while the Philadelphia-based Comcast (which also owns the Sixers and Flyers) lays the groundwork for a possible all-sports network. Or two.
As a major cable and Internet provider, Comcast is in a position to challenge ESPN's supremacy in a way Fox and CNN/SI never could. Don't forget, Comcast launched a takeover bid of Disney last year that the Mouse narrowly fought off. Meanwhile, they very quietly locked up much of the nation's No. 3 market by creating Comcast SportsNet Chicago, winning the broadcasting rights to Bulls, Blackhawks, Cubs, and White Sox games by cutting the teams in on the deal. Three million more homes will come in next year, when Comcast and the New York Mets launch a new devoted network. Should Comcast decide to go 24/7 nationally, there won't be any shortage of big-time programming.
Providing round-the-clock games and highlights is one thing—displacing a cultural icon is another. ESPN is the bully on the block for a reason. Next year, the biggest single property in sports, Monday Night Football, heads to ESPN. ESPN's greatest accomplishment has been creating a hammerlock on the nation's sports psyche. Beyond the big numbers and complex rights deals, the simple fact is that when sports fans need to see a big game, catch a score, or watch T.O. clown around, they reflexively turn to ESPN. That's a big hurdle for any challenger to clear—no one will be naming their kids "OLN" anytime soon.
---