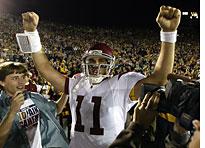 As Stephen Rodrick argued in Slate, college football games are too often "decided by the physical incompetence and downright chokery of their players." While there was plenty of that this weekend—see, for example, the blocked punt at the end of the Minnesota-Wisconsin game—most of Saturday's matchups were decided by legitimate skillfulness and dexterity. In what might have been college football's best day ever, Michigan and Boston College won on last-gasp touchdown passes, Alabama took out Ole Miss on a final-play field goal, and West Virginia and UCLA came from way back to win overtime slugfests.
Those were all topped, of course, by the already-immortal USC-Notre Dame game, in which Trojans running back Reggie Bush proved he's the next best thing to Barry Sanders. Like Sanders—who often led the NFL in carries for negative yardage—Bush understands that if you're more elusive than everyone else on the field, it's perfectly logical to risk a 10-yard loss for a chance to make a big play. Bush's most important runs of the afternoon, though, were his most straightforward. With under a minute remaining and USC on the Notre Dame 13-yard line, he slithered between the tackles for 6 and 5 yards on consecutive handoffs, putting the Trojans in position to win the game on Matt Leinart's quarterback sneak. Or, if you'd prefer, Reggie Bush's quarterback shove.
When Leinart came back for his senior season after throttling Oklahoma in the Orange Bowl, it seemed like a conscious emulation of Peyton Manning, the college star who stayed in school for four years, got picked No. 1 in the draft, and made bushels of cash while setting records in the NFL. Heck, Leinart was a new, improved Peyton Manning—the former University of Tennessee QB never won the national title or the Heisman Trophy. Now, six months after deciding to finish up at USC, Leinart looks more like Jason White or Danny Wuerffel—a gutsy Heisman winner who doesn't have the physical ability to succeed when the guys on defense get bigger and faster.
USC's offense clicks because the Trojans' dominant offensive line gives the accurate Leinart more than enough time to spot open receivers. But against Notre Dame, Leinart proved fallible when faced with a stifling, aggressive defense. With Fighting Irish defenders in the backfield all day, the short timing routes that the Trojans thrive on become ineffectual. Leinart's savvy and toughness—as seen on his clutch, last-minute, fourth-down throw to Dwayne Jarrett—are unimpeachable. But he's not shifty enough in the pocket to avoid taking big hits, and his arm is too weak to throw the ball over the top when he's pressured. On Saturday, the Trojans' most effective passing play was the screen pass to Reggie Bush. It doesn't take a pro quarterback to dump the ball off.
By passing up certain riches in the pros, Leinart has crafted himself into the kind of winning, wholesome Joe College figure who will be asked to appear in Campbell's soup commercials. He's also been able to enjoy the perks of SoCal celebrity—the magazine covers, the posh birthday parties, the hobnobbing with Nick Lachey—while earning the priceless appellation "winner."
Everybody knows that Leinart isn't any more of a college student than Tom Brady is. As has been widely reported, the only credits he's getting this term are for a ballroom dancing class. In an interview with NBC's Pat Haden, Leinart admitted, "I'm not on campus too often. I'm on campus to watch film, to work out. … I don't find myself walking around too much because it kinda gets hectic around here sometimes." Man, just imagine how hectic it would be if he had to go to class.
So, why did Leinart stay in school? Well, there's that these-are-the-best-years-of-my-life malarkey. But the USC quarterback also told Haden that he came back because he needed time to recover from off-season elbow surgery and a lingering sports hernia. "I felt like I could go to the NFL, probably do OK, maybe get drafted high, but who knows," he said. "I just wanted to be sure."
When commentators talk about the risks of staying in school, they mostly mention the risk of career-ending injury. Leinart's got a multimillion dollar insurance policy to cover that. But there's another possible consequence that's nearly as damning—that NFL scouts will figure out you're not as good as they thought you were. Sure, Leinart will make millions upon millions in endorsements. But in a few years, the accountants will be lining up outside Reggie Bush's door.
---