Click here to read a slide-show essay on Y-3, Anna Sui, and Vivienne Tam's shows.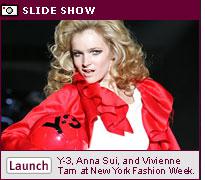 My first impression, as I walked up to the monumental 55 Wall Street, former home to the New York Stock Exchange, was one of money. The granite exterior, with huge imposing columns, seemed at once incongruous—high fashion on Wall Street?—and cynically appropriate: At some level, the industry is all about the green stuff. I was there, along with a crowd of about 1,000, to catch the Y-3 runway show. Launched in 2000, Y-3 is a joint venture between sportswear giant Adidas and Japanese designer Yohji Yamamoto. There was a lot of excitement about the show since Yamamoto, arguably Japan's greatest fashion talent, is notably reclusive and rarely makes a stateside appearance. (Short Yamamoto bio: He debuted his first collection in Tokyo in 1977, though he now stages his ready-to-wear runway shows in Paris. He is known for his uncluttered, conceptual sensibility and somber palette—and his clothes are expensive.) For 30 minutes, I stood outside fretting, waiting for my friend-with-ticket-who-was-late.
This is the third of three dispatches by Gloria M. Wong from Fashion Week. To read her first dispatch, click here, to read the second, click here.
---