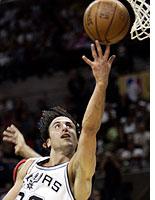 Thanks to native son Manu Ginobili, basketball is getting more popular in Argentina. When I went to the biggest sports bar in Buenos Aires to watch last week's Game 3 of the NBA Finals, I expected to find hordes of crazed Ginobili fans. In reality, the barkeep switched to basketball only after a soccer match featuring local favorites Boca Juniors finished up. Last night, I watched Game 5 in an establishment appropriately called Locos por el Fútbol.
Loco doesn't do it justice. The cable channels are almost totally devoted to soccer, with classic games and highlights from the domestic league on virtually 24/seven. * Fortunately, Sunday's fútbol action finished before tip-off, leaving Manu unchallenged as king of the sports bar's 40 televisions.
The game started shortly after 10 p.m., just when citizens of Buenos Aires usually sit down for dinner. As such, the place was packed. The comprehensive menu covered all the local dishes, heavy on grilled beef and pasta. The straightforward menu at Locos is in stark contrast to the neighboring World Sports Cafe, where I watched Game 3. At World Sports, the menu included the Shaq 32 rump steak, the Air Jordan chicken (with pumpkin purée), and the lost-in-translation Tampa Bay BBQ ribs.
International hoops fans get the global feed produced by NBA TV, which is in many ways superior to what we get at home. The marathon pregame show is cut down to only the player intros, and there's a line at the bottom of the screen that updates stats after practically every play. Even though the telecast is in Castellano, I'm always on top of Duncan's point total, Big Ben's rebounds, and Rasheed's fouls.
The "Global Fan Forum," which offers e-mailed opinions from viewers across the globe, is a slog, though. During Game 3, Marcos from Argentina clicked in with this nugget: "There is not even a chance Detroit will come back to win the series—not with Manu on the court!" Such learned insight beat out last night's entry from "Big Mike" in Malta: "It's 4 am here in Malta. Me and my mates wake up for every game!" My heart goes out to the production staffer who must wade through the dross that doesn't make air.
The Argentine Al Michaels left no doubt about where his attention was focused. While other players were identified by their surnames (except for Chauncey Billups, who was called "Chown-SEE BEEL-ups" every time he touched the ball), Manu Ginobili was simply "Manu." Despite the constant spotlight, it seems like Manu-mania hasn't been embraced by all Argentines. Ginobili is from Bahía Blanca, several hours to the south of Buenos Aires. As one local explained it to me, "There is no reason to get very excited. [Ginobili] plays a game best suited to freaks." Maybe there's some back story that I don't know about, because when I entered the World Sports Cafe, the maitre d' offered an unsolicited opinion of the Spurs guard—"He is a son of a bitch"—punctuated with some classic obscene hand gestures.
Maybe it's simply Manu fatigue. He's front and center even during the endless timeouts, shilling for the likes of Gatorade and Banco Provincial. The only consistently pro-Manu constituency I found was hoteliers and their families. Victoria, who mans the front desk at the Solar Soler hotel in the fashionable Palermo district, sighed deeply at the mention of his name, calling him a heartthrob. When I gave another B&B proprietor a copy of ESPN Magazine with Ginobili on the cover, she immediately called her brother, who abandoned his job at a nearby gym to come over and thank me personally.
After Game 3 was met with general indifference at a major sports bar, I was a little worried about what the crowd response would be for Game 5. Happily, Locos por el Fútbol turned out to be a pretty good atmosphere for watching a basketball game. Loud roars greeted big Spurs baskets. One of the biggest cheers of the night came after a quick series of passes that led to an open three-pointer—the sort of fluid action that makes soccer so enjoyable. When San Antonio held on for victory, the lights flicked on and off, and the jaded crowd rose to their feet and applauded before heading off to the taxi stand.
My best finals experience, though, came during Game 1. I was expecting a quiet night in a small cafe north of the city center. Instead, a handful of boisterous Ginobili fans started several rousing soccer-style chants when the Argentine took over the game late. Maybe there is hope for hoops in South America—as long as Manu scores 30 points per game.
*Correction, June 20, 2005: This piece originally and incorrectly stated that soccer-mad Argentines modify the model name on Volkswagen Golfs so they read "Gol." The Volkswagen Gol is actually a different model than the Golf. Click here to return to the corrected paragraph.
---