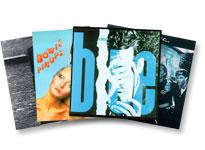 Cover albums—collections of songs previously recorded by somebody else—are routinely treated as secondhand and second-rate artistic goods. Many, of course, are. They're often a sentimental exploration of a favored period or genre, an attempt to prime the pump between visits from the muse, or a quick way to meet a contractual obligation. John Lennon's Rock 'n' Roll, David Bowie's Pin-Ups, Elvis Costello's Almost Blue, Metallica's Garage, Inc.—all fit one or more of these descriptions. These albums are viewed as minor footnotes to major bodies of work, even by their makers.
This disdain is not surprising, given rock's emphasis on writer-performers, but the cover album may be moving up in the world. A number of recent releases reshape familiar and obscure material in a broad variety of styles. Some are cynical knockoffs, light-classical refashionings, or canny career moves. And, ever since Kim and Thurston covered Karen and Richard on 1994's If I Were A Carpenter, there has been a steady trickle of hip tribute compilations, with recent entries dedicated to '70s soft-rockers Bread and the shadowy cult figure Jandek, and to single songs by Wire and Björk.
Such projects suggest a shift in attitudes about what counts as musical creativity. Hip-hop has its own rhetoric of originality—one MC rarely performs the rhymes of another—but its strategies of sonic appropriation, whether by turntable or sampler, have been the most significant advance in pop production since Les Paul multitracked his own guitar. The recent dance-music trend toward mash-ups—mixing the vocal track from one record over the instrumental backing of another—has further blurred the line between "making" music and constructing it from extant elements.
These techniques are here to stay, but they can be risky: DJ Dangermouse's Grey Album, an extended mash-up of Jay-Z's The Black Album and The Beatles' White Album, became a cause célèbre of the copyleft last year, after EMI ordered it pulled. Yet, clearing a sample legally can be prohibitively expensive, with large portions of a producer's royalties, or even upfront cash, flowing to the owners of the master recording. By contrast, songs aren't free, but they're relatively cheap, and the ground rules are clear. Any artist can release a version of any song, so long as a mechanical royalty—currently 8 and 1/4 cents, in most cases—is paid to whoever owns the publishing (which often isn't the songwriter, but that's intellectual property for you).
Covering a song is an older and lower-tech practice than sampling a sound, but the impulse is often similar. The best of the current crop of cover albums juxtapose material associated with one genre with the conventions of another, combining an obvious fondness for their sources with a measure of critical irreverence.

Case in point: Nouvelles Vagues, led by the French session musicians Marc Collin and Olivier Libaux and fronted by a rotating cast of first-name-only female vocalists. As you might guess from the multilingual pun of its title, their eponymous debut translates early-'80s New Wave (and a smattering of punk) into the subdued tones of Brazilian bossa nova—Portuguese for, again, "new wave." Some of the results are predictably arch, but the approach works wonders on Tuxedomoon's"In a Manner of Speaking," revealing the vulnerability and the songcraft beneath the original's synthesized gloom. The most arresting track isn't a bossa at all. Played as a Weimar cabaret number, with a brushed snare-drum and "Camille's" insinuating delivery, the Clash's "Guns of Brixton" (listen) loses none of its anti-authoritarian jolt.

On his second disc as The Soft Pink Truth, Drew Daniels takes a harsher approach to material of a similar vintage, reworking songs by ascetic punk standard-bearers (Crass, Minor Threat) and arty outsiders (the short-lived Florida outfit Teddy & the Frat Girls). Daniels' versions are violently disjointed, and pointedly guitar-free, driven instead by choppy sequencer programs and unidentifiable sampled beats. The disc's pleasures are admittedly cerebral: mock-academic liner notes chart each selection's "song-specific ideological agenda" and its beats-per-minute. The album closes with an acid-house remake of the Angry Samoans' scabrous "Homo-Sexual" (listen) and a ghostly fragment of "Looking Back," (listen) a 1973 Jule Styne song recently featured in Carol Channing's one-woman show. These tracks lift the emotional lid on Daniels' theoretical sophistication, as an openly gay artist casts a cold eye across his hard-core youth and owns up to his inner show-tune queen.

Several generations of jazz players have placed their stamps on the popular songs of an earlier era; two new discs attempt to replenish the music's available repertoire—not to mention its audience. Lea DeLaria's Double Standards (Warner Bros.) spins a clutch of classic and alternative rock songs into contemporary vocal jazz. In principle, this makes sense; the Doors' "People Are Strange" and Jane's Addiction's "Been Caught Stealing" are as familiar to younger listeners as, say, "All the Things You Are" was to an older generation, and just as ripe for reinterpretation. But the disc is only intermittently successful, despite heavyweight backing (the core band includes keyboardist/arranger Gil Goldstein and bassist Christian McBride) and DeLaria's evident vocal facility. Some tracks, notably an airy, harmonically extended reading of Soundgarden's "Black Hole Sun," don't quite avoid a Bill Murray lounge-act vibe. Up-tempo numbers work best: What Green Day's "Longview" (listen) loses in guitar firepower, it makes up in bottom-heavy swing.
Co-led by saxophonist James Carter and pianist Cyrus Chestnut, two young heavyweights burdened with saving jazz in the '90s, the forthcoming Gold Sounds (Brown Brothers) takes the diffident indie-rock of Pavement as its raw material. Except for a wordless group vocal on "Cut Your Hair," these versions are wholly instrumental, eliminating Steve Malkmus' allusive, low-surrealist lyrics, which were the originals' main attraction for many listeners. What's left is harmony, structure, and—though this was not one of Pavement's strengths—melody. Some songs disappear underneath improvisation; "Summer Babe" was a three-chord vamp to begin with, making it a suitable platform for spirited soul-jazz jamming. The trickier tunes offer more resistance; on "Stereo," Carter's fat, cutting tenor darkens the corners of Malkmus' conversational vocal lines. The set ends with Chestnut alone at the piano, dissecting "Trigger Cut" (listen) with a few angular strokes, just as Thelonious Monk might have done.

Covering a single artist's songbook is one kind of tribute; covering a particular album is another. Petra Haden Sells Out (Bar-None) is a one-woman reinvention of the 1967 pop-psychedelic classic The Who Sell Out. Haden is also a violinist, but here she just sings, rendering everything from the original's radio announcements and fake ads to the pre-Tommy rock opera Rael with nothing but her multiply overdubbed voice. (Even the product-placement cover photos have been restaged.) As you might expect, she nails the famous stacked harmonies of "I Can See for Miles," (listen), but she also turns Pete Townshend's feedback—and Keith Moon's drum parts—into deft vocalese.
As Haden explained in a radio interview, she was unfamiliar with the album when Mike Watt (of the Minutemen) suggested the project. In his liner notes, Watt writes movingly of listening to the original Who record obsessively as an adolescent along with his best friend and bandmate Dennes Boon (universally known as "d."), who died in a 1985 van accident.* Haden's album may be a stunt, but it's also a gesture of fellowship toward an inconsolable friend. There are as many reasons to sing someone else's songs as there are to write your own.
*Correction, August 5, 2005: An earlier version of this piece misspelled the name of Minutemen band member Dennes Boon.
---