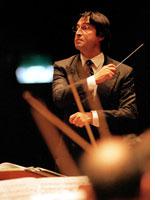 Riccardo Muti, born in Naples in 1941, is undoubtedly one of the greatest conductors of the past 30-odd years. A master of fast tempi and cleanly articulated rhythm, he is known first and foremost for defending the purity of classical music. He believes in presenting music exactly as it was written, never in indulging personal aesthetics; the composer is the architect, Muti the contractor. For the past 19 years, he's held one of the most coveted posts in the world of opera and classical music: music director at Teatro Alla Scala (or "La Scala"), Milan's renowned opera house. But a recent feud between Muti and the orchestra over management issues forced him to resign. The news sent a shockwave through the world of classical music: La Scala is the crown jewel of Italian opera—as crucial to its sense of identity as Verdi or Puccini. And as soprano Barbara Frittoli recently told the New York Times, in protest of Muti's departure from the opera house, "Muti is La Scala." Since Muti is now without a home, Slate has gathered together a few clips that offer an introduction to his work.

Riccardo Muti/New Philharmonia Orchestra Aida (EMI, 2001) Click here to listen to an excerpt from the Act II triumphal march and here to listen to Caballé in Act IV's "Presago il core della tua condanna."
This 1974 recording of Verdi's "Aida" captures two major singers, Placido Domingo and Monserrat Caballé, at the peaks of their careers. It was Domingo's idea to record the opera with then 32-year-old Muti conducting—a radical idea because it involved turning down an offer to record the opera with Claudio Abbado, then La Scala's music director, for the reputable label Deutsche Grammophon. Muti, by contrast, had never made an opera recording. But Domingo's idea was an inspired one: The result is one of the premier recordings of Aida. One of Aida's hallmark qualities is the sense of impending doom that haunts the opera from the start. Muti feeds this drama by drawing out climactic passages, creating a riveting sense of anticipation. In this regard, he seems to relish the eerie effect of the silence in between notes as much as the beauty of the notes themselves. Caballé, a Spanish soprano noted for her purity of tone and her power, gives a stunning performance in the title role and leads a very strong cast through this mid-Verdi classic.

Riccardo Muti/The Philadelphia Orchestra Tchaikovsky Symphony No. 4/Scriabin "Prometheus" (Seraphim Classics, 1999) Click here to listen to the opening of Symphony No. 4.
After leading the New Philharmonia in London in the 1970s, Muti became the music director of the Philadelphia Orchestra in 1980, which he took over from Eugene Ormandy and led until 1992. I can't imagine not being struck by the dramatic opening to this recording of Tchaikovsky's Symphony No. 4—it relies only on brass instruments, a section of the orchestra that can suffer from a sloppy sound. Not so under Muti's baton. He manages to draw out an adroitly enunciated rhythm and clear, rich tone from the horns of the Philadelphia Orchestra. Those familiar with only Tchaikovsky's ballet music (and who perhaps find it a bit sickly sweet) may be surprised by the Symphony No. 4. To my ear, it has more in common with the playful sounds of robust orchestral music like Mahler's Symphony No. 1 than with suites like "The Nutcracker," even if the second movement contains one or two familiar woodwind runs. An added bonus: This CD includes a chilling performance of a much grittier piece, Scriabin's "Prometheus." At the low price offered by Seraphim (EMI Classics' budget label), this recording is a worthy addition to any collection.

Riccardo Muti/Filarmonica Della Scala Nino Rota: Music for Film (Sony Classical, 1997) Click here to listen to a clip from music for The Godfather and here to listen to a clip from music for Rocco and His Brothers.
Readers who can't abide classical music might take a look at Muti's 1997 recording of composer Nino Rota's music for films including Coppola's The Godfather, Fellini's La Dolce Vita, and Visconti's Rocco and His Brothers and The Leopard. I imagine I'm not the only one who finds movie music albums more boring than soundtracks, since the music inevitably sounds unlike the music in the film. This is usually due to the fact that the conductor or soloist arranges the music differently to suit his or her needs, rather than trying to meet the needs of the piece as it is written. Muti—being a purist—tries to honor what he believes are the intentions of the composer. Here, this task is made easier for him because Rota was one of his teachers. The combination of Rota's music for classic Italian films, played by the most famous Italian orchestra, conducted by Muti (who looks as though he could have stepped straight out of one these films), results in music that is dreamy and large—as large as the films they score. Many film albums sound like popular music deformed by questionable arrangements. This music is different; Muti clearly understands it as well as he understands Verdi, and he protects its integrity in the same way.

Riccardo Muti/Orchestro E Coro Del Teatro Alla Scala Il Trovatore (Sony Classical, 2001) Click here to listen to a clip from the Act III finale, "Di quella pira," and here to listen to a clip from Leonora's Act IV death scene.
This 2000 recording of Verdi's "Il Trovatore" presents an opportunity to hear Muti conduct as if in person, since it was recorded at La Scala live. (Note that the album is not a recording of one single performance; it is compiled from several live performances that took place during the month of December.) The sound quality is superb for a live recording, and the performance is stamped with Muti's signature style: brisk tempo and clean pacing. Salvatore Licitra plays Manrico, the troubadour. Licitra is currently considered the heir apparent to Pavarotti in certain opera circles (click here to read about Licitra's American debut), and his discovery is to Muti's credit: He gave Licitra leading roles in several Verdi operas throughout the late '90s and then hired him to perform in this production of "Il Trovatore," an opera that Muti had been studying for some time. Muti told Licitra, "This is the first time La Scala will hear Trovatore in 22 years, and I am trusting you." While the famously energetic Act III finale, "Di quella pira/ All'armi" moves at one of the fastest tempos I've heard, some people have complained that Licitra does not go for the traditional, showy high "C" here. But Licitra is not to blame. Muti the purist would not allow the tenor to embellish the aria because, he argued, that is not how Verdi originally wrote it (Verdi wrote a "G"). This choice resulted in some booing from the rowdy La Scala audience on the opening night, perhaps foreshadowing the events that ultimately led to Muti's forced resignation.
---