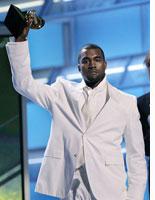 Last night's 47th Grammy Awards ceremony at the Staples Center in Los Angeles began promisingly, with a god-awful racket. In a charmingly gauche attempt to be hip, the National Academy of Recording Arts & Sciences opened its annual party with a live version of DJ mash-up, spreading five acts—Gwen Stefani and Eve, Maroon 5, Franz Ferdinand, Los Lonely Boys, and the execrable Black Eyed Peas—across four stages to bash out their songs, first separately, then simultaneously. The result was an atonal maelstrom, and I for one couldn't help but love it. Would this be the year the Grammys went completely off the deep end?
Well, no. Although most prognosticators had predicted that rapper-producer Kanye West, who had 10 nominations, would clean up, Recording Academy members cast their votes for a perennial favorite: the dead guy. To be sure, this particular dead guy, Ray Charles, is a ringer; but on the album-of-the-year-winning Genius Loves Company, recorded in the last months of his life, Charles is plainly in the worst voice of his career. Showering the singer with awards for inferior work is patronizing and offensive.
Of course, it's foolhardy to expect discriminating taste from a body that recently bestowed its top honors on Santana. About the best you can hope for from Grammy night are some diverting musical performances, mixed with long plateaus of cruddy music and grinding boredom. The evening's stars must have realized the show was dragging—they kept trying to browbeat the audience into believing otherwise. "Woo-hoo!" cried Queen Latifah, the broadcast's host. "Is this place about to get set on fiyahh!" "Isn't this a great Grammys?" asked Bonnie Raitt. "I actually think this is the best Grammys I've ever seen," said Bono. You had to wonder: Did Raitt and Bono nip off for a drink while Latifah, who has recently restyled herself as a "jazz singer," was mauling "Lush Life"?
In a mildly positive development, though, the Grammy TV broadcast is rapidly becoming an awards show without awards. Yesterday, the Recording Academy presented a total of 107 awards, but last night's show featured just 11 award presentations and twice that many performances. (Most Grammys were given out in a pre-broadcast ceremony.) The broadcast now centers on what Recording Academy President Neil Portnow proudly calls "Grammy moments": superstar collaborations, special tribute songs, and whatever other awkward and unusual live musical performances the academy can goad famous musicians into undertaking. Thus last night we saw that show-opening mash-up; a halting duet tribute to Charles by Alicia Keys and Jamie Foxx; a Janis Joplin homage by Melissa Etheridge and Joss Stone; and the live recording of an all-star tsunami relief benefit song, the Beatles' "Across the Universe"—an odd choice, since it's one of John Lennon's most nonsensical acid lullabies.
Then, midway through the broadcast, came the performance introduced by Queen Latifah as "a love song about escaping from the glare of a watching world." It began with a spotlight rising on a wan Marc Anthony, standing on the edge of a balcony, looking like he might at any moment hurl himself over the balustrade. And who could blame him: Not five feet behind him, through a set of French doors in a chintzy master-bedroom stage set straight out of a telenovela, sat Jennifer Lopez, whose screechy off-pitch singing Anthony was forced to contend with throughout their Spanish-language duet "Escapámonos." The song itself was a paint-by-numbers ballad, but its staging was a masterpiece of camp, involving a dizzying series of mid-song costume changes, the doffing of silken bathrobes, and hair-brushing while seated at a bedside vanity. "Escapámonos" climaxed with the couple singing at center stage, looking uncomfortably hemmed in by all the furniture. "Let's hide from the crowd," they crooned to each other—and to a TV audience estimated at 690 million.
The evening's most riveting episode, though, involved musical politics. When West was upset for the best new artist Grammy by the spiffy little Los Angeles pop band Maroon 5, the Staples Center crowd held its breath. West had flipped out when Gretchen Wilson defeated him for the same award at the American Music Awards—how would he react now? For their part, Maroon 5 looked stricken; on the way to the stage, they stopped by West's seat to pay their respects, and when they reached the dais, lead singer Adam Levine could barely speak. "Kanye West," he sputtered. "I want to thank you so much for being wonderful."
The rapper responded to the disappointment by giving the night's best performance, a torrid, flailing rendition of his gospel-rap anthem "Jesus Walks," that culminated with his being hoisted high above the stage, wearing billowing white angel's wings. It's hard to take millionaire superstars seriously when they strike postures of saintly martyrdom, but you had to feel for West. His album The College Dropout is vastly superior to nearly all of the year's other nominated releases, and the Recording Academy's preference for Genius Loves Company, and Maroon 5, and John Mayer is a reflection not just of its voters' fuddy-duddy taste but of a more insidious refusal, a quarter-century after "Rapper's Delight" first hit the Billboard charts, to recognize that we live in the hip-hop era. No hip-hop release has ever won song or record of the year; only two—Outkast's Speakerboxx/The Love Below and Lauryn Hill's The Miseducation of Lauryn Hill—have won best album. Shouldn't the reform-minded Portnow make an effort to get younger people into the Recording Academy? To distribute transistor radios to its veteran members?
Meanwhile, if West is feeling down about his measly three-Grammy haul, he might seek comfort in the pages of history. Should he really be distressed that Maroon 5 snagged his best new artist Grammy? Consider this cautionary list of past winners: Peter Nero, the Swingle Swingers, Debbie Boone, Christopher Cross, Sheena Easton, Men at Work, Hootie & the Blowfish, Jody Watley, and Marc Cohn. Oh, and Milli Vanilli.
---