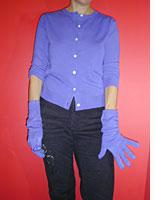 That late, great retailer Stanley Marcus, who turned his family store into the international style emporium Neiman Marcus, liked to insist that the consumer on a budget was better off buying at the top end of a moderately priced product line than at the bottom of a more expensive one. That is, you are better off with a fully loaded Honda Accord than an optionless Mercedes, or, you are better off with a Timex Indiglo than a stripped-down Cartier. I've always liked this theory—it made me feel like a smart, self-possessed shopper, and OK about not being rich. Still, I've always had a taste for high-end goods, and, every once in a while, a product appears on the fashion horizon that suggests I can get the Hope diamond at cubic zirconia prices. Such were my fantasies when I heard that Isaac Mizrahi and Oscar de la Renta were designing clothes for, respectively, Target and select national department stores like Macy's West, Dillard's, and Burdines. (Karl Lagerfeld is also doing the same thing for select H&M stores, but there isn't an H&M in Houston, where I live.)
At one time, designer slumming was inconceivable. The point of the fashion enterprise was to create a symbiotic aura of aristocracy and exclusivity between couturier and client, so that both could look down on the (poorly dressed) hoi polloi. But women eventually wised up and realized that they didn't have to spend a zillion dollars to look great—remember the watershed moment at the 1995 Academy Awards, when Sharon Stone added a Gap T-shirt to her Valentino skirt and Armani jacket?—and designers realized how much money they could make by selling lower-priced lines to vast numbers of women. Calvin Klein, Giorgio Armani, Ralph Lauren, Miuccia Prada, and just about every other big-time designer have been parked in this space for quite some time; Michael Kors and Marc Jacobs have recently joined them.
The difference between Isaac and Oscar and these others is that Isaac's and Oscar's new lines are really, really cheap. We're not talking about a $200 skirt instead of a $700 skirt, or a $500 jacket as opposed to a $1,200 one. Nothing in the O Oscar line breaks the surface much beyond $100, and for that much you can buy an entire Mizrahi ensemble: a surprisingly well-cut khaki trench marked down from $39 to $20; pointy-toed flats for under $20. Even allowing for non-Mizrahi leggings, that outfit probably cost more when Audrey Hepburn wore it in the early '60s. On the other hand, real fashion fanatics always want cheap, stylish clothes that don't look, well, cheap, and these new lines don't always solve that problem.  
I admit to a small jones for the old, high-dollar Mizrahi. His clothes always flattered the body and seemed exactly of the moment (they're now available only at Bergdorf Goodman); they were shot through with color but avoided those perilous, middle-aged jewel tones; they were girlie without being too girlie, and they were never too stuffy or too austere. His latest line for Target may not reach the heights of his $700 linen wrap dress, circa 1996, that once evoked the great Claire McCardell, but it's pretty cool nevertheless: The summer seersucker suit and striped tees were way hipper than many of Banana Republic's warm weather offerings (and half the price), and a suede suit for fall—a rodeo-ish sienna-hued jacket and pants—looked like something you'd pay a lot more for in Vegas or in … Houston. Mizrahi's winter clothes for Target are full of wit: a pink toggle coat with black horn-shaped fasteners (orginally $59.99, now $29.99); rainbow-hued sweaters with three-quarter-length sleeves and matching gloves ($19.99). A fuchsia silk/cotton shirt ($21.99)—machine washable, and, if the holiday wine stain doesn't come off, buy another one! 
By far the best part of the new Mizrahi/Target collaboration is the shoes. If you've been too cheap to wholeheartedly commit to round-toed, 3-1/2 inch heels like those designed by Marc Jacobs—and who besides Gwyneth Paltrow isn't?—Mizrahi has some great-looking black ones for all of $16.99. A brown pointy-toed pump in mock crocodile skin is similarly priced. Both manage to be fashionable, parodic, and surprisingly comfortable. A stretch boot, unfortunately, was too baggy for anyone but Star Jones, and no bargain at $34.99.
This brings me to the central problem of Target's Isaac Mizrahi collection. The depressing truism that you get what you pay for is pretty incontestable here: Bright cotton sweaters priced at around $21.99 were already pilling on the hangers, stray threads lingered menacingly around belt loops, and "cut" was a concept to look for elsewhere. The clothes were clearly made for (big) American bodies: A person who has to squeeze into a designer's unforgiving size 10 slacks might easily slide into a 6 here—but that still doesn't mean the outfit will ever hang right on the body. As you would expect, then, the more a garment depended on cut, the less successful it was. One double-breasted stretch jacket almost sent me into a terminal depression, as the buttons seemed to be straining simultaneously north, south, east, and west.
Oscar de la Renta's foray into mass market fashion presents similar problems. His expensive work is irresistible for its high-toned femininity—the way the clothes support and flatter the body while regally embellishing it with luxurious fabrics and clever details like beading, ruffles, embroidery, etc. (all of which add substantially to the price). Pulling that off for less than $100 is a tall order, and, to my mind, the reason O Oscar is far less successful than Isaac Mizrahi for Target. There's some understanding that, if you're buying Targetwear, you're part of an inside joke, that you understand you are part of a fashion experiment consisting of getting hip-looking clothes onto women who don't have much money but want to give it a try. In attempting to be more ambitious than Mizrahi—to make these clothes look like rich women's clothes instead of plain old sportswear—O Oscar just ends up looking like he's imitating his more masterful self, and unsuccessfully. It's hard to figure out who these clothes are for—wealthy women who want to goof on themselves, or administrative assistants who want to emulate their wealthier female bosses? For instance, you couldn't really go to a Ladies Who Lunch event in an O Oscar $130 tweed suit, even if it is pretty, droll, and fringed in all the appropriate places, because the buttons are so poorly affixed that they list to one side.
The hemline on an otherwise attractive herringbone skirt was carelessly machine sewn; try as I might, I couldn't get the skirt to hang right. Two white poplin shirts (around $22 each) were nice enough, but suffered from overbillowing; the same was true of a plunging cotton top, twisted in the front, that should have been sexy but was cut for someone who has yet to commit to Atkins.
In the end, O Oscar's price point is just close enough to the Express/Banana Republic realm that the buyer knows she has more options when it comes to looking fashionable. I ultimately looked a lot better in an entire ensemble from the Gap than I did in any of the O Oscar offerings. I looked like myself, instead of a faux Upper East Side princess, and I'd spent less in the process. Stanley Marcus would have been proud of me.
---