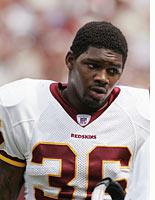 After a Nov. 14 game against Washington, Bengals wide receiver T.J. Houshmandzadeh suggested that Redskins safety Sean Taylor hawked a loogie on one of the Bengal's teammates. The Associated Press reported that Taylor would not be fined—"as it does every week, [the NFL] carefully examined every play from the game and found insufficient evidence for action." Do NFL employees really look over every play of every game to make sure that everybody's playing by the rules?
Yup. In fact, league officials have watched every game over and over—both in person and on television—for decades to make sure the refs are making the right calls and that players aren't misbehaving. The nerve center for all of this review is a room in the NFL's New York offices called the Officiating Command Center. While the command center was created after 9/11 to be the league's security hub, it soon became the place where the NFL polices itself. Employees from various departments—officiating and operations, yes, but also human resources, public relations, and the mail room—sign up to staff the control room each Sunday afternoon. This is the workplace dreams are made of; imagine if you could not only get paid to watch every single game, but also tattle on the players who irritate you.
Each observer, from the officiating staff to the guy from the mail room, is officially assigned one game. What do they look for? Any kind of player misbehavior, controversial and unusual plays, botched instant-replay challenges, and misbegotten injuries. Particularly complex or surprising plays get screened on a bigger-than-life projection screen for more careful group analysis. On Mondays and Tuesdays, the whole officiating department gives each game further scrutiny, rewatching not only games recorded from television but also "coach's films" that show all 22 men on the field simultaneously. Egregious and oft-replayed offenses like helmet-to-helmet hits on defenseless quarterbacks are usually caught during real-time Sunday viewing. Leg whips and chop blocks, however, which happen in the cramped quarters of the offensive and defensive lines, might not be spotted until the fourth or fifth time through the tape.
Once every player-behavior issue is compiled, the list gets sent to Gene Washington, the NFL's director of football operations, who decides if any fines are warranted. While the NFL won't say how many naughty plays they flag each week, Washington recently fined Broncos safety John Lynch $7,500 for a hit on a "defenseless receiver" and nine Vikings and six Bears between $2,500 and $7,500 for instigating a midgame fight.
All this television observation works in concert with the league's in-person monitoring of officials. In each stadium, an NFL employee, often a former official, charts each call and non-call. The monitor offers post-game feedback to each officiating team and then reports to the New York officiating staff, which is responsible for giving each official a weekly grade. Every NFL stadium also has its own NFL uniform inspector who checks out each player's duds to make sure his socks aren't too high and that he doesn't wear a Nike hat while giving an on-camera interview.
The NBA also scrutinizes each game to ferret out the kind of misconduct that's more subtle than charging into the stands. Every evening, a team at NBA Entertainment headquarters in Secaucus, N. J., looks out for "plays of interest" that require referral to the league's basketball operations department. In each NBA arena, there's also a live (and identity-protected) observer who charts and grades the officials. If the NHL ever starts up again, games will be monitored from league offices in Toronto, where officials look for the kind of hard-to-catch fouls—slashes and elbows behind the play—that on-ice officials might miss. Major League Baseball doesn't have a dedicated team of observers, relying instead on umpiring crews and media coverage to alert its staff to possible malfeasance like, for example, Keith Foulke wearing an unauthorized American flag patch.
Professional game-watching might seem like the perfect job, but it does have its downsides. While observers in the NFL's Officiating Command Center might ooh and aah over a big hit, the atmosphere is businesslike, says Larry Upson, the league's director of officiating operations. While the NFL does provide a buffet lunch, there's no beer allowed. Upson also had to watch his assigned game from this past weekend, a boring Eagles blowout of the Redskins, six times through. Worst of all, he says, his career as a professional nitpicker has made it impossible to watch through a fan's eyes. "When I watch high-school football," Upson says, "I end up just watching the officials. Instead of being a fan of football, I'm a fan of officials." He sighs over the telephone. "I don't enjoy the game the way I used to."
---