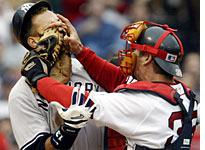 Everybody knows that the Boston Red Sox haven't won the World Series since 1918 and that the Red Sox have never defeated the New York Yankees in the playoffs. What you might not know is that Boston fans have developed something of a complex about it. In an effort to replace superstition with cold, hard, statistical fact, I've compiled (with a huge assist from Baseball Prospectus staffers Jonah Keri, Keith Woolner, James Click, and Joe Sheehan) a list of numbers that will help predict which team will win tonight's ALCS Game 7.
Starting pitchers: The Yankees will start Kevin Brown, while the Red Sox have announced that they'll go with Derek Lowe. Brown got knocked around in Game 3, allowing four runs in two innings, but the Yankees won 19-8. Lowe allowed three runs in 5 1/3 innings in Game 4, which the Red Sox eventually won 6-4 in 12 innings.
In the regular season, Brown had a 5.26 ERA and 5-3 record at night and a 3.65 ERA and 6-2 record in Yankee Stadium. Against Boston, Brown had a 5.93 ERA in 13 2/3 innings. Lowe had a 4.50 ERA and 11-6 record at night and a 6.21 ERA and 6-8 record on the road. Against New York, Lowe had a 9.28 ERA in 21 1/3 innings. That seems like a huge advantage for Brown, except that the Yankees are 0-3 in the games he's started against Boston, while the Red Sox are 2-3 in the games Lowe started against New York.
The long relievers: IfBrown and Lowe get cuffed around, the likely long men are New York's Javier Vazquez and Boston's Tim Wakefield. In the regular season, Vasquez had a 5.56 ERA and 1-2 record vs. Boston in 22 2/3 innings. Wakefield had a 1.83 ERA and 1-0 record against New York this season in 19 2/3 innings, which might lead some Red Sox fans to second guess Terry Francona's decision to start Lowe in Game 7. But Wakefield's Game 7 record in Yankee Stadium, you might remember, is 0-1 with one walk-off homer allowed.
The home plate umpire: Crew chiefRandy Marsh, who was behind the plate for the Yankees'$2 10-7 win in Game 1, will squat again in Game 7. Marsh is, very slightly, a pitcher's umpire. In games Marsh umped in 2004, pitchers have a 4.49 ERA and a .258 batting average allowed; the American League averages were 4.63 and .269. Marsh's reputation for squeezing pitchers is deserved, though: The games he's called this year have seen 4.1 walks per 9 innings vs. the AL average of 3.34. A small strike zone hurts Lowe, who has occasional control problems, more than Brown.
The weather: Tonight's temperature at the first pitch is expected to be 47 degrees. Boston has more experience with chilly weather this year. New York has the better record. When the game-time temperature is 65 degrees or below, the Red Sox are 24-23 and the Yankees are 23-12.
Abused reliever watch: Yankees fans should cover their eyes if reliever Paul Quantrill makes his fifth appearance in five games tonight. Thirty-three pitchers threw in five straight games this year. Their cumulative ERA in the fifth game was a pitiful 6.12.
25th men: If it comes down to each team's worst hitter, the Yankees have the slight edge. Enrique Wilson has hit only .213 this year, but he does have six home runs. Boston's Pokey Reese has a .233 batting average and three home runs. In 38 at-bats against the Yankees, he's hitting .158 with no home runs.
Hump day: Boston is 14-10 on Wednesdays this year. New York is 19-7.
Game 7: Home teams have won 13 of the last 15 decisive Game 7s, but only have a 23-20 record overall. Before this year, no team had ever forced a Game 7 after falling behind in a series 3-0. The 1967 Red Sox did blow Game 7 of the World Series after coming back from a 3-1 deficit. *
Close and late: In the regular season, the Red Sox were 16-18 in games decided by one run, but only 4-12 in one-run road games. The Yankees were 24-16 overall in one-run games, 16-5 at home. Boston was 6-6 in extra inning games, 2-4 on the road. New York was 5-4 in extra innings, 4-2 at home. In the playoffs, the Red Sox are 1-0 in one-run games and 3-0 in extra-inning games, while the Yankees are 2-1 in one-run games and 2-2 in extra-inning games.
Streaks: Boston has had winning streaks of four games or more eight separate times this year. The Yankees have lost four straight games only once this year, back in April. The last three of those losses were to Boston at home, 11-2, 3-2, and 2-0.
What to watch for during the game: Boston is 62-20 this year when scoring first, 36-44 when the other team scores first. New York is 57-18 when they score first, and those comeback Yankees are 44-43 when the other team scores first.
The Yankees are 90-21 when they score four or more runs, 6-11 when they score three runs, and 5-29 when they score two runs or fewer. The Red Sox are 91-32 when they score four runs or more, 3-12 when they score three runs, and 4-20 when they score two runs or fewer.
Derek Jeter: In last year's ALCS Game 7, Jeter went 1-for-5 with 2 strikeouts. In the four decisive games the Yankees have played in the division series, league championship series, and World Series since 2000, Jeter is 5-for-16 with one RBI. In 1997, the Yankees played the Indians in a win-or-go-home division series game. Jeter, in his second year, failed to cover the bag when Omar Vizquel took off for second with two outs in the third inning. The mental lapse allowed Vizquel to score on Manny Ramirez's ground-rule double. The Indians won by one run, 4-3.
If you put all of this stuff together, it looks like the Yankees have a slight advantage. Then again, the Red Sox do have history on their side. OK, maybe not history. The Red Sox do have God on their side, though. Oh, no God either? Well, maybe it'll rain. There's a 10 percent chance, and that's not too shabby.
Correction, Oct. 20: This article originally stated that the 1972 A's lost the World Series. They won it. (Return to the corrected sentence.)
---