Pixies
Live in Davis (DiscLive)
Click here to listen to "Debaser."The excitement of seeing your favorite band is rarely captured on live albums, which inevitably miss the crucial extra-musical moments: the crowd's forward lurch when the band takes the stage; a good bit of "guitar face" during a cunning solo; a wink the bassist exchanged with you (and a thousand other people). Disappointingly, the live discs chronicling the Pixies' reunion tour are no exception—they are clean, impeccably recorded, and ultimately boring. The recordings suggest, but rarely capture, the sense of excitement that makes a substandard performance seem better than the buttoned-down studio take. On the disc from their first-ever comeback show, Black Francis and Kim Deal playfully rib each other after fumbling the coarse, lumbering opening to "Wave of Mutilation," but their exchange sounds hammy. When a singalong momentarily overpowers the mix on "Debaser," you're startled to remember that the very performance you're bored by enthralled the crowd. As usual, you just had to be there.

Björk Vespertine Live (One Little Indian) Click here to listen to "Generous Palmstroke."Vespertine Live, on the other hand, is a rare exception to the rule. Originally released in 2001, Björk's excellent Vespertine fixed on the tiny, barely perceptible moments of beauty that punctuate everyday existence: someone pulling up your blanket in the dead of night, say, or a flash of lively indecision on a child's face. Amplifying these intimate screen-grabs from Björk's life for the arena stage seems like a risky proposition, especially since her live shows traditionally traffic in hefty beats and Olympian vocals. But Björk and her collaborators make the intimate Vespertine sound gigantic. Often backed with just a laptop and Zeena Parkins' splendid harp, Björk sounds restrained, modest, and unguarded. (Listen to the playful splashes of harp and voice on "Generous Palmstroke.") As Björk hoarsely unravels over the harp's tentative, thudding plucks on "Cocoon," the sense of quiet in the stadium is agonizing and overpowering.

De La Soul Live at Tramps, NYC, 1996 (Tommy Boy/Rhino) Click here to listen to "Me, Myself and I."Though Long Island's De La Soul has had a remarkable 15-year run in hip-hop, their only true hit was their 1989 single, "Me, Myself and I." As if they needed reminding. The trio has come to regard the song with affectionate dread, and Pos, Dave, and Maseo make no secret of this whenever they perform it live. Five songs into the proudly executed but poorly engineered set on this album, guest Mos Def broaches the subject: "Is y'all gonna do the one? Just to get it over with?" The crowd, properly lathered, knows what's coming. As Maseo scratches the intro, Pos and Dave offer a sly taunt ("We hate this song/ We hate this song. … But y'all love this song!") before launching into a spirited, entertaining rendition of a tune that seemed old a thousand gigs ago.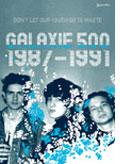 Galaxie 500 Don't Let Our Youth Go to Waste, 1987-1991 (Plexifilm) Click here to listen to "Snowstorm."Galaxie 500's sensitive, bookish style doesn't exactly lend itself to the dizzying possibilities of the live DVD. But this sprawling collection of music videos (subdued and grainy), TV appearances (shy and reserved), and live clips offers a charming portrait of the band's evolution. Galaxie spurred a quiet rebellion during their short run—launching a mini-movement of experimentation with placid melodies and patient drones—but in most of these clips the band's members barely seem convinced of their own self-worth. During their first shows, singer and guitarist Dean Wareham, bassist Naomi Yang, and drummer Damon Krukowski stare into space, or at their shoes, or at each other's shoes. As the venues get bigger and the crowds sway with more vigor, the band seems more at ease balancing the tranquil spaces and loud, dramatic warbles of songs like "Snowstorm." By the end of their run, marked here by a fantastic London gig, they've worked their way up to eye contact, and even a stray smile.

Donny Hathaway   (Atlantic/Rhino) Click here to listen to "What's Goin' On" and here to listen to "Yesterday."Donny Hathaway, the Chicago-based singer and keyboardist, seesawed through the 1970s; he released three marvelous studio albums (and many notable duets with Roberta Flack) before his persistent depression led to suicide in 1979. This disc borrows from two formerly vinyl-only concert albums and includes several previously unreleased cuts. Hathaway's voice, by turns smooth and gritty, is most powerful live; he hits the highs and lows with a stirring desperation, especially on a series of imaginative covers. He ignores the compact efficiency of the Beatles' "Yesterday," re-imagining the hit with loose, languorous keystrokes and a pained nostalgia. On his marvelous, downbeat rendition of Marvin Gaye's "What's Goin' On," Hathaway resists Gaye's bird's-eye telling of a world gone bad as he sings, cries, then wails the lyrics. When he stretches out the final refrain, rearranging the accents of the song's question, he sounds like a lonesome man trying to cope with life on a mad planet.
---