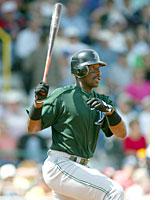 This fall, Bernie Mac stars in Mr. 3000, a movie about a baseball player who's shocked when a statistical correction leaves him with just 2,997 hits. When Hall of Fame voters reject the former 3,000-hit-club member for being three singles shy of the landmark, he comes out of retirement to re-chase the milestone as a 47-year-old. The film is billed as a comedy. Alas, this is baseball. It's more like a tragic docudrama.
When Fred McGriff latched on with Tampa Bay this spring, he needed just nine home runs to reach 500 and likely guarantee his spot in the Hall of Fame. But after hitting a putrid .181 with just two homers in 27 games, the 40-year-old McGriff was released last week. "I don't see where seven home runs make a difference. He's had a marvelous career. He's a classy person," noted Devil Rays manager Lou Piniella. "It's sad that everything has come down to this," said McGriff's former manager Hal McRae.
It's hard to blame a history-deprived franchise like Tampa Bay for latching onto McGriff's pathetic quest for immortality—after all, this is the team whose lone claim to fame is shepherding the broken down remains of Wade Boggs to 3,000 hits. But when even the Devil Rays realize they can't stand the sight of another limp into history, the truth becomes painfully clear: Milestone chases are really, really lame.
Baseball loyalists cite the game's legendary numbers—300 wins, 500 homers, 3,000 hits—as evidence of the sport's elegance, beauty, and gravitas. What no one mentions is how wretched and painful it is to actually watch a former star gasp and sputter his way toward a legendary number. The Cubs' Greg Maddux, who just missed getting his 300th win on Sunday, is the rare example of a player who approaches a milestone with anything close to competence. For every aging superstar who makes history without becoming a disgrace, there's a fallen star whose ego won't let him stop chasing a number. I've seen few things more depressing than the end-of-season Giants-Padres series in 2001 in which Barry Bonds hit his 68th homer of the year while a .227-hitting, rapidly fossilizing Rickey Henderson staggered like a delirious marathoner toward 3,000 hits.
The only reason baseball's numerical touchstones have any significance is that most players—even the game's greats—peter out just barely before they reach them. (Or exactly when they reach them: When, after three injury-plagued seasons, Ken Griffey Jr. finally hit his 500th homer, he went 11 for his next 54, then tore his hamstring.) But because home runs have become easier and easier to hit in the last two decades, second-tier players like Rafael Palmeiro and McGriff aren't petering out quickly enough. If the Crime Dog played 50 years ago, his career would have ended quietly after stalling out at 375 or 400 home runs. In baseball circa 2004, we have to muster cheers as dimmer and dimmer stars limp toward markers with less and less significance. Let the Juan Gonzalez watch begin!
If nothing else, the act of reaching a milestone often serves to reveal a superstar's true nature. After Early Wynn finished the 1962 season stuck on 299 wins, he tried to latch on with another team for months so he could get one last victory. After finally signing with the Indians at the end of May, he finally got his chance on July 13. Against the Kansas City A's, Wynn managed to go the requisite five innings, giving up four runs. With the Indians up by a run, Wynn couldn't watch from the dugout. He retreated to a hill outside the clubhouse and watched nervously as Jerry Walker saved the game for him with four scoreless innings. Soon after, he retired with exactly 300 wins.
While Wynn provided the perfect model for milestone chasers of the 20th century, there's perhaps no more inspirational figure for today's stat fiends than Andres Galarraga. Last month, the Atlanta Journal-Constitution reported that the former Expos, Rockies, and Braves first baseman was working his way back into shape after recovering from a second bout with non-Hodgkin's lymphoma. Why? The 43-year-old Grande Gato wasn't going to let cancer stop him two home runs short of becoming the first Venezuelan to hit 400. "He knows that people in Venezuela and the U.S. are thinking about it," said fellow Venezuelan big-leaguer Eddie Perez. "Especially Venezuela. He's determined to do it, to make people happy about it." Yeah, that'll make Venezuela forget about Hugo Chavez. (Update, Aug. 5: Galarraga just signed a minor-league contract with the Anaheim Angels.)
Rather than come out against the game's fixation on big, meaningless numbers, the lords of baseball have instead decreed that every milestone is above average. Fans can now check in daily with MLB.com's hilariously exhaustive milestone tracker, which lists about 800 impending historical achievements. Never again will you be caught unawares when, say, Bill Mueller notches his 1,000th hit, Mike Lowell collects his 500th RBI, or Rafael Palmeiro passes Rabbit Maranville for 27th all-time in games played. The tracker also notes the estimated day of achievement alongside a link to buy tickets, making it easy for you to build your family vacation around Jose Vidro's 100th home run. Someday soon, fans will thrill as Jeff Cirillo of the Padres will hit a two-bagger, rip the base out of the ground, and—Rickey Henderson-like—thrust it above his head in triumph. Now, that's how you celebrate your 300th career double.
---